When the COVID-19 pandemic hit, most hospital environmental services (EVS) providers were able to respond with the appropriate cleaning and disinfecting protocols since most EVS technicians are trained in terminal cleaning. However, for many commercial cleaning services, the pandemic altered everything they did virtually overnight. Suddenly, they had to change nearly everything they did and how they did it – from cleaning and disinfecting products and frequencies to processes and protocols. So many lives, including their own, depended on these essential workers making these adjustments instantly and flawlessly.
While this flexibility is rarely expected in other professions, the agility demanded of these commercial cleaners went largely unnoticed by the general public—and still is.
The Many Phases of a Pandemic
Many people may not realize that cleaning and disinfecting levels do not rise instantly from pre-pandemic to full-fledged outbreaks. It is not a case of using a mild detergent one minute and the strongest EPA recommended disinfectant the next—at least, it shouldn't be.
When it comes to pathogen transmission, cleaning levels must correspond to the threat. You would not use an axe to kill an ant any more than you would use a mousetrap to capture a gorilla. Not only would doing so be unwise, but it would be dangerous. The same is true in the world of cleaning and disinfecting.
If there is no immediate threat of an outbreak, a commercial cleaning service should not use the most potent disinfectant, especially in seldom-used areas. In the same way, using water alone on high-touch points at the height of a full-blown pandemic would be irresponsible and potentially life-threatening.
This is where training and education come in. Custodial teams must be educated to understand the various stages of a threat so they can adjust their cleaning and disinfecting protocols appropriately.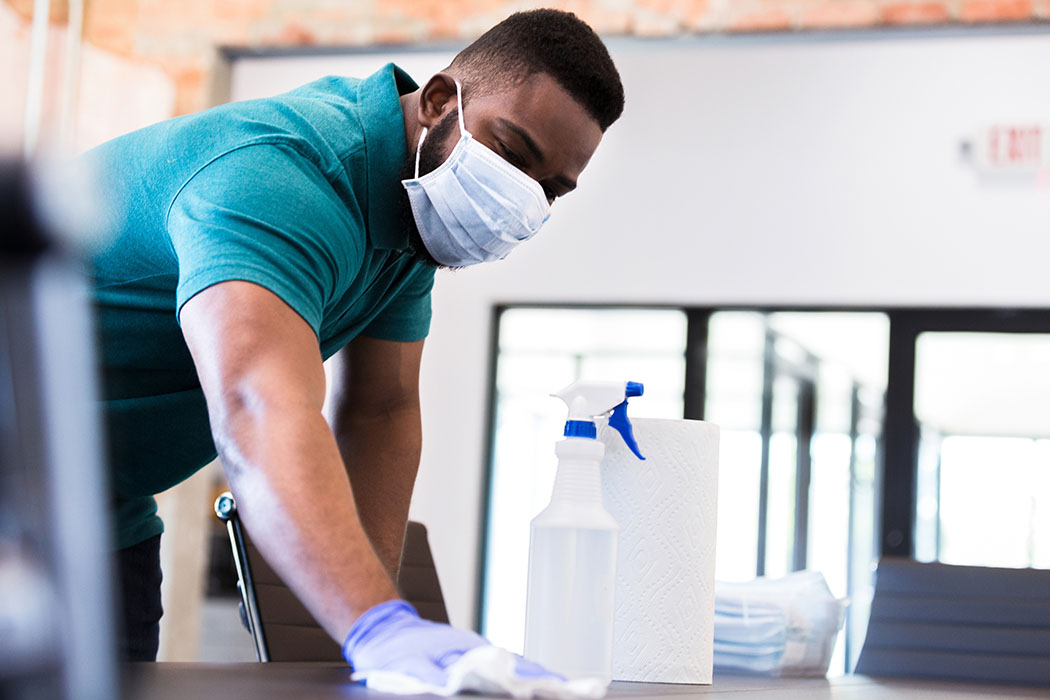 Both the Rise and Fall Matter
All custodial teams have standard operating procedures (SOPs), how they perform their tasks when there is no known threat of an outbreak. These must be adaptable to respond to rising and reduced threat levels.
Let's use the COVID-19 pandemic as an example. Pre-pandemic, cleaning crews relied on their SOPs. Once news of the COVID-19 began to filter in from countries outside the United States, most cleaning companies were on the alert. Some customers started asking about disinfecting of high traffic areas. As news of the pandemic spread and cases were announced in the United States, facilities began demanding increased cleaning and disinfecting frequencies. Cleaning workers began wearing more PPE to protect themselves. By the time businesses were shut down, cleaning personnel were fully garbed in PPE and using only disinfectants approved by the EPA as effective against SARS CoV-2, the virus that causes COVID-19. Disinfectant dwell – or contact—times were strictly observed, and air filters changed more often.
Finally, the number of COVID cases began to decline, and cleaning companies began to scale back their use of disinfectants in areas where no known cases existed. This is advisable to prevent the virus and other pathogens from becoming immune, as most experts believe disinfectant overuse could create antimicrobial resistance and superbugs. Chemical overuse can also cause respiratory, eye, and skin irritation and poor indoor air quality.
The point is the cleaning and disinfecting actions taken were scaled up—or down—based on the threat—or should have been.
Knowing when to ramp up and scale back cleaning and disinfecting protocol is vital to the health of humans, animals, and the environment. If your commercial cleaning provider advocates for the same cleaning and disinfecting practices for all pandemic threat levels, it might be time to switch providers.
Commercial Cleaning Services Near Me
To find out more about Servicon's various levels of cleaning and disinfecting, including Protect & Disinfect for possible to probable COVID-19 exposure and Ultimate Protect & Disinfect for confirmed exposure.
Are you looking for a career with a commercial cleaning company that cares about its employees in LA County, Ventura County, Orange County, Riverside, San Bernardino, and other areas of Southern California? Read what these employees say about working at Servicon and find out more about careers with Servicon.