Complete Fire System Services for Complex Facilities
Fire Protection for Your Business
Keeping People Safe and Preventing Damage
Nothing is more vital than protecting people's safety and preventing damage from the ravages of fire. Installing, inspecting, and maintaining your fire system ensures you are alerted at the moment of detection so people can get away and douse the flames quickly. There is no room for a fire system failure.
Servicon understands the criticality of fully functional and up-to-code fire systems. Our certified Maintenance Technicians are ready to safeguard your facilities and those who use them.
You no longer have to worry about knowing who to call. Mobilize Servicon for all your fire system and building maintenance needs.
Our Next-Level Services
Essential Fire System Inspection, Installation, and Maintenance
Fire causes devastating injury and damage, costing billions of dollars and countless lives yearly. While avoiding liability is a valid concern, having an operational and efficient fire system is about preventing loss of life and extensive property damage.
With Servicon's precision and expertise, you can confidently schedule your fire system inspections and maintenance, knowing it is completed to exacting standards every time. Our certified Maintenance Technicians have the latest tools and equipment for testing, repairs, and installations, including higher areas.
Servicon's fire system services include:
Fire Sprinkler Repairs
Fire Sprinkler Installation
Fire Line Breaks
5 Year Fire Certifications
Quarterly Fire System Maintenance
Fire Extinguisher Certification
OS&Y Stem Locks
Inspection of Fire Equipment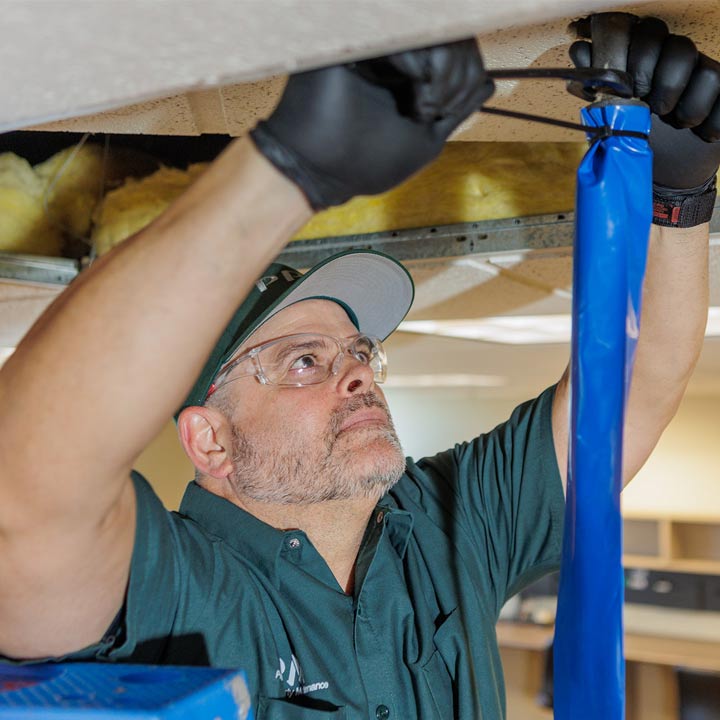 Five-Year Fire Certifications
Our Maintenance Technicians perform thorough and detailed five-year fire certifications, as the NFPA fire code requires. Servicon completes an initial visual inspection and fire system test, noting any system deficiencies, followed by a proposal to make any needed repairs. After completing the fire system maintenance or repairs, we provide all final certification documentation.
Servicon is qualified and licensed in California to perform system testing and repairs, which provides our clients with a single-source solution to their building maintenance needs.
Servicon also maintains a database and informs clients when their fire system certification is nearing expiration, keeping people safe and properties up to code.
Our People Make the Difference
Working With Servicon's Maintenance Technicians
You deserve the same level of service that you provide your customers. Servicon enlists employees and contractors who care about upholding high-quality standards and the willingness to learn, but who also genuinely enjoy working with people. The result is a group of qualified electricians and other professionals who understand their vital role and deliver through skill, service, and availability 24/7.
Keeping your business operational and efficient is our goal. Keeping you smiling is our pleasure.
We've Got the Answer
FAQs About Fire System Services
What fire system services does Servicon offer?
It doesn't matter whether your fire system is newer or older; Servicon can handle all your fire safety system needs. From ongoing maintenance to replacement, we have the expertise and resources to keep your system running at peak efficiency.
Our fire safety services include:
Fire Sprinkler Repairs
Fire Sprinkler Installation
Fire Line Breaks
5 Year Fire Certifications
Quarterly Fire System Maintenance
Fire Extinguisher Certification
OS&Y Stem Locks
Inspection of Fire Equipment
What if we only need specific services?
Servicon offers three service levels depending on the extent of your needs:
Full-Service - A team of full-time embedded, licensed tradespeople and technicians performing various facility maintenance functions (HVAC, Plumbing, Electrical, etc.)
Augmentation - Add more full-time technicians to your existing maintenance staff to handle property maintenance wherever you need help. From painting and construction cleanup to special projects, we can help surplus your team.
Mobile - The "Show & Go" provision of maintenance services with Servicon's certified mobile tradespeople, including special projects.
As you can see, Servicon has the perfect solution, no matter how much or little property maintenance you need.
Does Servicon have 24/7 emergency services?
Yes. Managing your facility doesn't always go as planned. If you experience a power outage, bursting water pipes, or vandalism, it is much more likely to occur after hours than in the daytime.
With this in mind, Servicon offers solutions 24 hours a day, seven days a week, to ensure your facility is always safe and protected.
Make the right call and contact us at +1 310-204-5040 today to partner with Servicon!
What licenses do Servicon Technicians have?
Servicon is a licensed contractor (#616915) and holds the following licenses:
(B) General Building Contractor
(C10) Electrical
(C16) Fire Protection Contractor
(C20) Warm-air Heating Ventilation and Air Conditioning
(C36) Plumbing Services
These licenses certify that Servicon is qualified to perform all your facility maintenance needs with common sense solutions.
Do you have generalists that can handle daily maintenance issues?
Yes! Servicon has professional Maintenance Generalists available along with our trade-specific Maintenance Technicians.
Integrated Maintenance Generalists help day-to-day operations run smoothly with experienced and talented individuals, but at less cost than certified technicians. So, you can manage your facility with various maintenance skills affordably until you require more advanced expertise. Even then, when you need an accredited tradesperson, it is at a fixed rate under Servicon's service packages.
What other commercial property maintenance services does Servicon offer?
Building maintenance requires the proper skill set and equipment to get the job done, but having access to them can be challenging. So, if you are looking for an experienced Maintenance Generalist for fire system services, enlist Servicon, and we will learn your system like the back of our hand.
Included in our other facility maintenance services, such as electrical or plumbing services near you, we offer the following:
Preventative Maintenance – routine fire system maintenance, including alarms, fire extinguishers, and sprinklers. Whether you need to replace an extinguisher or test an alarm, Servicon handles it for you.
Repairs – Servicon assesses and repairs your entire fire safety system to ensure your facility runs smoothly at all times.
Installations – if your old fire safety system needs replacing or it's time for an efficiency upgrade, Servicon's highly-skilled tradespeople have the knowledge and expertise to safely remove and install fire systems.
Inspections – Servicon coordinates all necessary commercial inspections, including your HVAC system, to meet regulatory requirements and keep your building up to code. Then, if anything needs correcting, we will then organize the necessary resources to complete the job.
Permits – some facility maintenance projects require city or county building permits, and Servicon can handle all the applications and inspections as the work is completed. We keep you on track and on schedule without the hassle of doing it yourself.