Expert Building Maintenance Services for Complex Facilities
Taking Care of Business
Keeping You Functional and Looking Your Best
Building maintenance is about keeping your facilities looking their best while remaining safe, functional, and convenient for the people using them. Broken elements and inefficient systems can seriously impact your daily operations, potentially losing business to competitors. It's a big responsibility, and we are ready to tackle it.
Servicon understands time is of the essence, as is getting the job done right the first time. Our certified Maintenance Technicians are reliable and ready to handle any sized job or project expertly with a quick response time.
You no longer have to worry about knowing who to call. Mobilize Servicon for all your building maintenance needs.
Our Next-Level Services
Setting the Standard in Building Maintenance Solutions 
While your facility may be complex, getting reliable, top-quality maintenance solutions shouldn't be. As your trusted partner, we tailor general and preventative maintenance packages to suit your unique needs.
With Servicon's extensive service menu and expertise, you can confidently schedule your maintenance work, knowing it is completed to exacting standards every time. Our professional Maintenance Technicians have the latest tools and equipment for testing, repairs, and installations, including higher areas.
Servicon's building maintenance services include:
Roof Leak Repairs and Cleaning
Graffiti Removal
Sign Removal, Fascia Patching, and Painting
Drywall Patching and Painting
Curb, Concrete, and Asphalt Repair
Sealing Sidewalk Joints and Cracks
Parking Lot Resealing and Restriping
Replacement of Wheel Stops, Steel Grates
Trash Enclosure Repairs
Welding Repair of Railings and Gates
Asphalt Repair
Beehive Removal
Installation of Earthquake Shut-off Valves
Holiday Décor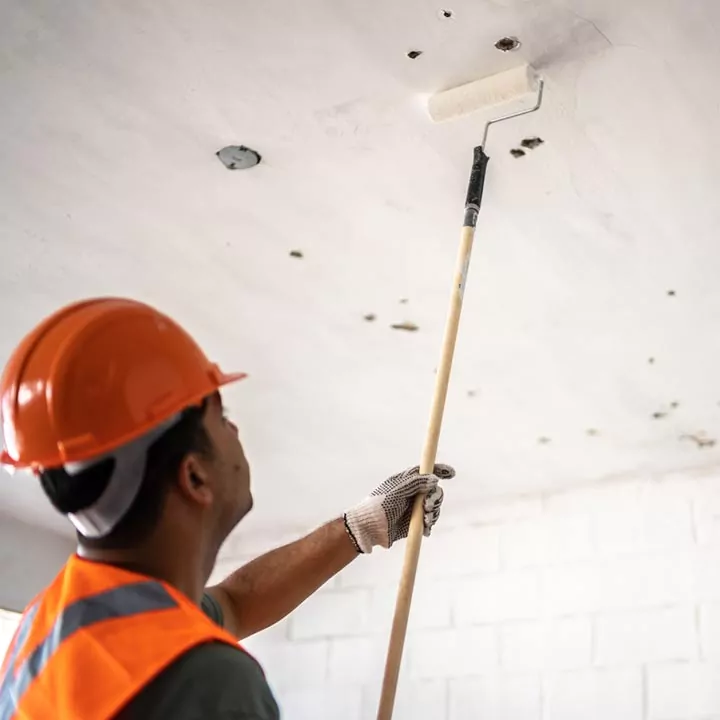 Earthquake-Related Fire Prevention 
The most common cause of earthquake-related fires in Southern California is broken gas lines. To mitigate this threat to your property, Servicon installs earthquake shut-off valves that automatically stop the gas flow into a building when triggered by an earthquake of magnitude 5.0 or greater. It helps prevent fires on your property and lessens the possibility of injury, further damage, and liability.
Our People Make the Difference
Working With Servicon's Maintenance Technicians 
You deserve the same level of service that you provide your customers. Servicon enlists employees and contractors who care about upholding high-quality standards and the willingness to learn, but who also genuinely enjoy working with people. The result is a group of qualified electricians and other professionals who understand their vital role and deliver through skill, service, and availability 24/7.
Keeping your business operational and efficient is our goal. Keeping you smiling is our pleasure.
We've Got the Answer
FAQs About General Maintenance
What general maintenance services does Servicon offer?
It doesn't matter whether your building is newer or older; Servicon can handle all your general maintenance needs. From ongoing maintenance to installations, we have the expertise and resources to keep your facility running at peak efficiency.
Our general maintenance services include:
Roof Leak Repairs
Graffiti Removal
Roof Cleaning
Clearing of Roof Drains and Gutters
Sign Removal, Fascia Patching, and Painting
Drywall Patching and Painting
Curb, Concrete, and Asphalt Repair
Sealing Sidewalk Joints and Cracks
Parking Lot Resealing and Restriping
Replacement of Wheel Stops
Trash Enclosure Repairs
Welding Repair of Railings and Gates
Asphalt Repair
Beehive Removal
Replacement of Steel Grates
Tenant Improvement Work
Installation of Earthquake Shut-off Valves
Holiday Décor
What if we only need specific services?
Servicon offers three service levels depending on the extent of your needs:
Full-Service - A team of full-time embedded, licensed tradespeople and technicians performing various facility maintenance functions (HVAC, Plumbing, Electrical, etc.)
Augmentation - Add more full-time technicians to your existing maintenance staff to handle property maintenance wherever you need help. From painting and construction cleanup to special projects, we can help surplus your team.
Mobile - The "Show & Go" provision of maintenance services with Servicon's certified mobile tradespeople, including special projects.
As you can see, Servicon has the perfect solution, no matter how much or little property maintenance you need.
Does Servicon have 24/7 emergency services?
Yes. Managing your facility doesn't always go as planned. If you experience a power outage, bursting water pipes, or vandalism, it is much more likely to occur after hours than in the daytime.
With this in mind, Servicon offers solutions 24 hours a day, seven days a week, to ensure your facility is always safe and protected.
Make the right call and contact us at +1 310-204-5040 today to partner with Servicon!
What licenses do Servicon Technicians have?
Servicon is a licensed contractor (#616915) and holds the following licenses:
(B) General Building Contractor
(C10) Electrical
(C16) Fire Protection Contractor
(C20) Warm-air Heating Ventilation and Air Conditioning
(C36) Plumbing Services
These licenses certify that Servicon is qualified to perform all your facility maintenance needs with common sense solutions.
Do you have generalists that can handle daily maintenance issues?
Yes! Servicon has professional Maintenance Generalists available along with our trade-specific Maintenance Technicians.
Integrated Maintenance Generalists help day-to-day operations run smoothly with experienced and talented individuals, but at less cost than certified technicians. So, you can manage your facility with various maintenance skills affordably until you require more advanced expertise. Even then, when you need an accredited tradesperson, it is at a fixed rate under Servicon's service packages.
What other commercial property maintenance services does Servicon offer?
Building maintenance requires the proper skill set and equipment to get the job done, but having access to them can be challenging. So, if you are looking for an experienced Maintenance Generalist or a certified Maintenance Technician, enlist Servicon, and we will learn your system like the back of our hand.
Included in our other facility maintenance services, such as electrical or plumbing services near you, we offer the following:
Preventative Maintenance – routine commercial property maintenance, including lights out, AC filters, clogged restrooms, leaks, fixtures, wall damage, simple repairs, routine checks, and moving items. Whether you need to paint an office or change a lightbulb, Servicon handles it for you.
Repairs – Servicon assesses and repairs your entire facility when minor issues arise. Our repairs ensure your facility runs smoothly and conveniently at all times.
Installations – if you need to build furniture or install fixtures, Servicon's professional Generalists have the knowledge and expertise to safely remove and replace items or handle basic installations.
Inspections – Servicon coordinates all necessary commercial inspections to meet regulatory requirements and keep your building up to code. Then, if anything needs correcting, we will organize the resources required to complete the job.
Permits – some facility maintenance projects require city or county building permits, and Servicon can handle all the applications and inspections as the work is completed. We keep you on track and on schedule without the hassle of doing it yourself.