7 Unique Challenges Today's EVS for Hospitals Face
There is a lot for workers in healthcare housekeeping services to keep up with these days, starting with their name. Once referred to as janitorial or custodial services, this morphed into hospital or healthcare housekeeping services. Yet today, having differentiated their responsibilities from those of commercial cleaning services, these services are now referred to as healthcare environmental services (EVS) or EVS for hospitals.
EVS for Hospitals: A Lot to Learn
So what makes the responsibilities of EVS for hospitals different enough from commercial cleaning services and even healthcare housekeeping services to warrant a name change? The answer is plenty. Below are seven challenges hospital EVS teams face today that most hospital EVS services did not, and current commercial cleaning services rarely do.
Bodily fluids and sharps.
School custodians and even commercial cleaning services providers may occasionally clean up bodily fluids, such as vomit or urine. However, hospital EVS workers often must clean up biological substances such as blood, vomit, urine, and feces daily. Similarly, EVS hospital workers must know proper procedures for disposing of sharps, such as needles, items they frequently encounter that most cleaning technicians do not.
Client interaction.
Pre-COVID-19 pandemic, a growing trend was for commercial cleaning services workers to be more visible, cleaning during business hours vs. at night. However, it is still not the norm. Hospital EVS workers must perform their responsibilities while working around and often interacting with patients, doctors, nurses, and other staff, whether they are working the day or night shift. They must be able to do this while still focusing on the quality of their work.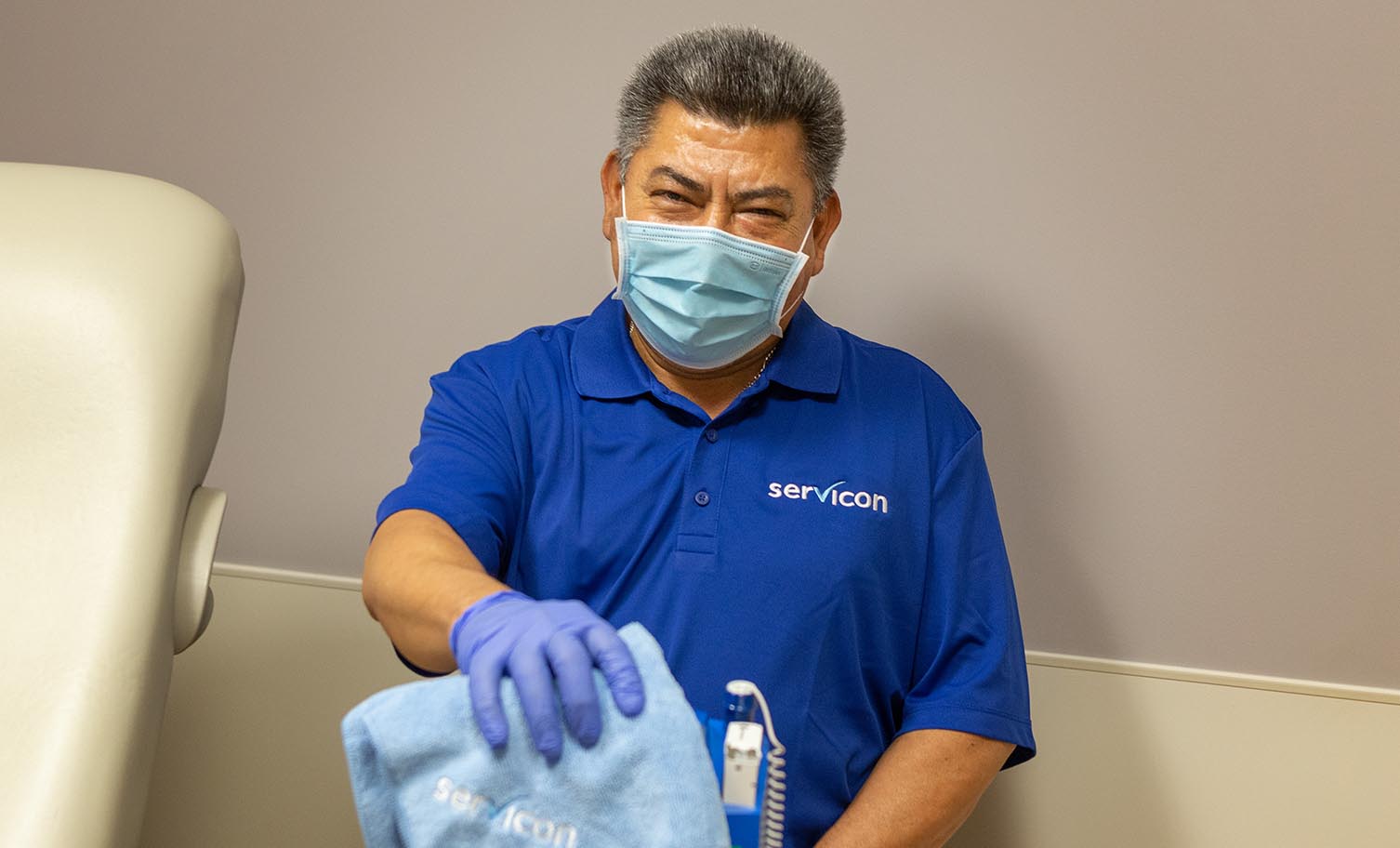 Terminal cleaning.
All cleaning technicians are expected to thoroughly clean and disinfect. However, few have to deep clean every surface in a room from top to bottom and between infected patients. This is done to prevent the spread of healthcare-associated infections (HAIs) and cross-contamination. Terminal cleaning requires attention to detail, mainly to prevent the most common HAIs that occur in a healthcare setting.
Product knowledge.
Anyone who works in the professional cleaning industry should receive training. However, there is often far more to learn for EVS for hospitals workers. EVS workers need to know the difference between viruses, bacteria, fungi, and other pathogens. They must understand what EPA-registered disinfectant(s) kill specific pathogen(s), such as MRSA, E. coli, C. diff, and SARS CoV-2—the virus that causes COVID-19—to name but a few.
Infection prevention processes and protocols.
While infection prevention in any facility relies heavily on avoiding cross-contamination, this is vital for EVS for hospitals. Avoiding cross-contamination in an EVS hospital setting requires never using the same microfiber cloth to clean two patients' rooms and using a different cleaning tool for different surfaces within the same patient's room. It also requires workers to use far more PPE, which means putting it on and removing it correctly every time.
Pandemic preparedness.
If there is one thing COVID-19 should have taught us, it is the need for hospitals and other healthcare facilities to re-examine their pandemic preparedness plans. Nowhere is this more vital than EVS. Unlike commercial facilities that largely shut down during the COVID-19 pandemic, hospitals filled beyond overflowing. Hospital EVS workers were right there on the frontline, working long hours, often without the tools and safety equipment needed due to supply chain shortages. Hospital EVS departments need to be ready to handle the next pandemic, when—not if—it occurs.
Disaster preparedness.
Today's world is full of horrific events that directly or indirectly affect Environmental Services for hospitals—school shootings, gang violence, hurricanes, fires, tornados—even potential war. While too many Americans have to live with these threats in their personal lives, hospital EVS workers must face the potential for—and realities of— these atrocities in their work as well. During such times, EVS workers stationed in hospital emergency departments and patient rooms must carry out their responsibilities, overcoming fears for their and their families' welfare. There is a reason EVS hospital workers are often referred to as the unsung heroes. It is also why hospital EVS departments must have a viable disaster preparedness plan.
EVS for Hospitals (or Healthcare Housekeeping Services) Near You
If you are looking for exemplary hospital cleaning services in Southern California or nearby regions, browse Servicon's website starting with Healthcare or contact us at 310-204-5040.
Are you looking for a hospital EVS or housekeeping job in LA County, Ventura County, Antelope Valley, Orange County, Riverside, San Bernardino, or other areas in Southern California? Read what these employees say about working at Servicon and find out more about careers with Servicon.