Healthy Spaces.
Thriving People.
Exemplary Environmental, Custodial, and Maintenance Services for Complex Facilities.
Caring About People in Complex Facilities
Making a Difference in Health and Safety
People depend on healthy, contaminate-free spaces to work, heal, and innovate. Complex, extensively regulated environments include EVS and GMP facilities where compliance and infection prevention are critical to life-changing processes.
At Servicon, we provide intelligent and agile solutions that meet all your facility's environmental services, maintenance, and supply needs to maintain operations reliably and confidently. We have the right people and customized services to ensure quality while focusing on health and safety.
We fundamentally believe that caring for people fosters a culture where they feel valued and respected. Connecting with compassion brings people together with the common goal of helping others and creating a stronger, healthier community.
Our philosophy creates a better working future for Servicon's employees, clients, and those they serve, allowing people to thrive in a supportive and inclusive environment. Servicon's learning and development programs reflect our commitment to caring for people and their prosperity, elevating the industry as they achieve their career goals.
Having our finger on the pulse of innovation and momentum in the industry means Servicon continually evolves with the ever-changing climate to stay relevant and progressive. As a result, we can respond quickly to the needs of our employees and clients and, through continual feedback, make improvements accordingly.
With quality assurance and streamlined practices designed to suit each client site, Servicon also brings the latest technology, supplies, and equipment available to supplement our highly trained and skilled EVS and GMP Technicians.
Purpose
Elevate the industry. Provide healthy environments for people to thrive.
Mission
We provide exemplary environmental, custodial, and maintenance services for complex facilities.
Vision
Create healthy environments for a better working future.
Respect
Treat all with kindness and respect
Truth
Speak and hear the truth, especially when difficult
Teamwork
Work together to achieve the best results
Elevate
Learn and adapt to be our best
Aerospace Client
Many thanks for the job well done by our Servicon cleaning crew. Professional and thorough, they clearly understand the criticality of their urgent task, and their performance is outstanding. During this time of uncertainty, their services can make the difference between sickness and wellbeing for so many. Thanks to everyone on the team for being so supportive of our employees, and for being here daily to help keep us safe and healthy.
Fortune 500 Aerospace Client
Ventura Hospital
Servicon streamlined our EVS processes by providing one point of contact who understands our sites and the importance of the patient experience. Servicon has made our job easier and allowed us to sleep well at night knowing that we have a reliable partner who is here for us.
Ventura County Hospital
LAC+USC Medical Center
Professional EVS services are particularly important in healthcare environments as we lead the fight against COVID-19. We want to give a special thank you to Servicon's dedicated staff. It is very reassuring to see them on the front lines every day, cleaning rooms, killing the virus, and making sure that we are all safe.
LAC+USC Medical Center
Government in LA
We want to express a tremendous amount of appreciation and thankfulness for Servicon's services. Servicon professionals are going far above and beyond the call of duty during the COVID-19 crisis. Please make sure your staff knows how deeply we recognize the unwavering, superb work they are doing at a time of unprecedented need.
Government Client in Los Angeles County
City of Santa Clarita
We've been working together for over 2 years now and my team and I continue to be very satisfied with our partnership. The Servicon team routinely meets or exceeds all contract requirements, behaves with the utmost professionalism, and provides excellent service to our community. Our Servicon manager, Santiago, always responds to us in a timely manner and proactively conveys any changes in the baseline schedule. We have full confidence in your abilities to help us achieve our goals. Thank you so much for the exceptional service.
City of Santa Clarita
Lincoln Property Company
Over the past 10 years we have received excellent service from your company. Beginning with a well-managed transition from the previous janitorial contractor to the day-to-day operations, your team has proactively anticipated our needs which has allowed me (Senior Property Manager) to focus on my job.
Lincoln Property Company
We want to personally thank you and your dedicated teams who are keeping us safe and healthy, with no new COVID-19 cases reported in our division. We ask our employees to recognize and thank our facilities team for all the extra effort they are putting forth to clean and sanitize our facility!
Fortune 500 Manufacturing Client
Committed to and Investing in Products, Programs, and Systems That Care for Our Community and Environment.
Supporting people in critical roles means they need the most current resources available to meet strict regulations and achieve their goals. We provide in-touch support to keep complex facilities operational, safe, and healthy for everyone. Servicon customizes industry-specific cleaning, maintenance, and supply programs to deliver reliable and innovative solutions that make a difference to people and the communities they live in.
By aligning our services with your operational needs, Servicon becomes your trusted partner, and together we pioneer a new and dynamic culture of a caring community within your industry.
Servicon's National Presence

California
Colorado
Arizona
New Mexico
Texas
Arkansas
Alabama
Georgia
Florida
Virginia
Pennsylvania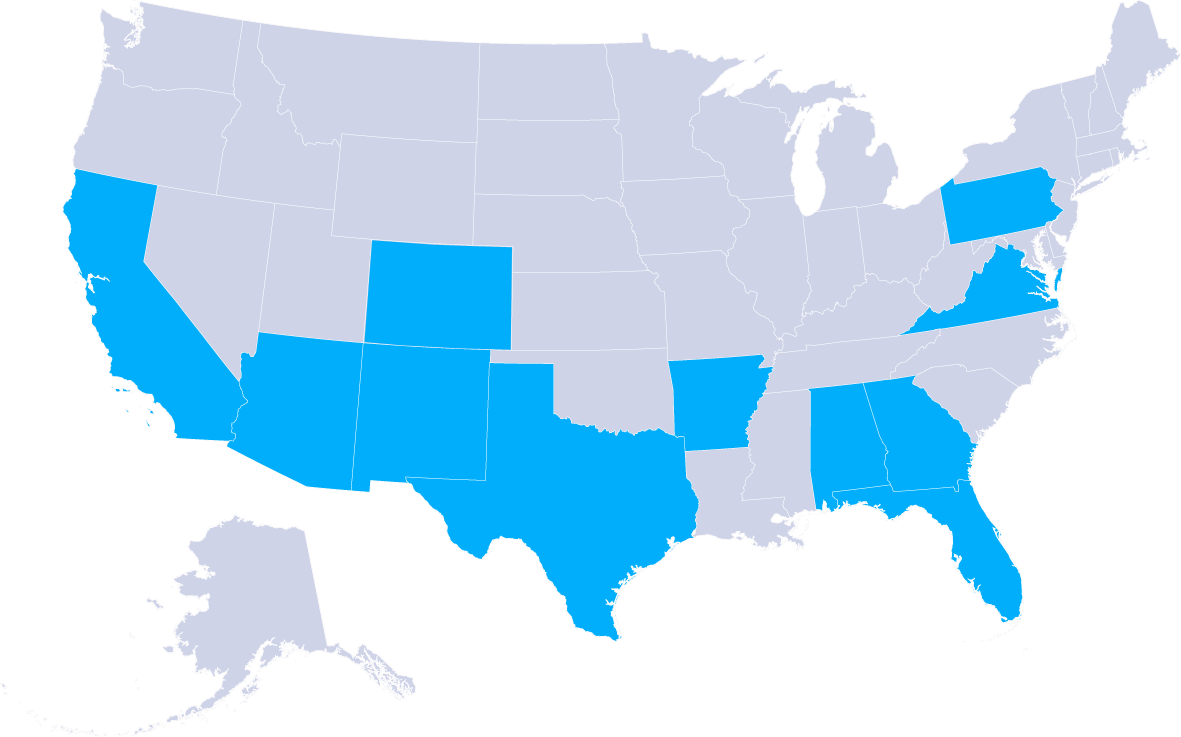 Interested in working for Servicon?
Interested in learning more about our services?