The shift from hospitals to ambulatory care continues for reasons ranging from cost savings to convenience. Ambulatory, or nonemergency, care is provided in outpatient settings such as medical offices and clinics, hospital outpatient departments, outpatient surgery facilities, and dialysis centers. There are many similarities between the two types of facilities. However, the type of care provided at these facilities is not the same, which can also make the roles of environmental services (EVS) for hospitals and other healthcare facilities different. Below are a few of these differences.
Hospital EVS are under more outside agency scrutiny than many outpatient facilities. For example, as of 2021, The Joint Commission had accredited 3,800 hospitals compared with 2,200 ambulatory care centers.
Ambulatory facilities do not treat patients with infectious diseases.
Effective January 1, 2022, more than 250 musculoskeletal surgeries were eliminated from Medicaid's inpatient-only list; the agency plans to remove another 1,500 surgeries in 2023. Therefore, ambulatory EVS workers must be prepared to complete more surgery-related EVS tasks, while EVS in hospitals may perform fewer.
Most outpatient facilities include few family and staff lounge areas, cafeterias, or other food service areas, all of which require specialized EVS training.
On average, EVS for hospitals must clean up and properly dispose of more biological spills, including blood, feces, and urine.
Hospitals tend to use more IVs, while clinics are often visited for vaccines. Still, EVS staff at both types of healthcare facilities are exposed to sharps.
Hospital EVS providers often require more and/or different empathy training than EVS for healthcare in ambulatory clinics because in hospitals, EVS technicians are cleaning rooms where they frequently encounter the same patients and their families. These technicians are more likely to interact with patients regularly and personally, especially those with extended hospital stays. For example, during the COVID-19 pandemic shutdown, many Servicon EVS hospital technicians reported being the only people patients saw other than quick visits from nurses and doctors. The technicians said they often got to know the patients and their families and were frequently asked to hold phones and facilitate FaceTime and other electronic interactions between the patients and their families. Empathy training is also shown to help raise hospital HCAHPS scores, which are tied to Medicare and Medicaid reimbursements.
Outpatient facilities rarely, if ever, have gift shops, which can require special training for cleaning around flowers and fauna as well as items like stuffed animals.
While hospitals are larger and usually have more patients at any given time, on average outpatient examination rooms have a higher turnover rate since the reasons for patient visits are often less severe. The rooms must be cleaned and disinfected after each patient, versus hospital rooms where patients remain for at least an overnight stay and often for weeks.
Hospitals have more square feet that must be cleaned daily, including flooring. They also have more entranceways that require matting and restrooms that must be monitored for cleanliness and infection prevention. All this requires more workers and more scheduling.
Hospitals usually have more outdoor tasks, such as caring for landscaping and parking areas, pest control, and other facility maintenance services.
Most EVS for hospital providers handle laundry services, whereas most ambulatory care centers use primarily disposable linens.
On average, EVS technicians in hospitals are exposed to more dangerous pathogens and viral outbreaks. Hospital patients' symptoms tend to be more severe, and during a pandemic, people are more likely to go straight to a hospital upon feeling ill.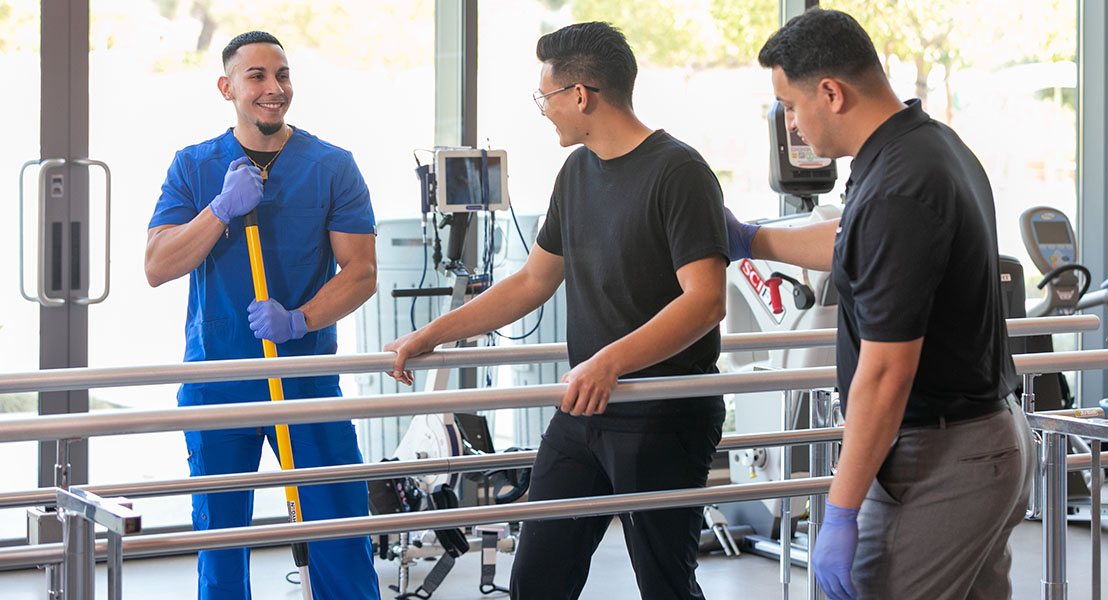 EVS for Hospitals or Healthcare Facilities Near Me
If your hospital or ambulatory facility is located in Southern California or the surrounding area and is looking for an EVS provider with experienced EVS technicians who are as comfortable working in a hospital as in an ambulatory care center, contact us and discover the Servicon advantage.
Are you looking for a professional career where you know you and your work are valued? Do you live in LA County, Orange County, Ventura County, Riverside County, San Bernardino, or other areas of Southern California? If you answered yes to these two questions, look at what some of our workers say about working for Servicon, then find out more about our easy application. We look forward to having you join the Servicon EVS commercial cleaning, and facility maintenance services family.