Servicon is constantly looking for ways to enhance and ensure the quality of its environmental services (EVS) for hospitals while streamlining processes for EVS hospital staff. With this goal in mind, Servicon has adopted the innovative Smart Facility Software Suite®.
Smart Facility is a cloud-based, labor-management tool specifically built for EVS for hospitals. The software incorporates current data, including square footage, units, number of discharges, and patient volumes. Aimed at helping EVS meet all of a hospital's KPIs, Smart Facility:
Enhances efficiency
Increases EVS hospital workers' ability to put patients first while meeting quality goals
Improves patient experience
Raises patient satisfaction and HCAHPS scores
Improves throughput
Provides EVS site managers and supervisors more time to focus on the quality of service to ensure complete client and patient satisfaction
Allows hospital staff to concentrate on their work of saving lives.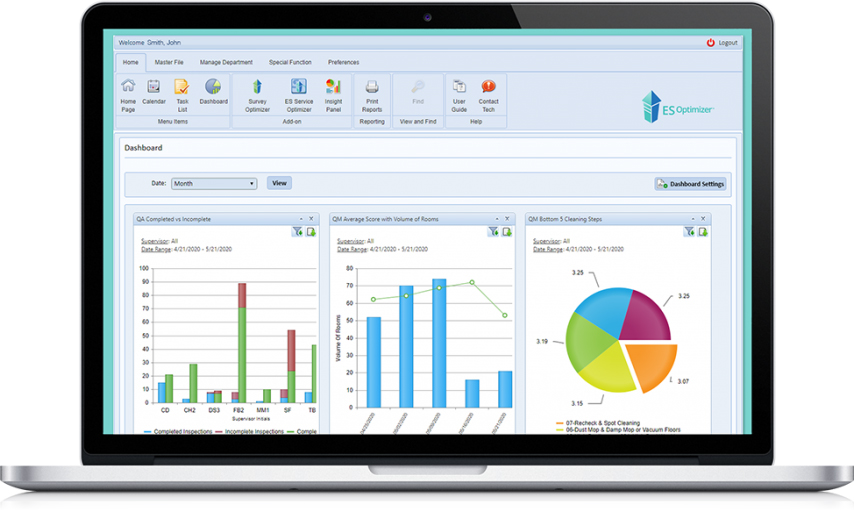 Smart Features
Smart Facilities app includes numerous features that improve EVS processes. The software:
Calculates and creates clear daily task assignments by area and FTE availability with a single click
Is preconfigured with your customized SOP
Tracks employee training to show full regulatory compliance
Tracks SOP compliance and provides digital logs
Allows work being performed to be viewed in real time
Generates reports on any metric in real time
Contains a complete employee roster for easy attendance recordkeeping
Includes more than 90 healthcare cleaning standards
Tracks cleaning efficiency using Dazo® UV/blacklight reporting
Communicates with team members in real time
Provides data for customized Client Business Reviews (CBR) and surveys to ensure stakeholder satisfaction.
Smart Advantages
Thanks to Smart Facility's many features allowing greater flexibility, EVS hospital leaders can:
Customize the scope of work to meet premium quality levels and goals
Prioritize EVS work based on cleaning and disinfecting tasks and standards
Develop staffing plans that match hospital EVS personnel to historical patient volume for optimal resource alignment
Create equitable work assignments for each EVS hospital technician to encourage employee engagement and ensure quality and client satisfaction goals are met
Schedule and track ongoing project work
Proactively and efficiently manage schedules based on data, removing the guesswork
Easily view gaps in the EVS schedule based on PTO in the at-a-glance master calendar
Eliminate EVS staff chasing and "phone tag" scenarios
Instantly update work assignments based on a fluctuating census of patients
Seamlessly create work orders via QR codes, marking a space as "needs attention"
Reassign workers to cover absent employees and volume surges
Put clients in direct contact with EVS.
Smart Technology
At Servicon, we remain on the lookout for technologies that can further enhance our cleaning, disinfecting, and infection-prevention hospital services. Yet, we only adopt innovations based on scientific research, reliable data, and real-world testing. Through our partnership with The Infection Prevention Strategy (TIPS), we have access to a network of leading epidemiologists and other top infection-prevention scientists. In addition, our Innovation Council researches emerging technologies to ensure we adopt only those that produce superior results, enhanced efficiencies for our clients, and greater ease of use for our workers. To learn more about other exciting new technologies Servicon is adopting, visit servicon.com/innovation or contact Doug Green at douglas.green@servicon.com.
Servicon's EVS for Hospitals Advantage
Are you a California-based hospital or healthcare facility looking to raise patient satisfaction, improve your HCAHPS scores, increase throughput, or otherwise fortify your EVS program? We can help! To learn more about our healthcare EVS services, visit our EVS for hospitals page or contact Stacey Wong at stacey.wong@servicon.com.