HAIs: The Case for Replacing Healthcare Housekeeping Services With EVS for Hospitals
Healthcare housekeeping services have long been on the front line in the battle against healthcare-associated infections (HAIS). While trending downward in recent years, "thanks" to the COVID-19 pandemic, the incidence of HAIs is on the upswing. The ones to bring these numbers down rests heavily on those cleaning the hospitals and other healthcare facilities.
This responsibility is part of the reason why the terms "healthcare housekeeping services" and "housekeeper" are no longer appropriate and the use of environmental services (EVS) for hospitals and EVS technicians should be universal.
Rising HAIs
In 2014, the CDC estimated one of every 25 hospital patients contracted at least one HAI. In 2015, that number dropped to one in every 31 patients. Also, the 2015 HAI Hospital Prevalence survey found patients were at least 16% less likely to be diagnosed with an HAI than patients in the 2011 survey. Hospitals were making real progress in decreasing the number of HAI cases. Then came the COVID-19 pandemic.
Statistics show increases in several types of HAIs between 2019 and 2020, most of which occurred in the final quarter (October-December) of 2020. There was also a significant spike in HAIs overall in 2020 due to the pandemic. Some experts say hospitals lost more ground in the fight against HAIs in 2020 than they had gained since 2014.
This surge in HAIs is especially scary when one considers another CDC statistic: In 2015, there were an estimated 687,000 cases of HAIs in U.S. acute-care hospitals. About 72,000 hospital patients with HAIs died during their hospitalizations that year. This does not include those who died after being discharged from the hospital or acquired HAIs in non-acute or other healthcare facilities. Here, it bears repeating that 2019-20 have seen the highest rates of HAIs since 2014.
Adding to the scariness of the rise in HAIs are the new strains of bacteria and viruses that continue to emerge, such as the Delta and Omicron variants that followed COVID-19. The growing number of antibiotic-resistant pathogens also must be considered.
From a financial perspective, the CDC estimates that HAIs cost hospitals a minimum of $28 billion in direct medical costs and an additional $12 billion in related expenses annually. In addition, hospitals with a high incidence of HAIs lose billions of dollars due to reduced reimbursements from Medicare and Medicaid.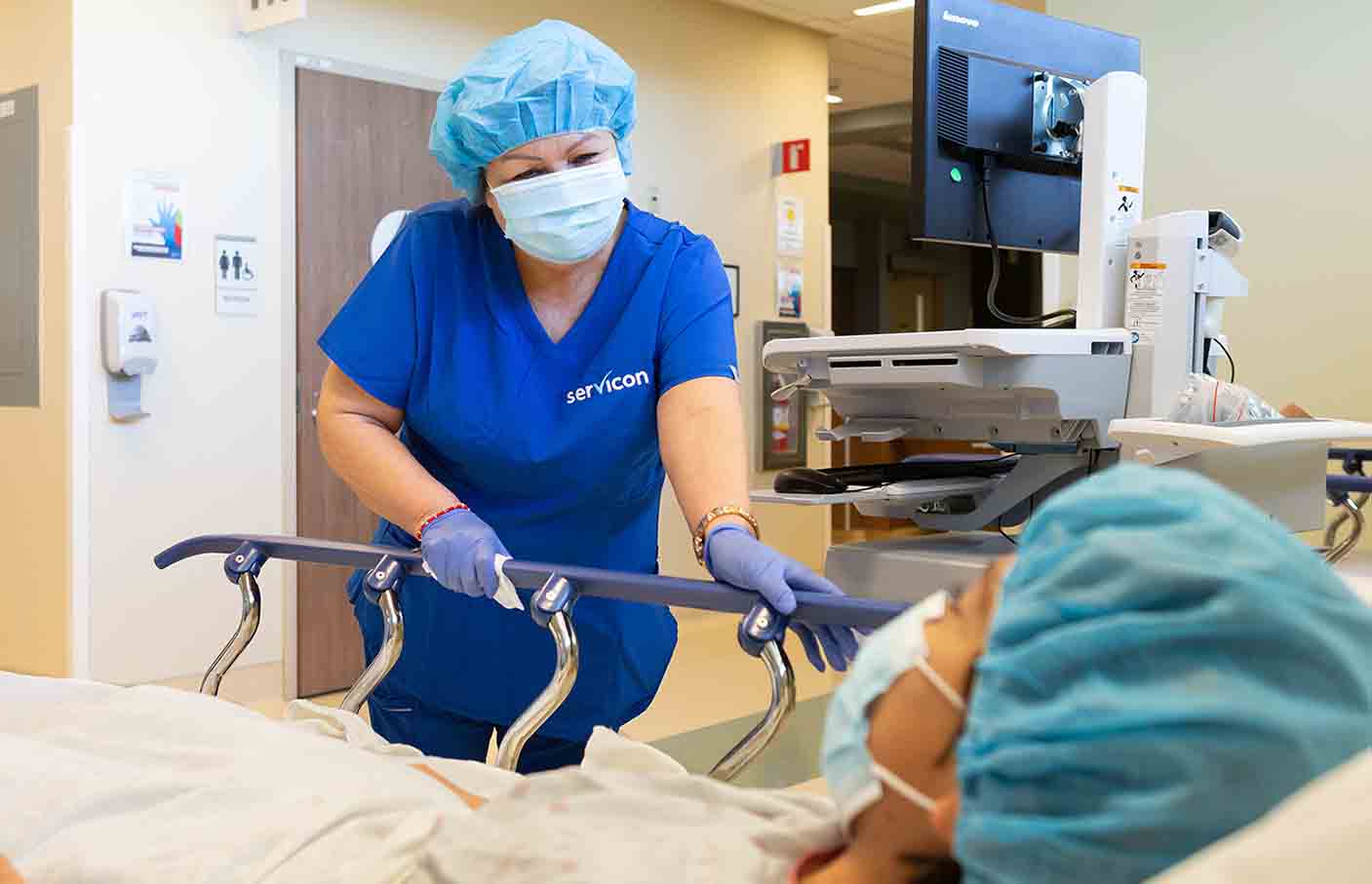 EVS for Hospitals: Reversing the HAI Tide
Working daily to fight infections and reduce the occurrence of health-threatening HAIs in a hospital is a hefty responsibility. It is also unique to cleaning technicians working in healthcare versus other commercial cleaning services. HAIs highlight how the duties of housekeepers are not the same as EVS technicians and why a distinction between the two types of services should be made.
EVS for Hospitals Near You
If you are looking for exemplary hospital cleaning services in Southern California or nearby regions, browse the Servicon's website starting with healthcare or contact us at 310-204-5040.
Are you looking for a hospital EVS or housekeeping job in LA County, Ventura County, Antelope Valley, Orange County, Riverside, San Bernardino, or other areas in Southern California? Read what these employees say about working at Servicon and find out more about careers with Servicon.
We help produce higher HCAHPS scores, lower HAIs, and faster throughput, which translates into more budget dollars to spend on your business of saving lives.
We invite you to to find out more about Servicon's cleaning services for complex facilities and to schedule a free assessment.