Protecting People. Minimizing Threats.
Exemplary Infection Prevention Services Across Industries
 Significantly Reducing Risk From Emerging Pathogens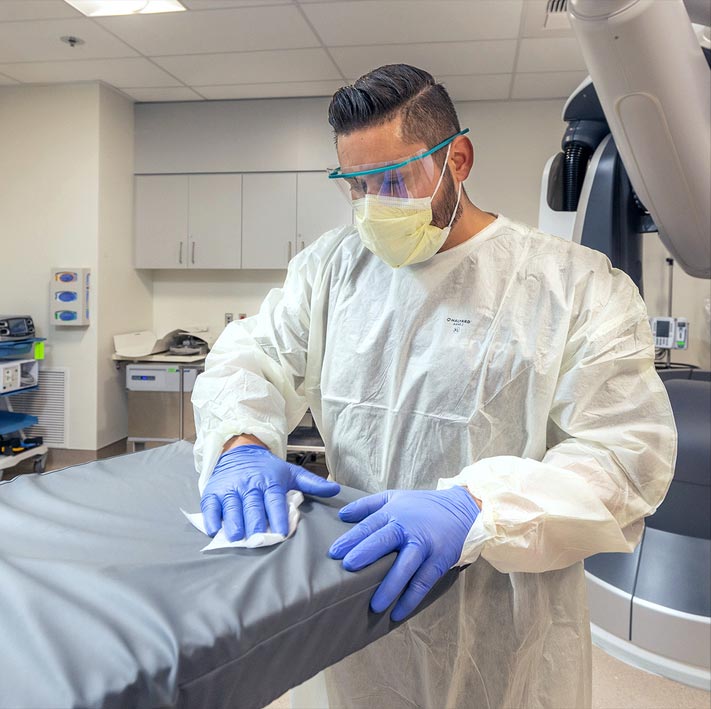 Keeping Spaces Healthy for Everyone
Protecting people's health is of paramount importance. We rely on the spaces we use for work, education, healing, shopping, and entertainment, making infection prevention a crucial focal point of every industry's operation.
It is more than the appearance of cleanliness; infection prevention is methodical, precise, and done with utmost care to ensure compliance with the Environmental Protection Agency (EPA), The Joint Commission, and Occupational Safety and Health Administration (OSHA), along with other state and federal regulations.
Servicon excels in complex facilities where their vital work impacts the world. During our 50 years, we have evolved with the healthcare, aerospace, life sciences, and other industries, providing exemplary environmental (EVS), good manufacturing process (GMP), and custodial cleaning services in the most delicate spaces—the basis of which is infection and contaminant prevention.
Higher-Level Infection Prevention for Infectious Diseases
Industry-Specific Training & Development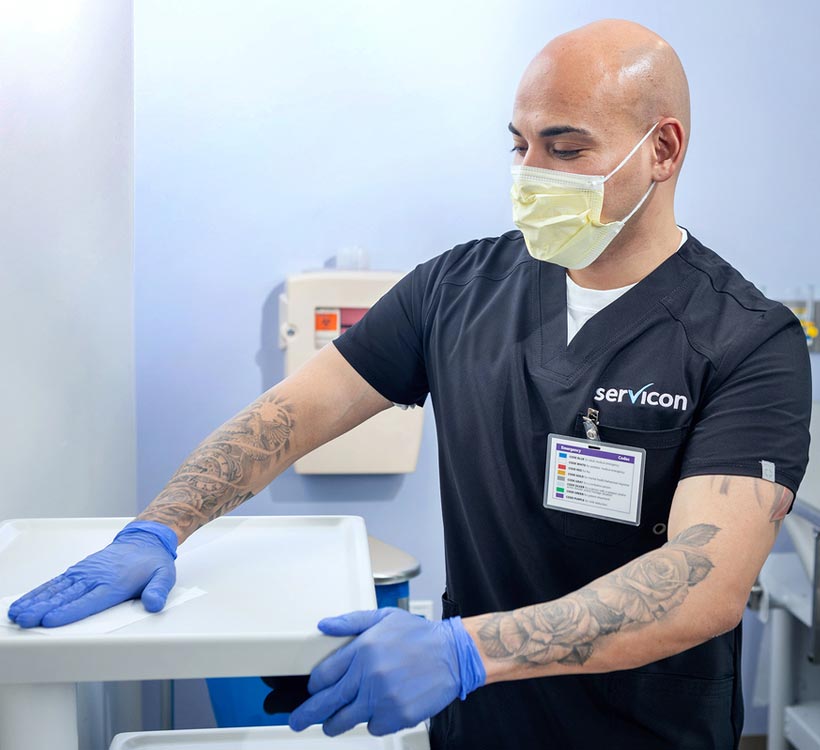 Infection prevention is universal across Servicon's service industries, entailing client-specific best practices. Our extensive experience in complex facilities makes Servicon one of North America's leading infection prevention service providers.
Servicon matches our employees' abilities with each industry's specific cleaning and disinfection protocols to provide exceptional results. It begins with the highest level of infection prevention training at our state-of-the-art, award-winning training facility before moving to on-site client instruction. Between in-person and online training programs, including current updates, Servicon's Technicians have the skills to perform their duties precisely and diligently.
Ultimately, you have the reassurance that your facilities have the best infection prevention services available and that your staff and patrons are protected.
Servicon's Rapid Response During the COVID-19 Pandemic
No one could foresee the impact the COVID-19 pandemic would have on the world. Yet, while many organizations and industries ceased activity for long stretches, Servicon was prepared and unencumbered to respond rapidly with decisive action.
Our forethought in supply chain management, experience in complex facilities, and being privately owned all contributed to Servicon's ability to implement the latest safety protocols and governmental regulations with accuracy and haste.
The intensity of the pandemic highlighted the importance of caring about people. Supporting our Technicians with the proper training, supplies, and up-to-date information ensured they could perform their critical roles and help protect everyone's health and safety. Our Culture of Caring about people has become the shining example of success in our gratifying work to create healthy spaces where people thrive.
Prepared and Ready
Science-backed Supplies & Equipment for Infection Prevention
Industry-Specific Best Practices for Infection Prevention
Infection prevention is only possible with seamless protocol adherence and Centers For Disease Control and Prevention (CDC) approved supplies and equipment. Each industry has specific best practices for infection control against pathogens and varies in infection prevention methodologies. Yet, Servicon ensures every complex facility and commercial space has the necessary products to meet their precise needs.
Data-Driven Innovations
Our in-house Infection Prevention Council provides thoroughly researched innovations backed by scientific data and subjected to rigorous real-world testing before we add them to our Supply Division catalog. Then, we secure a reliable supply chain to stock our warehouse and meet ongoing client demand resulting in uninterrupted infection prevention services.
We invite you to to find out more about Servicon's infection prevention services and to schedule a free assessment.