All About Healthcare Housekeeping Services
The importance of housekeeping in hospitals should never be underestimated. Healthcare housekeeping services, often called healthcare environmental services (EVS), are vital to any healthcare facility. The FAQ below explains some of the reasons why.
Why is housekeeping important in hospitals?
Hospital housekeeping is on the front line of infection prevention and the fight against healthcare acquired infections (HAIs); the CDC estimates HAIs account for 1.7 million infections and more than 99,000 associated deaths annually.
What does a housekeeper do in the hospital?
The duties of hospital housekeeping include:
Pick up and dispose of trash such as coffee cups, napkins, and other waste from all surfaces
Empty trash cans
Dispose of sharps
Remove detachable objects and furniture from areas requiring terminal cleaning
Remove soiled linens and make beds with fresh linens
Clean surfaces
Disinfect surfaces that require disinfecting
Vacuum carpets
Sweep and mop floors.
What's the difference between cleaning and disinfecting?
Cleaning removes up to 90% of dirt and debris. The cleaning process involves soap/detergent and some agitation, such as scrubbing, rubbing, or water flow. Cleaning must be performed before disinfecting to prevent pathogens from being shielded from the disinfectant by surface debris. Cleaning between applications of disinfectant also prevents disinfectants from building up, which can create a sticky biofilm.
Disinfecting kills 99.999% of targeted pathogen(s). All disinfectants used in the United States must be registered with the EPA. No one disinfectant kills all pathogens, so it is essential to use a disinfectant approved by the EPA to be effective against the targeted pathogen. For example, only disinfectants on the EPA List N are approved for use against SARS-CoV-2, the virus that causes COVID-19.
How does housekeeping help with infection prevention?
Housekeeping is the first line of defense in infection prevention. Housekeeping's responsibility is to clean all surfaces and disinfect those that require disinfecting following industry best practices. Germs are spread through touch or when a person touches an unclean surface then touches other people or objects. Similarly, sterilized surgical instruments become contaminated by infectious viruses and other harmful germs and bacteria if laid on a dirty surface where these pathogens are present. By reducing HAIs, housekeeping also can directly impact the results of patient surveys and HCAHPS scores and, therefore, CMS reimbursement.
Interested in working for Servicon?
Interested in learning more about our services?
What types of equipment does Servicon use for cleaning hospitals?
Our services, equipment, processes, and procedures are based on industry best practices and scientific research. We use the safest and most sustainable yet effective options to protect human health and the environment. While we are eager to adopt innovations, we are careful not to follow the latest fads if they are not supported by science and reliable data. Please read and follow our blog to learn more.
What should a hospital expect from an EVS company?
The healthcare EVS provider you choose should use cleaning and disinfecting best practices based on guidelines from reputable agencies such as OSHA, the CDC, and The Joint Commission. We also recommend asking for—and following up with—references.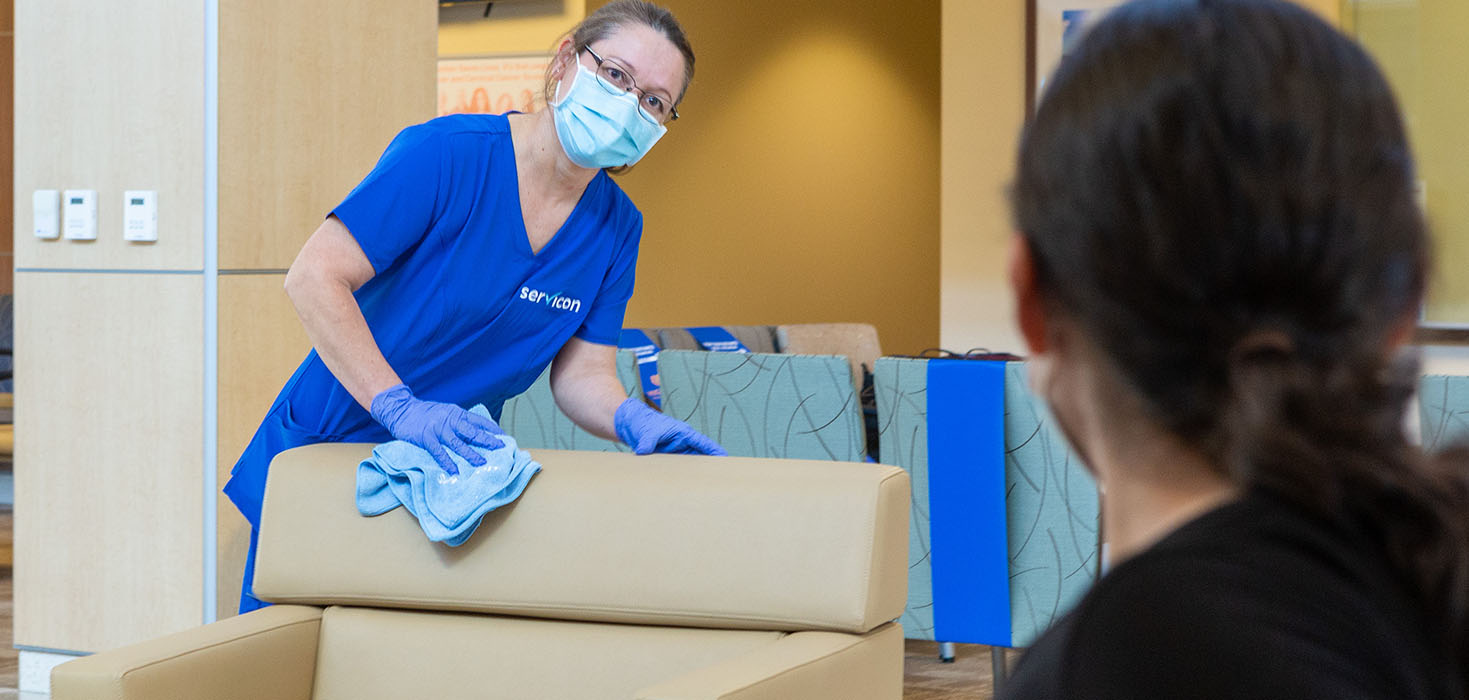 Healthcare Housekeeping Services Near Me
If your healthcare cleaning services company isn't keeping your facility clean, safe, and compliant, discover the Servicon advantage. With extensive EVS experience in hospitals throughout California, we understand the importance of healthcare housekeeping. Contact us today.
Are you interested in finding out more about possible healthcare environmental services careers with Servicon? Visit servicon.com/careers.
We help produce higher HCAHPS scores, lower HAIs, and faster throughput, which translates into more budget dollars to spend on your business of saving lives.
We invite you to to find out more about Servicon's cleaning services for complex facilities and to schedule a free assessment.