Hospital Environmental Services FAQ
Below are the most frequently asked questions surrounding environmental services at hospitals and other healthcare facilities.
What is EVS?
EVS stands for environmental services and refers to the custodial department in a hospital or other healthcare setting.
What do EVS technicians in a hospital do?
EVS hospital technicians are responsible for the cleanliness of all areas of the facility. Their duties extend far beyond such basics as floor and restroom care. They are on the frontline of infection prevention throughout the medical facility. They play a major role in reducing healthcare acquired infections (HAIs), which the CDC estimates account for an estimated 1.7 million infections and 99,000 associated deaths each year. EVS technicians also are integral to the overall patient experience. A good EVS team can help increase HCAHPS scores, which account for 25% of a hospital's Total Performance Score.
Why do HCAHPS scores matter?
HCAHPS scores are the result of patient satisfaction surveys regarding the care they received in a hospital. The Centers for Medicare & Medicaid Services (CMS) requires every U.S hospital to administer these surveys, and the scores are directly tied to CMS reimbursement. The government developed HCAHPS to help ensure that hospitals provide patients with a safe, comfortable healthcare experience.
What are some of the services included in EVS?
Healthcare EVS most frequently includes:
Infection prevention and COVID-19 response
Floor care
Compliance
Recycling & waste management
Sustainability consulting
Sharps program
Linen management
In-house custodial support.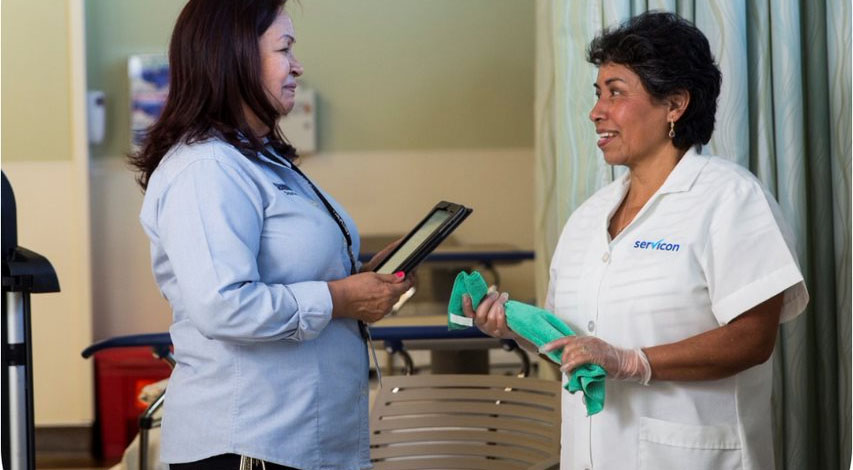 What are some top challenges for EVS in a hospital?
The many challenges for EVS hospital technicians include:
Do EVS services differ from hospital to hospital?
EVS can differ depending on various factors, including size, geographic location, throughput, and specialty/scope of work. For example, EVS may have to replace linens and perform cleaning and disinfecting more frequently for a hospital with a busy emergency department or deal with more sharps in hospitals where people regularly receive COVID-19, flu, and other vaccinations. Similarly, EVS workers at a children's hospital may encounter more food stains, while a hospital in a retirement area may experience lower throughput due to extended patient stays. However, basic infection-prevention procedures and other EVS protocols are virtually the same in all hospitals.
Hospital Environmental Services Near Me
Servicon provides EVS throughout California. As your EVS partner, we will provide you with superior service in all areas of your complex healthcare facility. Contact us for more information.
Interested in finding out if a career in EVS could be right for you? Find out more about environmental services hospital jobs and the opportunity to join the Servicon infection-prevention team at servicon.com/careers.
We help produce higher HCAHPS scores, lower HAIs, and faster throughput, which translates into more budget dollars to spend on your business of saving lives.
We invite you to to find out more about Servicon's cleaning services for complex facilities and to schedule a free assessment.