What It Takes to Join the Hospital Housekeeping (EVS) Profession
Many services are essential in healthcare facilities. While good doctors, nurses, and other medical personnel are crucial and are often in the spotlight, hospital housekeeping personnel are also vital.
Today, hospital housekeeping services – or hospital cleaning services—are more frequently referred to as environmental services (EVS). No matter the name, these workers are critical to preventing infection and maintaining a clean, healthy, and safe environment for patients and staff. Yet often the importance of hospital EVS can be underestimated and even overlooked. For example, on March 26, 2020, when Chicagoans took to the streets and balconies to sing the praises of doctors and nurses working during the COVID-19 pandemic leaving EVS workers out, some felt like unsung heroes—literally.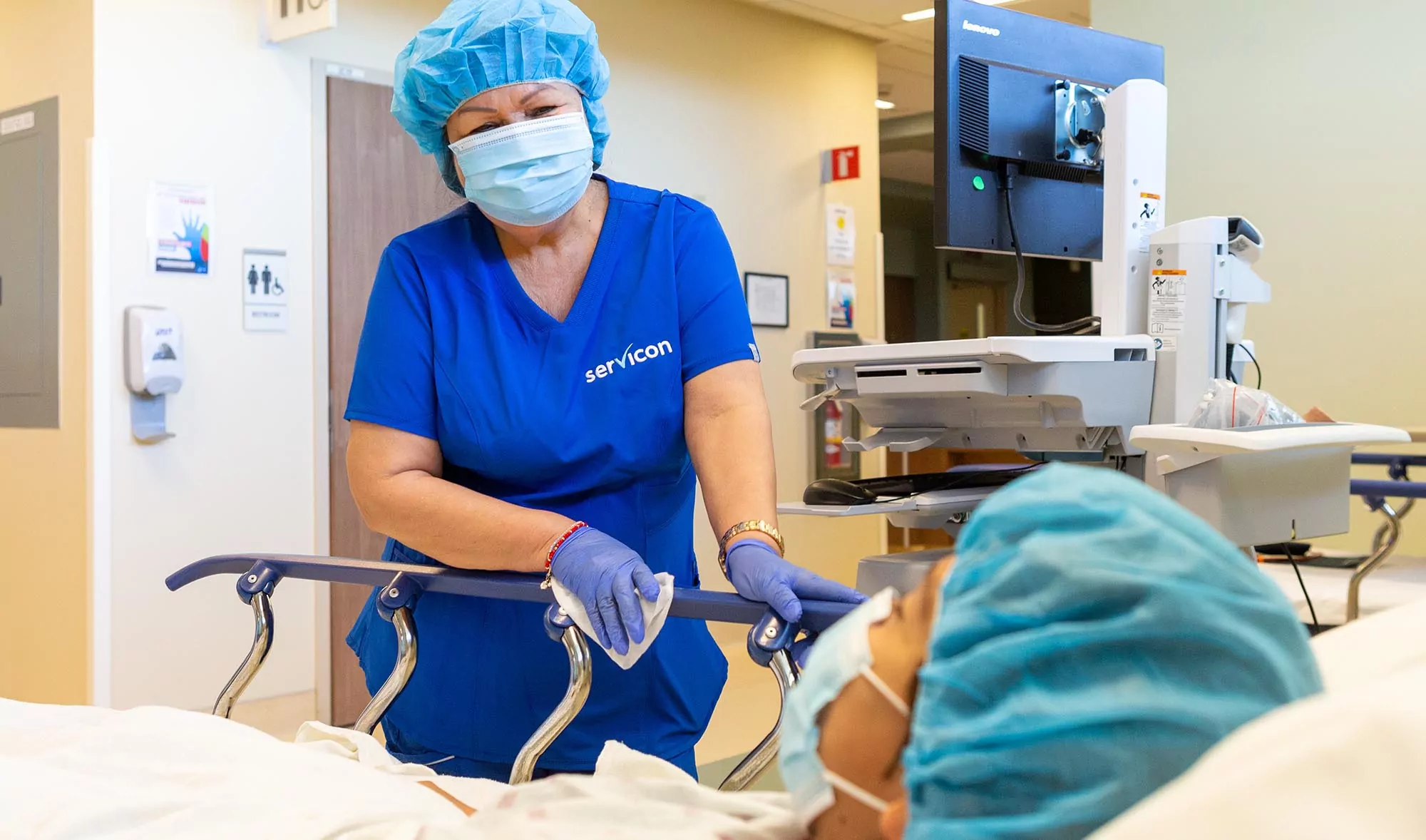 Some EVS teams may not have gotten the full recognition they deserve for their relentless work fighting the spread of COVID-19. The silver lining is that the pandemic highlighted their work and helped move the needle toward greater recognition of hospital housekeeping—or EVS— as a profession.
With this in mind, below is how the role of EVS for hospitals might be described to potential candidates looking for a career in the field, followed by some of the characteristics that the most successful EVS technicians possess.
What Hospital Housekeeping Is
Hospital EVS technicians are infection-prevention specialists. They are responsible for ensuring the hospital environment is clean and disinfected. This includes every space, from patient, emergency, and surgical rooms to waiting, administrative, and lobby areas. Moreover, they must clean the hospital using processes that ensure the facility is in compliance at all times with all state and federal health codes, including such healthcare regulatory agencies as The Joint Commission and CMS. The level, method, and frequency of cleaning and disinfecting should be determined by the potential risks an area poses to occupants, with crucial areas receiving the most attention. EVS workers may also be responsible for cleaning up and disposing of biohazardous material, such as blood, feces, and urine, as well as disposing of sharps, such as needles. All EVS for hospital workers must be trained in these areas, which most commercial cleaning services workers do not require.
Interested in working for Servicon?
Interested in learning more about our services?
Personal Traits for Hospital EVS Success
There are personal characteristics that hospital EVS technicians possess that can differ from those called for in other commercial cleaning services positions. Below are five of these qualities.
Attention to detail. All professional cleaners need to be thorough in their cleaning and disinfecting practices. Yet nowhere is this strict attention to detail more critical than in healthcare settings where surgeries and other medical procedures are performed. Hospitals are also far more likely to be occupied by patients with lower immune systems. It is not enough for EVS hospital workers to leave areas "mostly" clean. They are the first defense against the spread of infection and, as such, must remain alert in their roles at all times.
Compassion. On average, EVS hospital workers spend more time with patients than doctors and even nurses. Often, patients who are fearful about their stay or diagnosis and do not want to worry family members will find EVS workers approachable and confide in them. EVS technicians able to empathize with patients can help them feel safer and have a better opinion about their overall hospital stay. The result is better patient experiences and higher hospital HCHAPS scores.
Patience. For reasons similar to the need for compassion, hospital EVS workers with patience fare best in this profession. Things in a hospital or other healthcare setting don't always go as planned. Admissions and discharges can be delayed or unknown (see flexibility below), and hospital maintenance can be too busy to respond to requests immediately. While coordinating and working closely with hospital staff can help, there will still be times when EVS workers' ability to be patient will be an appreciated virtue.
Staying Current. Agency, state, and federal regulations are constantly changing. Consider how many times recommendations from the CDC and the EPA evolved during the COVID-19 pandemic. Imagine what keeping up with the ever-evolving standards has been like for hospitals and other healthcare facilities. EVS hospital staff must be able and willing to stay abreast of new information as it becomes available.
Flexibility. EVS hospital schedules can change at a moment's notice based on unexpected medical emergencies, fluctuating patient admissions and discharges, and other unforeseen cleaning needs. These shifting needs require EVS team members to shift gears and move quickly from one place, task, and set of protocols to another.
Being an EVS technician can be a demanding job. Read our recent blog post to see why Servicon Operations Manager Wendy Torres believes few professions are more rewarding.
Servicon's EVS for Hospitals Services
With extensive experience serving the California healthcare industry, Servicon understands the importance of recruiting, hiring, and retaining quality EVS technicians.
We help produce higher HCAHPS scores, lower HAIs, and faster throughput, which translates into more budget dollars to spend on your business of saving lives.
We invite you to to find out more about Servicon's cleaning services for complex facilities and to schedule a free assessment.