Good EVS for Hospitals Translates into Patient Satisfaction
Environmental Services, or EVS for hospitals, has long played a key role in HCAHPS survey scores. However, the COVID-19 pandemic has brought new attention to how these services impact patient satisfaction.
What Is HCAHPS?
The Hospital Consumer Assessment of Healthcare Providers and Systems (HCAHPS) is a standardized, publicly reported survey of patients' perspectives of U.S. hospital care. It accounts for 25% of a hospital's total performance score, and Medicare and Medicaid reimbursements are tied to the outcome.
HCAHPS surveys are distributed randomly to patients within 48 hours to six weeks after discharge. The surveys include 29 questions regarding patient satisfaction, covering everything from nurse and doctor communication and staff responsiveness to the hospital's cleanliness and quietness.
How HCAHPS Scores Relate to EVS for Hospitals
EVS teams in hospitals play an integral role in patient satisfaction and, therefore, HCAHPS rankings. With healthcare acquired infections (HAIs) accounting for an estimated 1.7 million infections and more than 99,000 associated deaths annually, the cleanliness of a hospital is a top patient concern and a hospital cleaning company's priority. Add the genuine threat of COVID-19 to the picture, and the need for a hospital to provide a clean, safe environment skyrockets.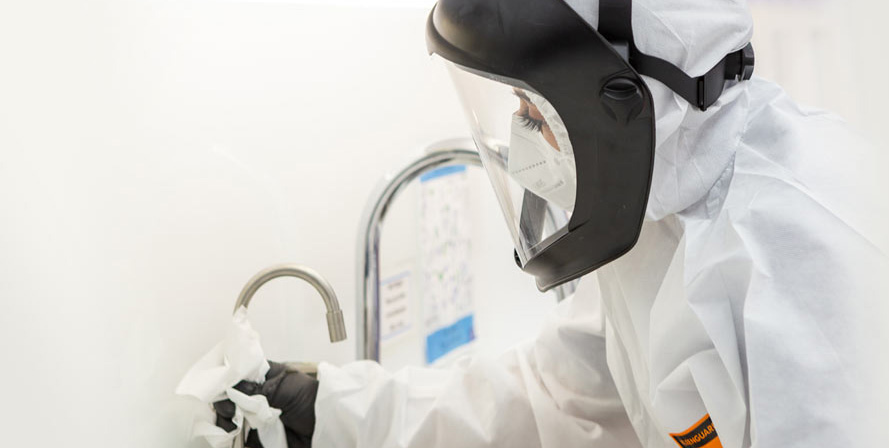 While quality cleaning and infection prevention are top EVS concerns, below are additional ways EVS can help ensure greater patient satisfaction and higher HCAHPS scores.
Check it out. As one of the first on the scene to prepare a room for occupancy, EVS technicians can assess the condition and working order of beds, chairs, and other furniture. They can alert maintenance if there are issues, such as broken rails or chair legs, to help expedite the repair/replacement process and ensure rooms are in good working order when patients arrive.
Ready, set, go. EVS can develop a protocol for alerting other departments, such as admissions, emergency, and nursing, when rooms have been cleaned and disinfected and are ready for occupancy. This allows patients to be transferred more expediently and smoothly. Similarly, they can let other departments know if there is a delay in room preparation to prevent patients from being left waiting in hallways or being transported back and forth from one hospital area to another.
Quiet time. A major complaint by hospital patients is the noise level that prevents them from sleeping well. Meanwhile, studies show that getting a good night's sleep helps expedite healing and elevates mood. Reputable healthcare cleaning companies invest in quieter, more efficient cleaning equipment, such as vacuums and floor machines, and make sure they are well-maintained to run as quietly as possible. Hence, patients sleep better and heal faster.
A matter of care. Compassion matters. Many patients who are in the hospital are scared or worried. Uncomfortable discussing these feelings with doctors and nurses, they often confide in EVS staff. The best hospital cleaning companies provide their EVS workers with empathy training to know how to react and respond appropriately. When EVS workers are trained to navigate sensitive conversations with patients, this positively impacts the patient's ability to heal and the overall experience, which, in turn, raises HCAHPS scores.
Hospital Environmental Services Near Me
If your hospital cleaning company isn't helping you increase your patients' satisfaction and HCAHPS scores, it's time to discover the Servicon difference. Contact us for more information on our hospital environmental services.
Are you interested in finding out if a career in EVS could be right for you? Find out more about environmental services hospital jobs and the opportunity to join the Servicon team at servicon.com/careers.
Interested in working for Servicon?
Interested in learning more about our services?
We help produce higher HCAHPS scores, lower HAIs, and faster throughput, which translates into more budget dollars to spend on your business of saving lives.
We invite you to to find out more about Servicon's cleaning services for complex facilities and to schedule a free assessment.