Note: This is the third in a series of how EVS providers and facility managers can help their hospitals become more sustainable.
Environmental services (EVS) providers have more of a role to play in making hospitals more sustainable than many realize. As discussed in our previous articles, there are many ways that EVS can reduce water and energy usage. Using innovative technologies can save water, energy, or both.
Below are some examples of science-backed innovations Servicon has tested and uses in the field. The equipment helps make Servicon's EVS for hospitals and its other commercial cleaning services more sustainable while meeting the company's and clients' quality standards.
The Sustainable 4
Square Scrub Pivot. This orbital floor machine effectively and efficiently cleans, scrubs, polishes, and strips all types of flooring—from wood to concrete to vinyl. It works dry or with water, eliminating the need for harsh, environmentally unfriendly chemicals while avoiding the water waste that comes with conventional mopping. The pivoting head provides increased maneuverability while operating at a noise level of only 69 decibels. The dust containment kit included helps maintain healthier indoor air quality. The machine is UL, CSA, and CE certified. Clients appreciate the superior outcomes as much as the greater sustainability.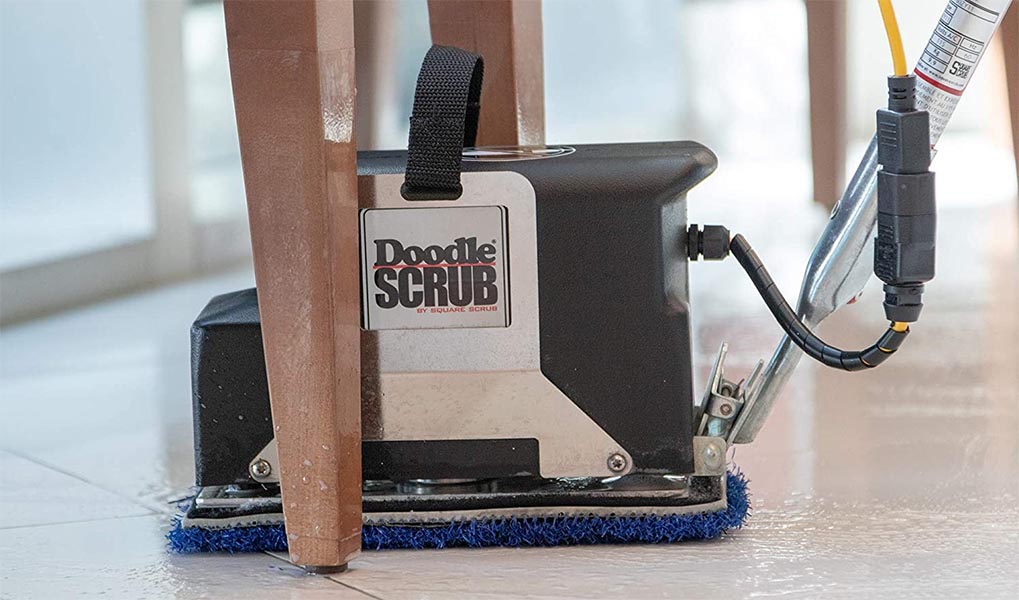 Doodle Scrub. A smaller version of the Square Scrub, the Doodle Scrub floor cleaning and preparation machine is perfect for small areas where larger machines cant' fit, such as corners, edges, and behind toilets, also operating wet or dry for reduced water and chemical usage. The Doodle also swivels to tackle vertical surfaces, such as baseboards, eliminating the water and labor waste required to clean these by hand. The Doodle Scrub is lightweight (21 pounds) yet delivers the same pounds per square inch of power as its larger version. Each side of the floor pads cleans up to 500 square feet for less waste, while the long-lasting battery means less energy use.\
i-mop. This is a sweeper mop and wet/dry vacuum all in one that reduces water and chemical usage for enhanced sustainability. The onboard tank releases and retrieves water, resulting in zero water waste. The XL i-mop holds just over four gallons of water and cleans about 4,506 square feet; conventional mopping would require multiple bucket refills to clean the same area. Meanwhile, ATP testing has shown that the i-mop's twin counter-rotating brushes produce 90% cleaner surfaces than conventional mopping. The i-mop is powered by lithium-ion technology, so it charges faster and has a longer life than other battery types.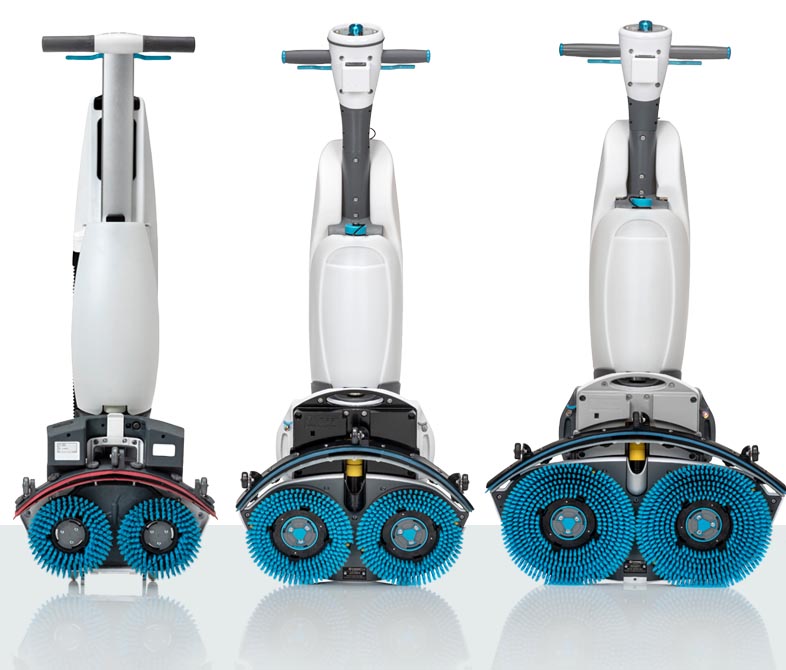 Protexus by EvaClean. This cordless, lightweight electrostatic sprayer provides 360-degree, touchless electrostatic cleaning, disinfecting, or sanitizing. The Protexus uses disinfecting tablets and water versus harsher disinfectants, making it a more sustainable formula. This provides the highest level of hospital-grade disinfection required without messy mixing and unnecessary water waste. Each 2.25-gallon tank covers 100,000 square feet with a five- to eight-foot spray range. Servicon EVS employees use both the handheld and backpack models with faster charging and long battery life for less energy use.
Servicon keeps abreast of the latest technologies proven to improve outcomes while doing more to protect the environment and our natural resources. Stay tuned for more innovations aimed at helping our hospital EVS and commercial cleaning services be more sustainable.
Sustainable EVS Provider Near Me
Are you looking for a hospital cleaning services provider that cares about the environment and reducing its carbon footprint? Find out more about Servicon's impressive sustainability practices, or call us at 310-204-5040.
Are you looking for a career with a company that cares about the environment and operates in LA County, Ventura County, Antelope Valley, Orange County, San Bernardino, and other areas of Southern California? Read what these employees say about working at Servicon and find out more about careers with Servicon.