EVS & FM Working Together to Reduce Energy Consumption
Note: This is the second in a series of how EVS providers and facility managers can help their hospitals become more sustainable.
Sustainability in hospitals is essential from an environmental viewpoint, but it also helps hospitals run more efficiently, reducing costs and improving public perception. One area that can make a substantial, sustainable impact is reducing energy use.
The average U.S. hospital uses 31 kilowatt-hours (kWh) of electricity and 103,600 Btu of natural gas per square foot annually. This is a lot of energy usage but hardly surprising since hospitals are open 24/7/365 and include diverse areas that demand energy usage—from surgical and patient rooms to laundry and foodservice.
Environmental services (EVS) providers are often omitted from hospital energy usage conversations, while the role of facility maintenance (FM) is sometimes underestimated. Both are a mistake. Working with FM, EVS providers can contribute far more than may be imagined to reducing energy consumption, leaving hospitals with more financial resources to spend on equipment and patient care.
5 Ways EVS Providers Can Help Hospitals Lower Energy Use
Let's look at some of the ways EVS providers and FM can work together to help reduce the amount of energy used in hospitals and other medical facilities.
Lights. FM can ensure the hospital uses the most efficient lighting possible, while EVS can help by reporting bulbs out or malfunctioning light fixtures. Wherever possible, incandescent lighting should be replaced with LED bulbs, which use more than 75% less energy. In addition, since EVS workers are often the last to leave rooms, workers should be trained to turn off all lights in areas not in use and where doing so does not pose a safety hazard.
Laundry. With the volume of linens and other laundry hospitals wash daily, FM should ensure washers are energy-saving certified and receive scheduled preventative maintenance to keep them in good working order. Since EVS workers are usually responsible for the laundry, they should report any malfunctioning machines so FM can repair them as soon as possible. EVS providers also should ensure wash loads are full and use cold water whenever possible.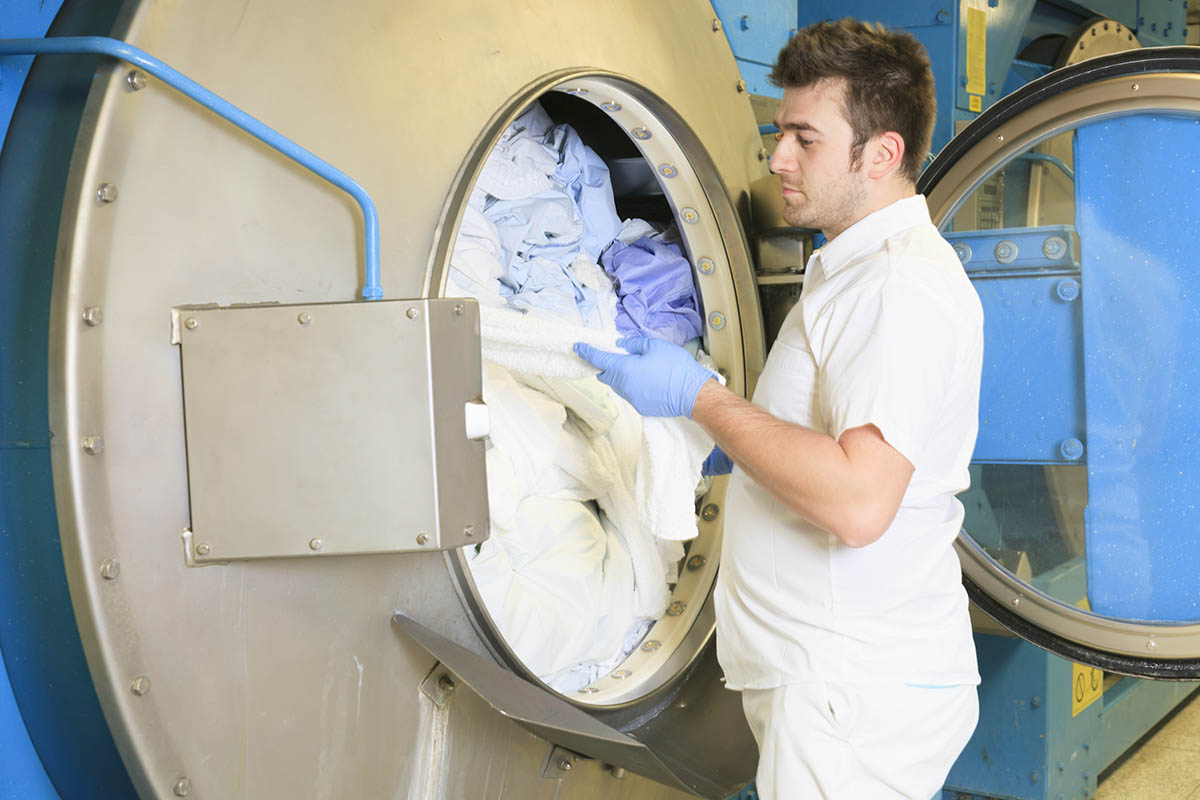 Equipment. Floor machines, backpack vacuums, and other equipment should be energy-efficient and rely on long-lasting batteries to reduce charging frequency. Machines should be kept in top working condition, and those malfunctioning should be repaired or replaced as quickly as possible.
Technology. When cleaning nurse stations, offices, and other areas where electronics are present, EVS should take note of those that are left on when not in use and can be unplugged. (Many people don't realize that electronics such as computers and cell phones continue to use electricity when plugged in, even if they are turned off.) EVS should not turn off or unplug electronics but instead work with hospital staff to ensure all electronics that can be are turned off and/or unplugged when not in use.
Ventilation. This is an area of significant electricity use, especially given how many pathogens, such as SARS-CoV-2, the virus that causes COVID-19 and its variants, are transmitted by air. FM should be sure the best ventilation and air purification systems based on efficiency and budget are installed and in good working condition. If possible, ultraviolet (UV) and HEPA filters should be incorporated into existing systems, and EVS providers or FM should change filters regularly and on an as-needed basis.
EVS Providers Near Me
If you are looking for an EVS provider that cares about the environment and reducing energy consumption, find out more about Servicon's impressive sustainability practices or call us at 310-204-5040.
Are you looking for a career with a company that cares about the environment and operates in LA County, Ventura County, Antelope Valley, Orange County, San Bernardino, and other areas of Southern California? Read what these employees say about working at Servicon and find out more about careers with Servicon.