Keeping up with innovative technologies is vital for any successful commercial cleaning services provider. At Servicon, we are always on the lookout for technologies that can increase productivity, protect worker health, are more sustainable, and reduce client costs. At the same time, we are careful only to adopt innovations proven to accomplish these goals based on scientific research, reliable data, and real-world testing.
At Servicon, our service, equipment, product use, and processes are backed by science. Thanks to our partnership with The Infection Prevention Strategy (TIPS), we have access to a network of leading epidemiologists and other top infection prevention scientists. Our Innovation Council researches emerging technologies to ensure we adopt only those that produce superior results, enhanced efficiencies for our clients, and greater ease-of-use for our workers.
Servicon is pleased to announce it has equipped its commercial cleaning services teams with the following new technologies, which have been proven to meet our stringent criteria and client-satisfaction goals.
A Pivotal Difference
The Square Scrub Pivot orbital floor machine cleans, scrubs, polishes, and strips floors efficiently and effectively, either dry or with water, simply floor cleaning at it's finest, using no harsh chemicals. The machine works on all types of flooring—from wood and tile to LTV and concrete. The pivoting head allows for increased maneuverability, and its uniform weight distribution handles uneven floors and deep cleans the grout between tiles.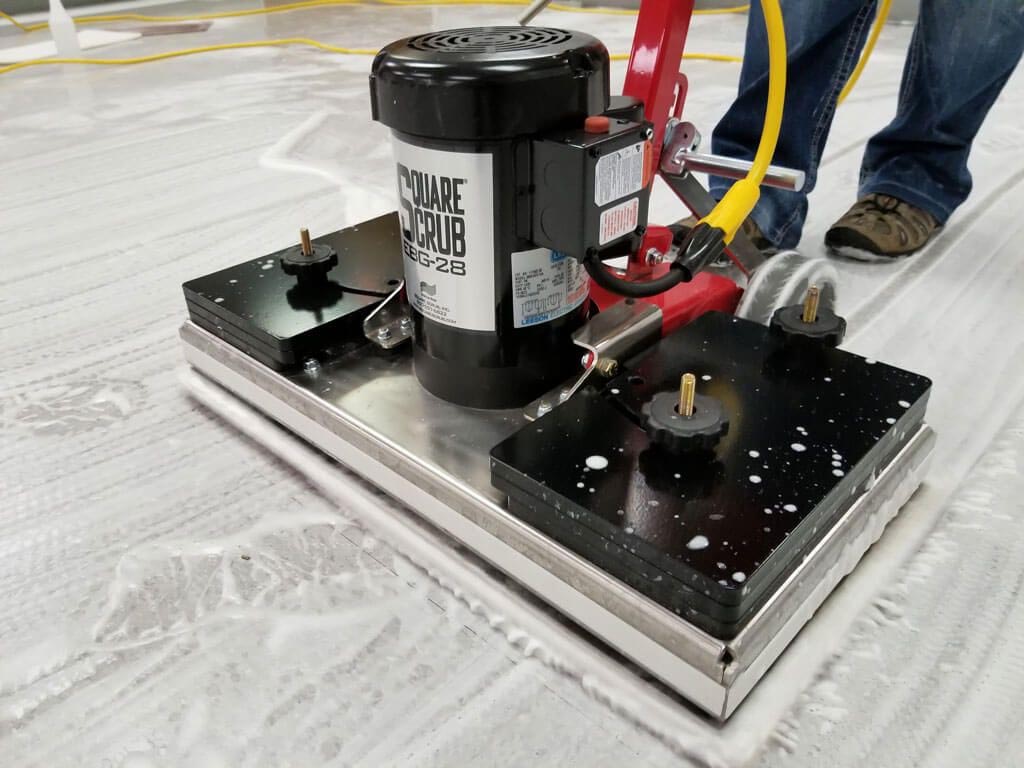 Source: Square Scrub Facebook Page
The machine's light weight and ergonomic features, such as handle height and angle adjustment, make it popular with workers. Clients appreciate the superior outcomes and impressive labor savings. It does all this with a noise level of only 69 decibels, making it easy on workers' and building occupants' ears.
A Smaller Scrub
A smaller version of the Square Scrub, the Doodle Scrub floor cleaning and preparation machine, gets in small areas where larger machines can't, including corners and edges, storage areas, work stations, and behind toilets. Despite the Doodle Scrub's small stature and light weight (21 pounds), it delivers the same pounds per square inch of power as the full-size Square Scrub. Each side of the floor pads, which snap in easily from an upright position, cleans up to 500 square feet, while the long-lasting battery operation makes it even easier to maneuver in tight spaces.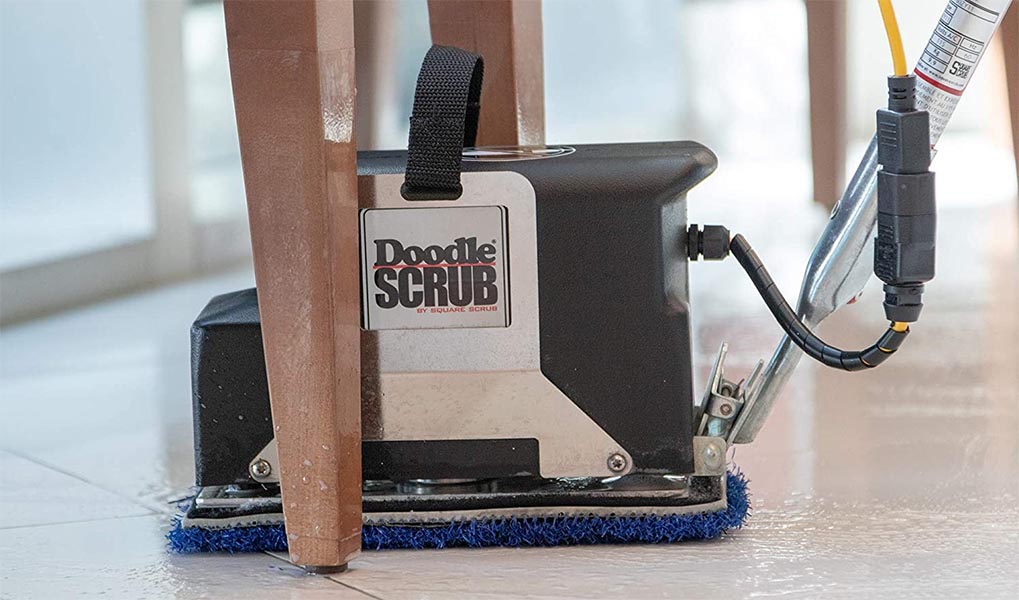 Source: Square Scrub Facebook Page
A favorite feature of the Doodle is its ability to "flip." While other mops splatter the sideboards, requiring workers to go back and clean them by hand, the Doodle's ability to clean sideways easily handles the cleanup, increasing productivity, lowering labor costs, and decreasing workers' need to bend. This ease-of-use plus labor savings make it a win/win for workers and clients alike.
Strong but Low Profile
The i-mop floor scrubber is a sweeper mop and wet/dry vacuum all in one. It reduces labor time by 70% compared with wet mopping and 30% compared with traditional auto scrubbing. Better still, ATP test research has shown the i-mop's twin counter-rotating brushes produce 90% cleaner surfaces compared to conventional mopping. The machine's sleek design enables it to clean right up to edges, while its flat profile can glide under furniture and other obstacles, virtually eliminating manual cleaning of these areas.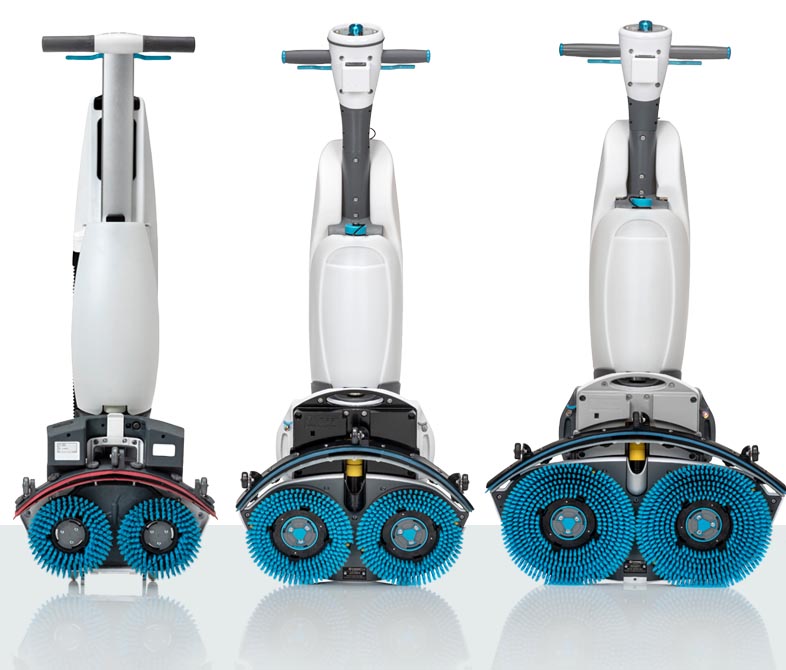 Source: i-team website
The i-mop reduces water and chemical usage for enhanced sustainability; it is typically used with plain water but can just as efficiently disperse disinfectant or degreaser. The onboard tank releases and retrieves water, eliminating the need for a bucket or other liquid dispensing equipment. The i-mop's light weight, ergonomic design, and four-hour battery—enough to power through an eight-hour shift before recharging— makes it completely portable. Servicon workers have found using the Square Scrub followed by the i-mop is an unbeatable combination, resulting in greater sustainability, labor savings, and worker and client satisfaction.
Positively Charged
The Protexus by EvaClean is a cordless, lightweight electrostatic sprayer that provides 360-degree, touchless electrostatic cleaning, disinfecting, or sanitizing. The Protexus uses disinfecting tablets and water, which it charges on site to produce a more sustainable formula. This provides up to the highest level of hospital-grade disinfection without messy mixing. Its simplicity of use also requires less staff training. Servicon commercial cleaners are using both the Protexus hand-held and backpack models for maximum flexibility of application.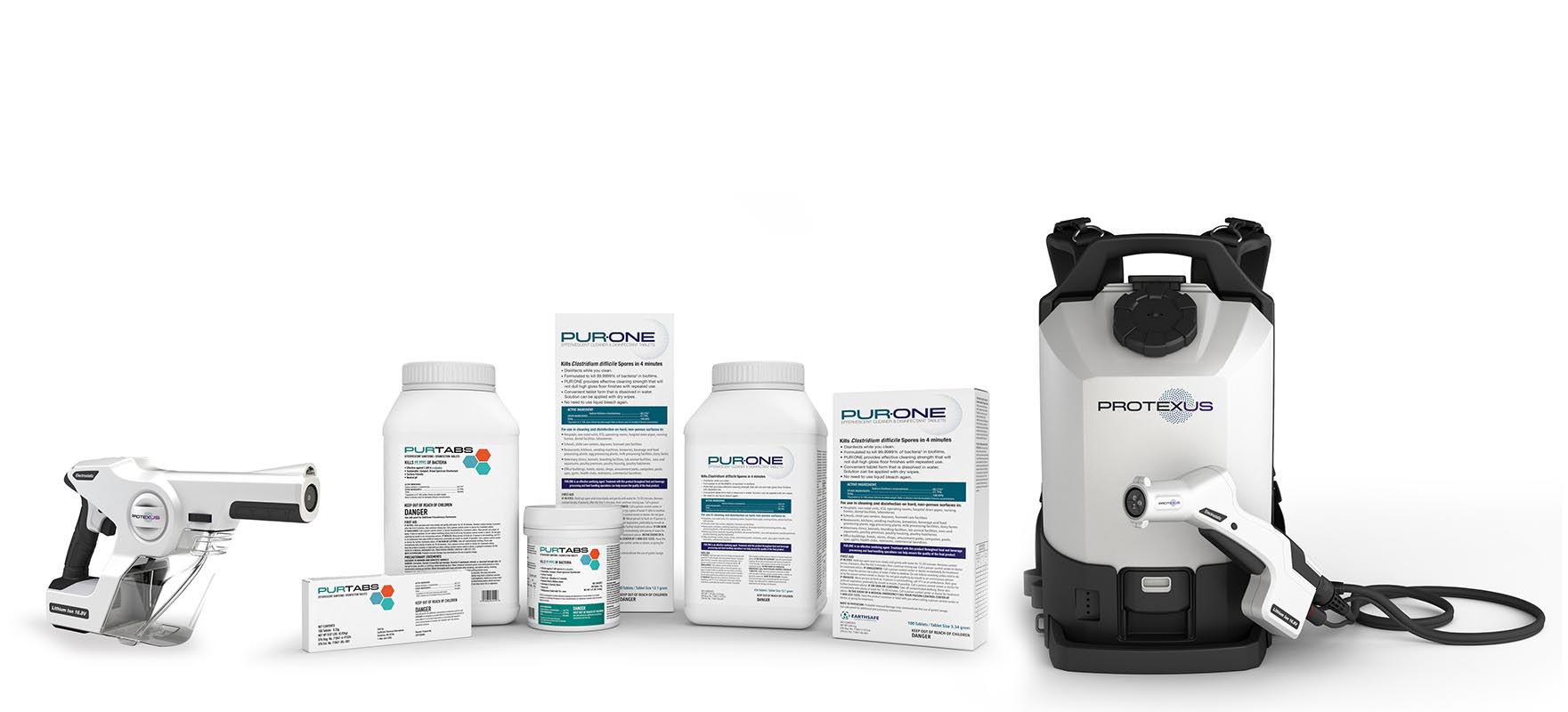 Source: EvaClean website
The backpack disinfects or sanitizes up to four times more surface area than traditional cleaning methods within the same timeframe. Each 2.25-gallon tank covers 100,000 square feet with a spray range of five to eight feet. The hand-held electrostatic gun unit is ideal for disinfecting or sanitizing small spaces. Weighing only 3.8 pounds, it is entirely portable. All this adds up to superior results with incredible labor savings that give workers more time to attend to other cleaning duties.
Servicon continues to keep abreast of the latest proven technologies to improve outcomes and raise the bar on infection prevention and client satisfaction. Stay tuned for many more commercial cleaning services innovations to come.