Commercial Janitorial Services Have Come a Long Way
The staples of commercial janitorial services were once a mop and bucket with a strong (and usually strong-smelling) cleaner that "was sure to do the trick" no matter the environmental or health fallout.
Luckily times have changed—a lot. Today, not only are there safer, less toxic chemical options, but there also are easier-to-use, more ergonomic types of equipment that produce superior cleaning and disinfecting results with less labor. In fact, in recent years, our industry has advanced to the point that most commercial janitorial services companies are moving away from the term "janitorial" in favor of being called commercial cleaning services providers or facility maintenance companies to show off their expanded offerings and technological advancements.
With this in mind, below are a few innovations backed by science and real-world testing Servicon now uses in its day-to-day commercial cleaning services.
Big & Small Scrubbing
The Square Scrub Pivot orbital floor machine cleans, scrubs, polishes, and strips floors efficiently and effectively, can be used dry or with water, and uses no harsh, toxic chemicals. The Square Scrub performs exceptionally well on all types of flooring, while the pivoting head means enhanced maneuverability. The machine produces superior results, saves labor, is lightweight, includes ergonomic features like adjustable handles, and works at a noise level of only 69 decibels.
Meanwhile, the smaller model, the Doodle Scrub, gets in small areas where larger machines can't, cleaning corners, edges, storage areas, work stations, and behind toilets. Weighing in at only 21 pounds, the Doodle Scrub delivers the same pounds per square inch of power as the full-size Square Scrub. Each side of the easy to snap in floor pads cleans up to 500 square feet. The Doodle's ability to "flip" sideways to clean surfaces makes it a favorite of workers and management looking to save on labor by reducing the need to wipe these surfaces by hand.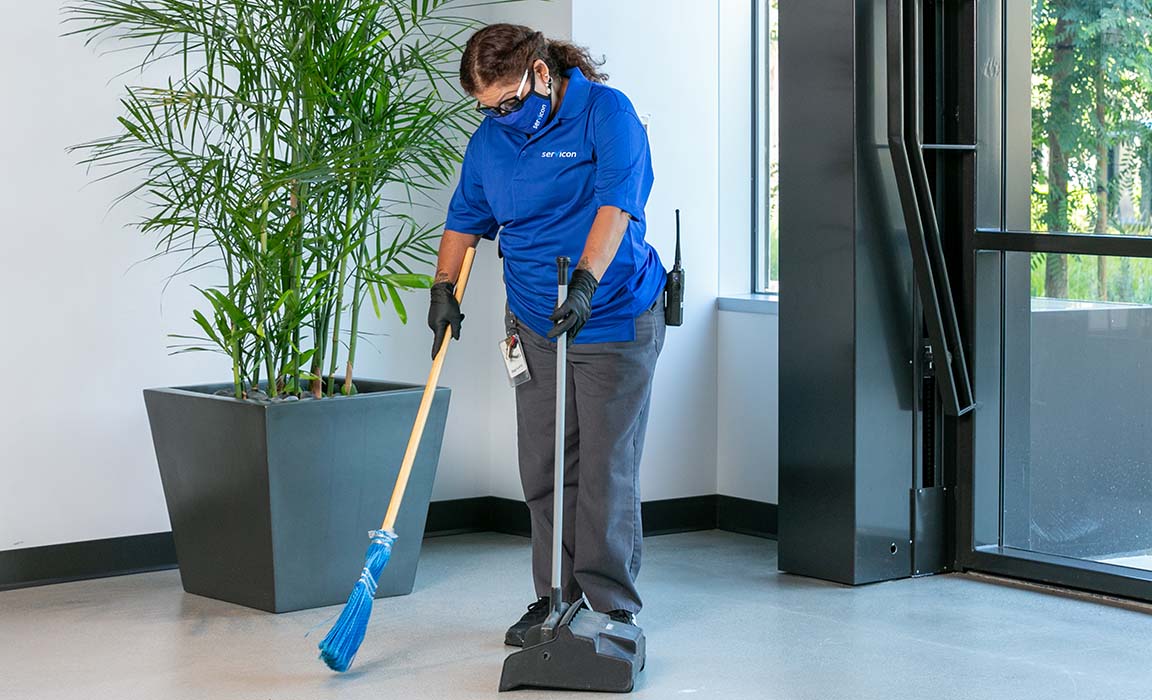 A New Age of Mop
Another innovation Servicon customers have warmly welcomed in recent months is the i-mop, a sweeper mop and wet/dry vacuum all in one. Tests show that compared with wet mopping, the i-mop reduces labor time by 70% and 30% when compared with traditional auto scrubbing. Better still, ATP testing has shown the i-mop's twin counter-rotating brushes produce 90% cleaner surfaces compared to conventional mopping. The i-mop uses less water and chemicals for enhanced sustainability, and while it is typically used with plain water, it can be used to dispense disinfectant or degreaser. The machine's sleek design enables it to glide under furniture and other obstacles. The i-mop's lightweight, ergonomic design and four-hour battery make it completely portable.
Interested in working for Servicon?
Interested in learning more about our services?
Good Static
For disinfecting, the Protexus by EvaClean can't be beat. It is a cordless, lightweight electrostatic sprayer that provides 360-degree, touchless electrostatic cleaning, disinfecting, or sanitizing. The Protexus uses disinfecting tablets and water, which are charged on site and can produce up to the highest level of hospital-grade disinfection without messy mixing. Simple to use, it requires less training. The Protexus comes in both handheld and backpack models for maximum flexibility of application. Testing shows the backpack disinfects or sanitizes up to four times more surface area than traditional cleaning methods within the same timeframe. Each 2.25-gallon tank covers 100,000 square feet. The handheld electrostatic gun unit weighs only 3.8 pounds, making it ideal for small spaces and entirely portable.
At Servicon, we are always on the lookout for new technologies that can make the job easier for our commercial cleaning services workers while producing superior results and time and labor savings for our customers. Read our constantly updated blog to gain insight into the commercial cleaning services industry and find out what other innovations we discover!
Commercial Janitorial Services Near Me
With so many new claims out there, how can facility maintenance companies be sure the equipment they are using produces superior results, is the most sustainable option available, and does what it says it does? At Servicon we make sure our technologies are backed by science—then we conduct real-world testing. Find out more about the Servicon advantage when it comes to innovation.