It was once believed hospital cleaning services only needed to clean the floors in the facility once a day, and maybe not even that often, depending on the area's use. In fact, in 2003, the CDC maintained, "Floors generally have low patient exposure (i.e., are low-touch surfaces) and pose a low risk for pathogen transmission."
The guidelines continued: "Extraordinary cleaning and decontamination of floors in healthcare settings are unwarranted. Nevertheless, healthcare institutions or contracted cleaning companies may choose to use an EPA-registered detergent/disinfectant for cleaning low-touch surfaces (e.g., floors) in patient-care areas because of the difficulty that personnel may have in determining if a spill contains blood or body fluids (requiring a detergent/disinfectant for clean-up) or when a multidrug-resistant organism is likely to be in the environment."
These guidelines were updated slightly in 2019, stating, "Horizontal surfaces with infrequent hand contact (e.g., window sills and hard-surface flooring) in routine patient-care areas require cleaning on a regular basis, when soiling or spills occur, and when a patient is discharged from the facility."
While these instructions provide basic procedures for healthcare cleaning companies, the guidelines contain some ambiguities. For example, what constitutes "a regular basis" is left open to interpretation. Similarly, how is a hospital cleaning company to know for sure whether a "multidrug-resistant organism is likely to be in the environment"? Equally undefined is what constitutes "soiling"?
Another factor worth considering is that the most recent updates to the guidelines were completed just before the dawn of the COVID-19 pandemic, which has significantly changed many processes and protocols used by these providers.
New Research for Hospital Cleaning Services
Perhaps hospital cleaning service providers should heed a new study published as part of Decennial 2020: The Sixth International Conference on Healthcare-Associated Infections. Decennial 2020 is an initiative of the CDC and the Society for Healthcare Epidemiology of America. The study found that nearly half of the hospital patient rooms studied tested positive for MRSA within the first 24 hours. Within four days, MRSA, C. difficile (C. diff), and vancomycin-resistant enterococci (VRE) pathogens were present in 58% of the patient rooms. According to the study, "Contamination often started on the floors, but ultimately moved to patients' socks, bedding, and nearby surfaces."
The study concluded, "The floors of hospital rooms are frequently contaminated with antibiotic-resistant bacteria within hours of patient admission, creating a route of transfer of potentially dangerous organisms to patients." Other studies have similar findings.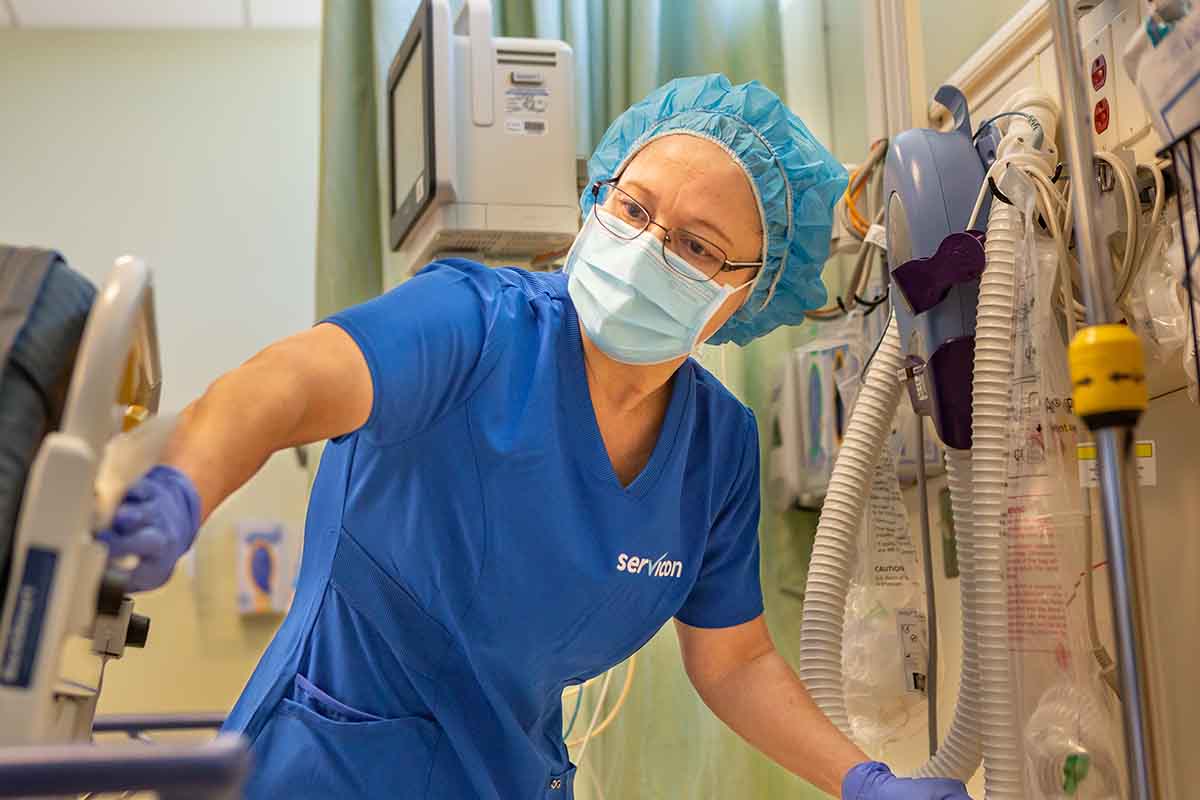 Cross-Contamination
It should be clear that many hospital cleaning services now clean floors day and night for increased infection prevention, especially given how quickly bacteria and other germs can spread throughout the facility. Consider, for example:
Doctors and nurses are in a variety of settings throughout the day. So, too, are their shoes.
Patients get out of bed to use the restroom, often walking on the floor with their slipper-socks, then climb back into bed, where bacteria from the floor can contaminate bed linens.
Nurse call buttons, TV remotes, and any number of other items fall on the floor and are picked up, after which patients and staff touch a variety of surfaces, including their faces.
Patient sputum, especially from those with respiratory issues, often sprays into the air, falling onto surfaces, including the floor.
Wheelchairs, walkers, and other shared equipment pass through a variety of departments, tracking germs from one floor to the next.
Making a Good Impression
While health is the main reason for floors to be cleaned, the importance of appearance should not be ignored. The answer to No. 8, "During this hospital stay, how often were your room and bathroom kept clean?" on HCAHPS forms has never been more critical. Studies show the cleanliness of healthcare facilities is of increasing concern to patients, as reflected in patient satisfaction scores. Lack of cleanliness can hurt a healthcare facility's HCAHPS scores, CMS funding, and reputation. Then consider that floors are one of the first surfaces hospital patients see when they enter the facility and see consistently as they move throughout the facility. This is why you frequently see these types of cleaning service providers maintaining hallways, lobbies, and entrances throughout the day.
How often floors in hospitals and other healthcare facilities are cleaned varies by area, traffic flow, use, and even staff and equipment availability. One thing is for sure, however. If your hospital cleaning company isn't looking down, it might be time for you to look around.