Why a Floor Care Company's Work Matters
When a commercial cleaning services provider or floor care company cleans floors, making them look good is one goal. But it is far from the only one. There are multiple other reasons for floor maintenance. But first, let's look at what floor care usually includes.
What Constitutes Floor Care?
Floor care for hard surface floors starts with sweeping or vacuuming to remove dirt and debris. This is followed by posting "wet floor" safety signs and cleaning the surface with a floor cleaner suitable for the surface. For preventative maintenance or where the flooring is badly soiled, scratched, or scuffed, stripping and refinishing the flooring may be required.
The Importance of Floor Care
As mentioned, appearance is one reason floor care is vital for any facility. Below are other reasons.
Safety. First and foremost, floor care services are performed for safety—to prevent slip, trip, and fall accidents. Falls account for more than eight million hospital emergency room (ER) visits, representing 21.3% of all ER visits. Slip and fall accidents account for over 1 million ER visits, or 12% of falls. Slip and fall accidents are also the leading cause of workers' compensation claims and often result in costly lawsuits and plaintiff compensation.
Scuffs and scrapes. Another reason facility maintenance companies pay special attention to cleaning floors is to remove dirt, sand, and other debris that can scrape and scratch the floor's finish. This can result in the floor needing to be refinished, or worse, replaced. A facility that has a good floor care services provider can avoid these costs.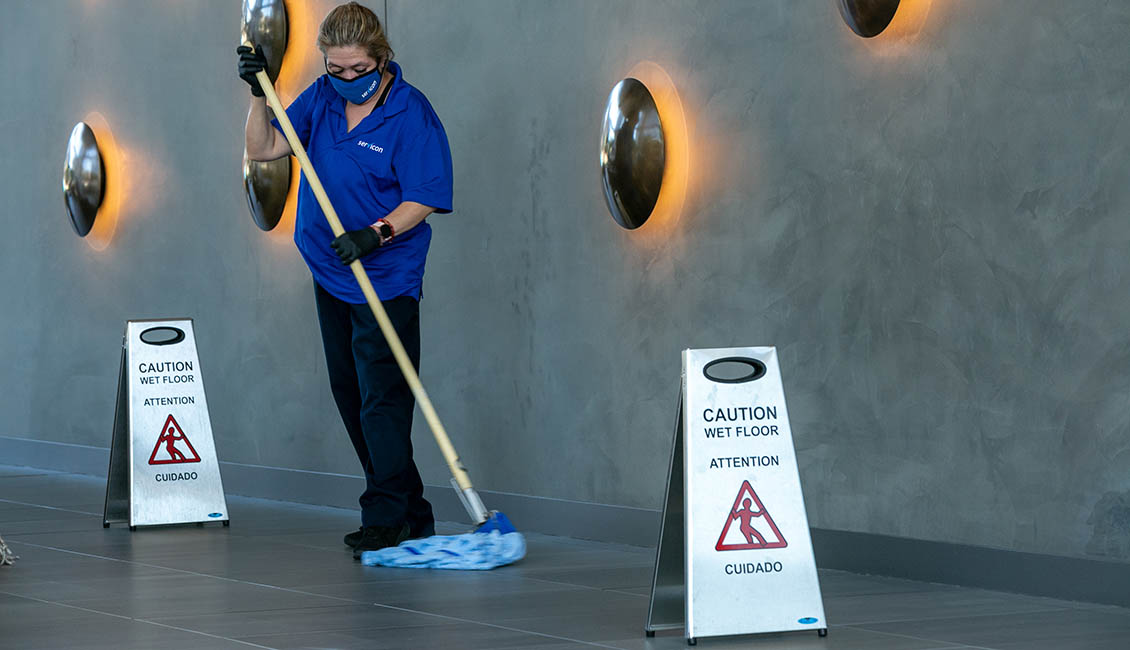 Infection prevention. In healthcare settings, floors are cleaned to prevent the spread of infections such as healthcare-acquired infections, which account for 99,000 deaths annually. Flooring choice can increase or decrease HAIs (avoiding porous flooring or materials with grout and seams, for example, can decrease infection rates). Making sure flooring is cleaned regularly can also help reduce the spread of HAIs. Some floor care services may not consider the floor a focus in healthcare settings since it is not regarded as high-touch. However, consider the equipment rolled from one room to the next and patients walking in their socks from the bed to the bathroom or even in the hallways. All good hospital environmental services providers understand that flooring can transmit HAIs and clean floors appropriately.
Allergens. Something often overlooked by facility maintenance companies touting their floor care services is how cleaning floors can help reduce allergens, such as dust or pet hair, and the reactions they cause. These adverse reactions can include everything from runny noses and itchy, watery eyes to respiratory irritation and conditions such as asthma. Removing these allergens from the floor's surface is especially important for areas where small children play, such as daycare centers or preschool. In addition, if left untreated, these allergens can be relaunched into the air by people walking and tracked on shoes to other areas of the building.
Traction. Some floors, like basketball courts or dance floors, require cleaning to maintain optimum traction. Otherwise, dust and debris can lead to sliding and create a potentially dangerous surface.
A Floor Care Company Near Me
If you own a complex facility in California or a neighboring state and are looking for a superior commercial cleaning services provider, learn more about the Servicon advantage.
Are you looking for a career with a superior commercial cleaning services company? Visit sericon.com/careers.
Interested in working for Servicon?
Interested in learning more about our services?