Hospital Cleaning Services: Knowing When & Where to Do What
Since the beginning of the COVID-19 pandemic, hospital cleaning services—most often referred to as hospital environmental services (EVS) or EVS for hospitals—are finally being recognized as the lifesavers they are. EVS workers are on the frontline of infection prevention and the fight against hospital acquired infections (HAIs). The CDC estimates HAIs account for approximately 1.7 million infections and 99,000 associated deaths annually.
In addition to preventing HAIs, hospital cleaning companies can help:
Increase CMS reimbursement
Raise HCAHPS scores
Shorten patient stays
Improve bed-turnover rates.
This level of responsibility means EVS workers need to be sure which surfaces demand cleaning and disinfecting and how often.
Frequency
All areas of a hospital must be cleaned. However, not all areas require disinfecting. How frequently hospital surfaces need cleaning and which surfaces require disinfecting is determined by where they are located, how they are used, and how often they are used. For example, surfaces in seldom-used areas, such as boardrooms or storage areas, may be cleaned weekly, or in some cases, even less often. Lobbies and other common areas should be cleaned and disinfected as needed once every 24 hours, depending on traffic. The exception in common areas is high-touch points, such as light switches and door handles, which the CDC recommends disinfecting a minimum of once every 24 hours and more often if they are frequently used.
Restrooms used by one individual, such as in a patient's room, should be cleaned and their high-touch points disinfected a minimum of once daily. The CDC recommends cleaning and disinfecting restrooms used by multiple people twice daily, with periodic checks throughout the day to replenish supplies, disinfect high-touch points, and assure their continued sanitary condition.
Patients' rooms should be cleaned daily and cleaned and disinfected following each patient's discharge. Rooms housing patients with infectious diseases and areas where surgical procedures are performed require intensive disinfection (see Terminal Cleaning below).
Interested in working for Servicon?
Interested in learning more about our services?
A Disinfection Refresher
Disinfecting kills 99.999% of pathogens. No one disinfectant kills all pathogens. A disinfectant is only effective against the virus(es) and other pathogens it has been approved to kill by the EPA. The only disinfectants approved by the EPA to kill SARS-CoV-2, the virus that causes COVID-19, are those on the EPA List N. Other disinfectants are either ineffective or have not been tested against the virus.
As stated above, all surfaces must be cleaned before being disinfected. Cleaning removes up to 90% of dirt, including debris that can shield pathogens from the disinfectant. Not cleaning between applications of disinfectant can also create a biofilm that attracts pathogens and encourages them to multiply.
Disinfecting requires "dwell" time, i.e., a specific time the disinfectant must stay in contact with the surface before being wiped away. Without the proper dwell time, which ranges from 30 seconds to 10 minutes, the surface will not be disinfected and may still pose a health hazard.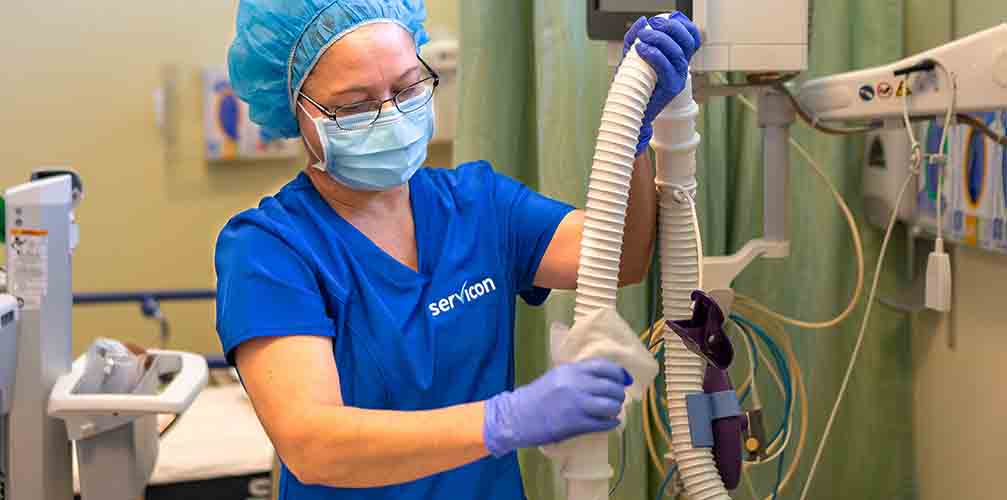 Terminal Cleaning
Terminal cleaning is mandatory if a patient with an infectious disease previously occupied the room. Hospital surgical rooms and similar areas also always require terminal cleaning.
Terminal cleaning is a more intense form of disinfecting. This process calls for removing and disinfecting all detachable objects in a room and disinfecting all stationary items, including light fixtures, air ducts, and all surfaces from the ceiling to the floor. Hospital cleaning services workers need to wear complete personal protective equipment (PPE) when performing terminal cleaning.
Sterilization
In healthcare settings, all devices that enter the human body, from implements used in surgery to metal flatware, require sterilization. Sterilization kills 100 percent of all microbes—good and bad. The most common sterilization methods include radiation, steam heat, dry heat, and the use of gasses such as ethylene oxide.
Hospital Cleaning Services Near Me
If you are in the California area and need a hospital environmental services (EVS) provider to keep your facility clean, safe, and compliant, discover the Servicon advantage. Contact us today.
Are you interested in finding out about current EVS hospital job opportunities with Servicon? Visit servicon.com/careers.
We help produce higher HCAHPS scores, lower HAIs, and faster throughput, which translates into more budget dollars to spend on your business of saving lives.
We invite you to to find out more about Servicon's cleaning services for complex facilities and to schedule a free assessment.