The Importance of Housekeeping in Hospitals FAQ
Often there is confusion over healthcare housekeeping services. People wonder:
Interested in working for Servicon?
Interested in learning more about our services?
Below are answers to these and some of the other frequently asked questions surrounding these services.
Q. What is the difference between hospital cleaning services and the duties performed by an EVS provider?
A. Essentially, these duties are the same. While most cleaning services in hospitals were previously referred to as housekeeping, today, the preferred term is environmental services or EVS.
Q. What part of the hospital does housekeeping apply to?
A. Housekeeping or EVS cleans and disinfects all areas of hospitals. The frequency of these duties is based on occupancy and need.
Q. What types of products and chemicals are used by the hospital housekeeping crew?
A. The EPA must approve all disinfectants used in the United States to be effective against the specific pathogens being targeted. Today, there is a move to use more hydrogen peroxide and hypochlorous acid-based products in varying concentrations. These formulations are approved by the EPA to kill a broad spectrum of bacteria and viruses, including the SARS-CoV2 virus that causes COVID-19.
Q. What type of equipment is used in healthcare settings?
A. The specific types of equipment used in healthcare settings can vary. These four pieces of equipment are mainstays of Servicon's healthcare infection-prevention program and protocols.
Q. What are the most important areas or rooms to clean in the hospital?
A. All rooms of a hospital should be cleaned and disinfected as occupancy and need dictates. Rooms where surgery is performed, emergency department areas, patients rooms, food service areas, and frequently touched surfaces are among those that must be cleaned and disinfected more often than less used areas.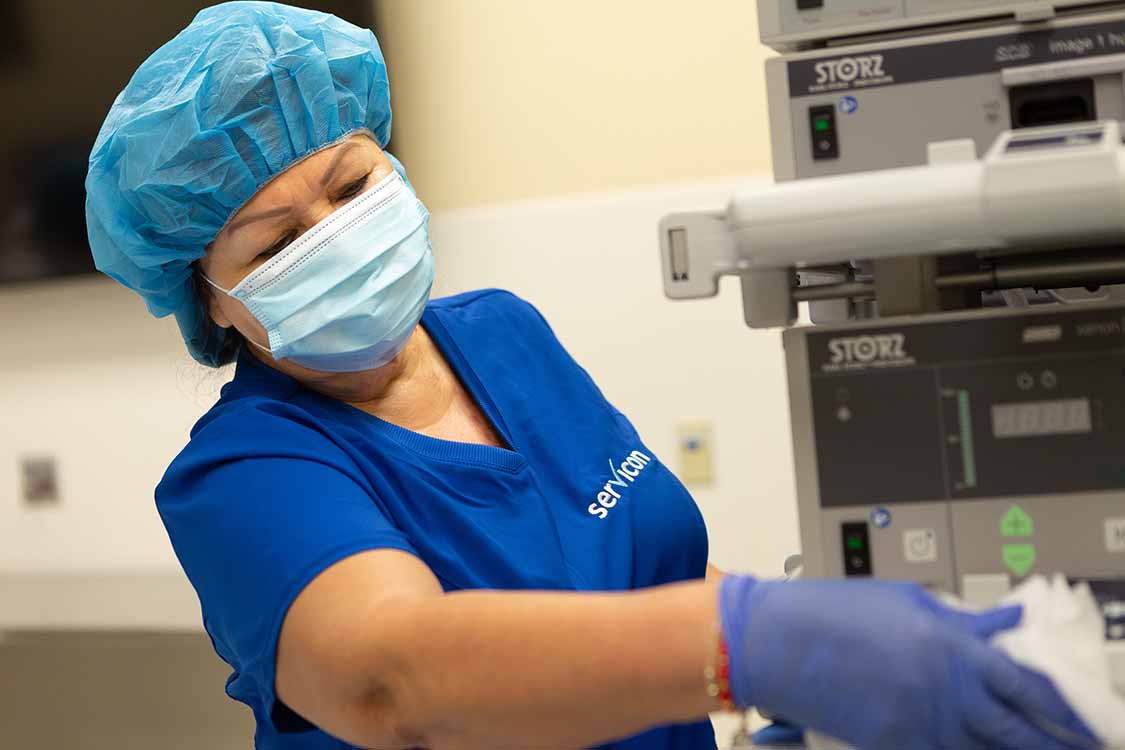 Q. How does housekeeping in hospitals differ from hospital EVS?
A. Housekeeping and hospital EVS workers perform the same duties. The difference is a name preference.
Q. What are the responsibilities of a housekeeper?
A. The responsibilities of a housekeeper or EVS worker in a hospital are focused on infection prevention. This includes cleaning and disinfecting all vertical and horizontal surfaces in the facility as required. In addition, good EVS providers ensure their workers are trained to practice empathy toward patients to help them feel more comfortable and heal faster.
Q. What are some of the skills needed to be a hospital housekeeper?
A. Some of the skills needed to be an EVS technician include:
Attention to detail
A desire to help people
A willingness to work hard
An understanding of the importance of EVS' role in saving lives.
For a list of general housekeeping requirements as outlined by the general schedule (GS)-5, click here.
Understanding the Importance of Housekeeping in Hospitals
California-based Servicon understands the vital role the right EVS provider plays in creating clean, healthy, and caring environments where patients can heal and hospital staff can work safely. Find out more about our EVS services.
We help produce higher HCAHPS scores, lower HAIs, and faster throughput, which translates into more budget dollars to spend on your business of saving lives.
We invite you to to find out more about Servicon's cleaning services for complex facilities and to schedule a free assessment.