Coming Clean About the Benefits of Commercial Cleaning Services
In the post-pandemic world, few people need to be told that infection prevention begins with a clean, healthy environment. The best way to achieve this is to hire the right commercial cleaning services provider. Hiring a reputable professional commercial cleaning services company offers many benefits. Below are a few of them.
Expertise. The top benefit of hiring an experienced commercial cleaning services provider is that their workers are trained in infection prevention and have the knowledge and expertise to keep your facility clean and safe. Reputable services provide workers who are trained in cleaning and disinfecting best practices. This includes understanding when disinfection is necessary versus when it poses more potential harm than good under the CDC's updated COVID-19 guidelines.
Appearance. First impressions matter. While the pandemic reinforced the message that cleaning for health is the foremost concern, having your facility look clean projects a professional image. It also tells occupants and visitors that the building's upkeep is important to you and helps reassure them that your facility provides a clean, safe environment.
Productivity. Studies show that a clean, healthy environment increases productivity and reduces worker absences due to illness. If a professional service handles your facility's cleaning, your facility maintenance department will have more time to concentrate on other responsibilities.
Morale. No one wants to live or work in a dirty, poorly maintained building. So it should come as little surprise that a professionally cleaned facility can improve staff morale. Studies show that people are happier, more motivated, able to focus better, and more likely to collaborate with colleagues in a clean environment than a dirty one.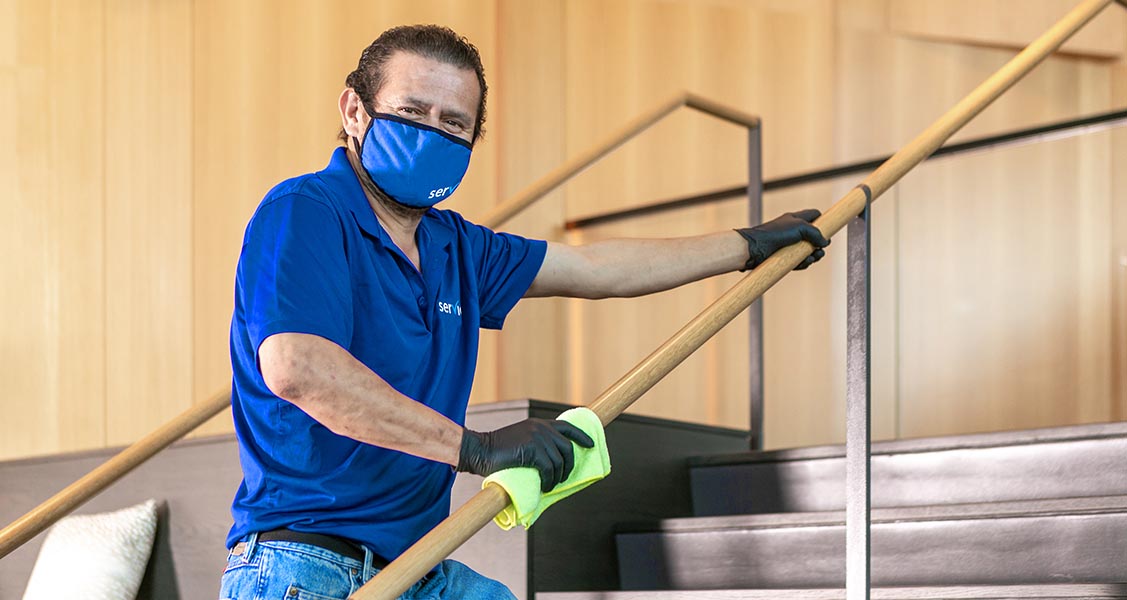 Training. Another benefit of hiring a professional cleaning service is that the company handles training of its cleaning personnel. This includes training that you would be legally responsible to provide for your own crew, such as hazard communication and other safety training mandated by OSHA.
Asset savings. Having a professional crew perform cleaning tasks regularly, such as carpet and floor care, can significantly extend the life of your assets, reducing replacement and labor costs.
HR. Hiring workers through a contracted company alleviates headaches that can come with additional staff, such as interviewing, hiring, and scheduling, while reducing costs, such as payroll and insurance. It also means that when workers are on vacation, on sick leave, or have unexcused absences, you are not left scurrying around trying to find someone qualified to fill in. Instead, the commercial janitorial services company is responsible for filling these voids with skilled workers.
Compliance. The right commercial cleaning services company stays abreast of changing government and local regulations, ensuring your facility remains in compliance in all areas related to cleaning. Top companies, such as Servicon, remain on the lookout for issues beyond their scope of work, alerting facility maintenance before issues turn into more extensive safety or compliance concerns.
Innovation. Keeping up with new technologies can be time-consuming, even overwhelming. The best service providers keep abreast of the latest industry innovations that could increase efficiencies and improve service. They don't fall prey to fads and marketing hype. Instead, they base their decisions on science and data.
Commercial Cleaning Services Near Me
Whether you are looking for a professional commercial cleaner or an experienced hospital environmental services team in or around California, we have you covered. Contact us today to discover the Servicon advantage.
Find out more about commercial janitorial services job opportunities with Servicon at servicon.com/careers.
Interested in working for Servicon?
Interested in learning more about our services?