Environmental Services in Hospitals FAQ
What Healthcare Environmental Services Is and Does
Q. What is EVS?
A. Sometimes referred to as janitorial services, housekeeping, commercial cleaning, or custodial services for other industries, environmental services (EVS) is the term used for these services in a hospital or other healthcare environment.
Q. Is environmental services the same as housekeeping?
A. To some extent, the two are similar. However, due to the higher risk of spreading infection, the specific duties and processes of EVS for hospitals and other healthcare facilities can be different than those required for hotels or commercial spaces, for example.
Q. What does a housekeeper do in the hospital?
A. As mentioned above, housekeeping is referred to as EVS in healthcare and housekeepers are called EVS technicians or EVS workers. These technicians perform cleaning, disinfecting, and other functions tied to infection prevention and maintaining a clean, safe, and healthy environment. They are also guardians against antimicrobial resistance. They also do more than clean, including interacting with patients, their families, and hospital staff.
Q. What are some of the skills needed to be a hospital housekeeper?
A. In addition to being knowledgeable about proper cleaning and disinfecting protocols, the most successful hospital EVS technicians are:
Caring
Detail-oriented
Cooperative
Self-motivated.
Q. Why is it important to maintain a clean hospital environment?
A. Without a clean environment, patients cannot heal. Infectious diseases would spread, becoming pandemics to be spread among hospital staff and visitors. Hospital staff would become sick and be unable to perform their duties. In short, people would spread disease, and many would die from unsanitary conditions.
Q. What part of the hospital does housekeeping apply to?
A. EVS technicians are responsible for cleaning and disinfecting, as necessary, all spaces within the hospital.
Q. What are the most important areas or rooms to clean in the hospital?
A. All areas must be kept clean and disinfected, especially patient rooms, restrooms, emergency departments, and surgical, food service, and high-traffic lobby areas.
Q. What does EVS mean to a hospital, i.e., Why is EVS critical in a hospital or healthcare environment?
A. Hospital EVS technicians are invaluable. Without a well-trained EVS team, there would be no cleaning and disinfecting to help prevent the spread of potentially deadly pathogens in healthcare facilities. Patients would get sicker, and staff and hospital visitors would also be in grave danger of illness caused by unsanitary conditions.
Q. How is infection prevention connected to EVS for hospitals?
A. In hospitals, EVS is in charge of cleaning and disinfecting all hospital areas as needed. Without EVS, infection prevention would be impossible.
Q. What are some of the services EVS provides for hospitals?
A. Hospital EVS provides cleaning and disinfecting services, including floor care, throughout the facility. Some of the areas they service include
Patient Rooms
Restrooms
Floors
Lobbies
Emergency department
Offices
Medical/surgical rooms
Hallways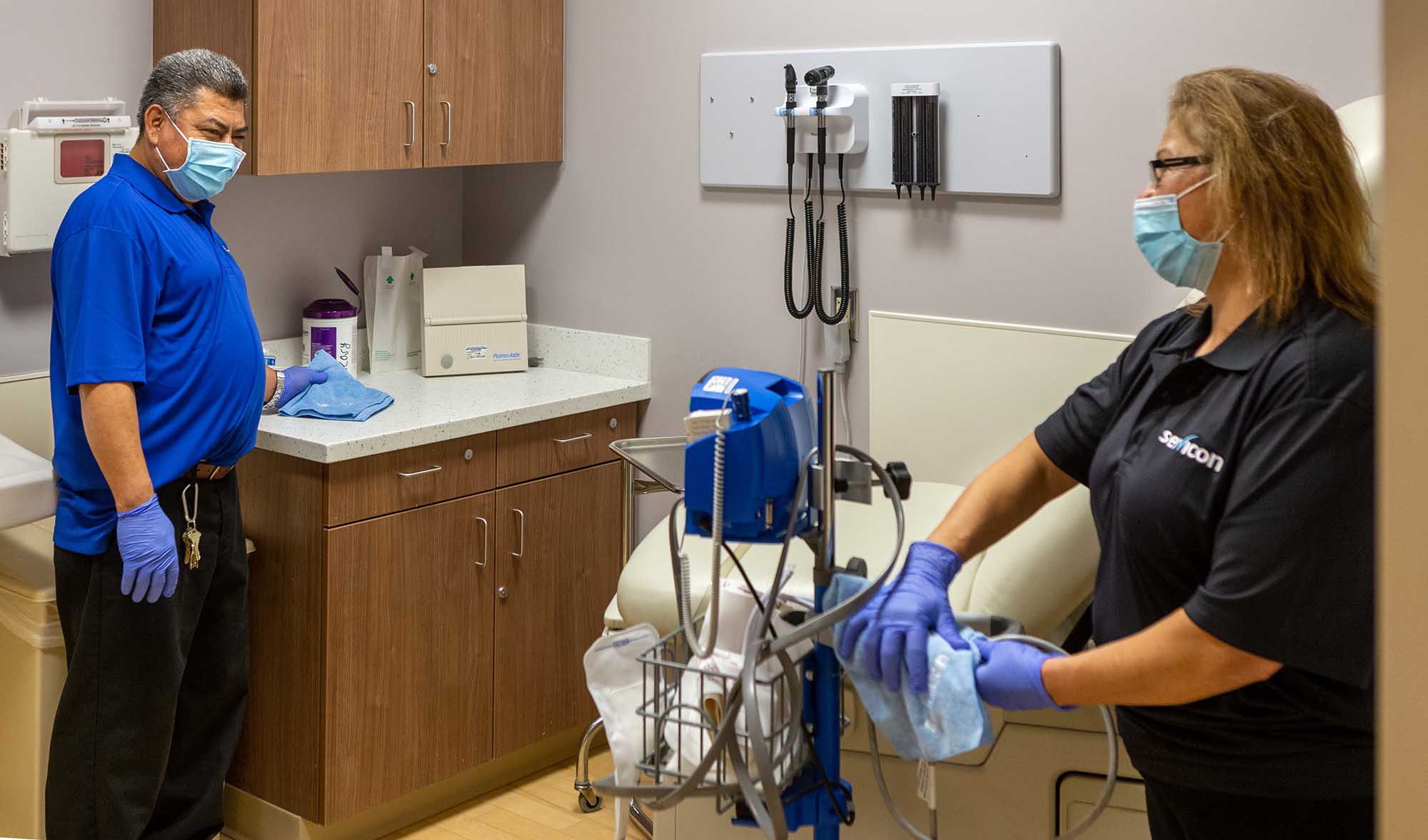 Interested in working for Servicon?
Interested in learning more about our services?
Q. What types of equipment and chemicals are used for EVS cleaning?
A. The equipment used can vary depending on the facility, provider, and user preference. However, some of the equipment and chemicals often include:
Vacuums
Floor scrubbers
Microfiber Clothes
Electrostatic sprayers
Spray bottles
Cleaners
Sanitizers
Disinfectants.
Q. How often should EVS be performed in a hospital?
A. EVS in a hospital is ongoing. How often EVS cleaning and disinfecting services are needed depends on the traffic/frequency of use of an area or surface and any current infection threats. For example, at the height of the COVID-19 pandemic, frequently touched surfaces, such as doorknobs and light switches, required disinfecting after each person's use. In non-pandemic times, a patient's room requires cleaning and disinfecting between patients, while a seldom-used storage area for non sterile items can be cleaned far less frequently.
Q. How long does it take to do EVS for a hospital?
A. Again, EVS is ongoing as patients come and go 24/7. There are, however, some industry standards available from various healthcare associations regarding how long individual tasks should take on average.
Q. Does EVS clean medical equipment?
A. In most cases, EVS departments clean equipment such as wheelchairs and walkers but usually do not clean surgical equipment.
Q. What is the difference between cleaning and disinfecting?
A. Cleaning is the removal of dirt and debris from a surface. Disinfecting is using a disinfectant approved by the EPA to kill 99.99% of the targeted pathogen(s) the formula is effective against, as listed by the manufacturer. Read more about the difference between cleaning and disinfecting.
Q. How do HCAHPS scores relate to EVS for hospitals?
A. HCAHPS scores are patient satisfaction scores collected from surveys that cover a range of areas, including the cleanliness of a hospital and the number of healthcare-associated infections (HAIs) reported by the hospital, which also determines the amount of Medicare and Medicaid funding the hospital receives. Because EVS for hospitals cleans and disinfects to reduce the spread of HAIs while showing empathy to improve patient satisfaction, EVS is directly tied to HCAHPS.
Q. What should a hospital expect from an EVS company?
A. Hospital EVS companies should provide the facility with a clean, safe, healthy, and compliant environment where patients can heal and staff members can concentrate on their business of saving lives. This includes superior cleaning, disinfecting, and other infection prevention and control services. The EVS staff should be caring and empathetic with patients and able to communicate and work well with hospital staff. The best EVS companies can also provide other services, such as waste and biohazardous material disposal, facility maintenance support, and pest control—to name a few.
Environmental Services Hospital Jobs Near You
Contact us if you are looking for the top hospital environmental services company with the expertise to create a clean, healthy environment where people can thrive.
Are you or someone you know looking for an environmental services hospital job with a future? Apply at Servicon today.
We take care of your facility needs, so you can take care of business.
We invite you to to find out more about Servicon's cleaning services for complex facilities and to schedule a free assessment.