Most people consider hospitals a place of healing. Yet hospitals are one of the most hazardous places to work, and healthcare environmental services (EVS) providers face many unique dangers daily.
The Risks for EVS Healthcare Workers
In 2019, U.S. hospitals recorded 221,400 work-related injuries and illnesses, a rate of 5.5 work-related injuries and illnesses for every 100 full-time employees, according to the U.S. Bureau of Labor Statistics. This is not that surprising when one considers the many potential hazards that exist in the hospital environment, such as:
Infectious diseases
Sharps
Hazardous chemicals
Air contaminants
Injury from lifting and moving patients and patient-care equipment
Slips, trips, and falls
Unruly and combative patients.
The fast pace and unpredictability of the hospital environment can create an increased risk of injury. EVS workers may be cleaning a patient's room, only to be called to the emergency department several floors down for a blood spill or an influx of accident victims.
A Hospital EVS Frame of Mind
Healthcare jobs also include dealing with stress-inducing situations that would never or only rarely occur in other workplaces. An excellent example of this was during the worst of the COVID-19 pandemic when EVS workers were cleaning the contaminated rooms of often very sick patients. At the same time, offices, restaurants, retail stores, and many other workplaces were closed for safety reasons. Many EVS providers are so committed to their jobs that they feel compelled to put the safety of patients above their own.
The good news is that some commercial cleaning services providers, such as Servicon, have excellent safety records in all of the industry segments they serve. For Servicon, the safety of its EVS hospital workers is paramount. One of the ways the company ensures their safety is by keeping abreast of new technologies that can make EVS workers' jobs better, easier, and safer while maintaining the company's high-quality standards.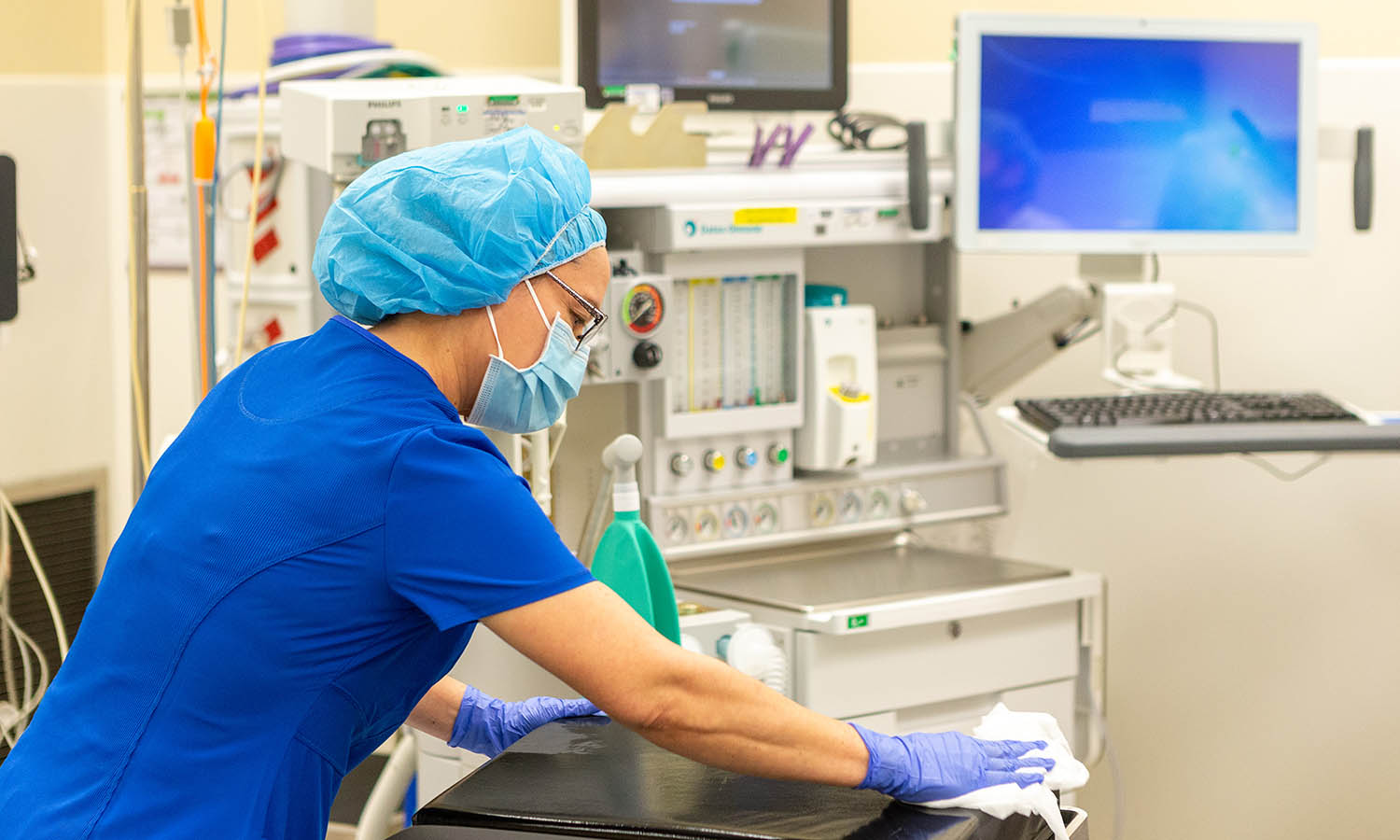 Technologies to Keep EVS for Hospitals Safe
Below are just a few of the technologies Servicon has adopted to help keep workers in EVS for hospitals safe.
Hypochlorous Acid
Nearly all commercial cleaning services providers are familiar with chlorine-based solutions, such as sodium hypochlorite, better known as bleach. Its sister, hypochlorous acid (HOCI), is the most effective, dilutable disinfectant in the chlorine family. Research suggests HOCI is 80 to 120 times more efficacious than bleach, yet human white blood cells use HOCI to fight infection. HOCI is so safe for humans, it is used to treat human wounds and is an ingredient in many eye care products.
Hospital cleaning services were using HOCI before the COVID-19 pandemic. When the EPA added it to its List N as a disinfectant effective against SARS-CoV-2, the virus that causes COVID-19, its popularity has soared. Yet rather than follow the crowd, Servicon conducted a two-month scientific study in a real-world hospital EVS setting through an independent third party before adopting HOCI. Today, Servicon hospital EVS workers use HOCI or another safer formulation, ready-to-use hydrogen peroxide, in most circumstances.
Electrostatic Sprayer
After thorough research by Servicon's Innovation Council and real-world testing in hospitals, Servicon chose the Protexus electrostatic sprayer for use by EVS for hospitals. The device is cordless, removing the risk of workers tripping over cords; its light weight and 360-degree cleaning, disinfecting, and sanitizing capabilities reduce worker strain and the need to carry multiple products. The Protexus uses disinfecting tablets and water, which it charges on site to produce the highest level of hospital-grade disinfection without messy, toxic chemical mixing. This protects hospital EVS workers and patients.
Microfiber
Servicon has long been using microfiber cloths for its commercial cleaning services. Microfiber's superior "pick up" power collects more dirt and pathogens while the fibers "hold" onto them. This combination provides superior infection prevention. It also reduces the chance of pathogens becoming airborne, which means less eye, skin, respiratory irritation, surface contamination, and better indoor air quality. In many instances, EVS microfiber can be used without chemicals, making it safer. In the EVS for hospitals sector, single-use microfiber cloths are usually the product of choice. Research shows single-use microfiber offers the same cleaning benefits as the launderable version. However, single-use microfiber further reduces the chance of cross-contamination and the spread of healthcare-associated infections (HAIs), and therefore is safer for hospital EVS workers, staff, and patients.
Orbital Floor Machine
The Square Scrub Pivot orbital floor machine cleans, scrubs, polishes, and strips floors efficiently and effectively, either dry or with water—using no harsh chemicals that would negatively impact the health of hospital EVS workers and patients. The machine works on all types of hospital flooring while the pivoting head provides increased maneuverability. The machine is lightweight with ergonomic features, such as an adjustable handle height and angle for greater worker comfort and to prevent wrist and hand strains. Operating at a noise level of only 69 decibels, it is safer and easier on EVS hospital workers, staff, and patients' ears.
Hospital EVS Providers Near Los Angeles
Are you looking for an EVS provider in Los Angeles or Southern California with outstanding safety records for their workers and clients? Contact us for more information.
Are you looking for a hospital EVS job with a company that cares about your safety in LA County, Ventura County, Antelope Valley, Orange County, Riverside, San Bernardino, or other areas in Southern California? Read what these employees say about working at Servicon and find out more about careers with Servicon.