What Are Environmental Services at a Hospital?
A frequently asked question is, "What is involved with Environmental Services at a Hospital?" Part of the reason for the uncertainty is that today, the preferred term for hospital cleaning services or medical facility cleaning services is "environmental services (EVS)." This seeming name change has confused some people who are unfamiliar with the term and the healthcare industry. No wonder! The word "environmental" shows up in many different arenas—from the Environmental Protection Agency (EPA) to the protection of our natural resources to those who believe the environment—not heredity—is the main factor in a person's development. And these are just a few of the uses!
For this reason, some believe sticking to "hospital cleaning services" is the better choice. But there is a reason for the shift to a new name. EVS workers clean, but they also do a lot more. Let's look at some of the responsibilities of EVS providers and see how these duties differ from those of other commercial cleaning services providers.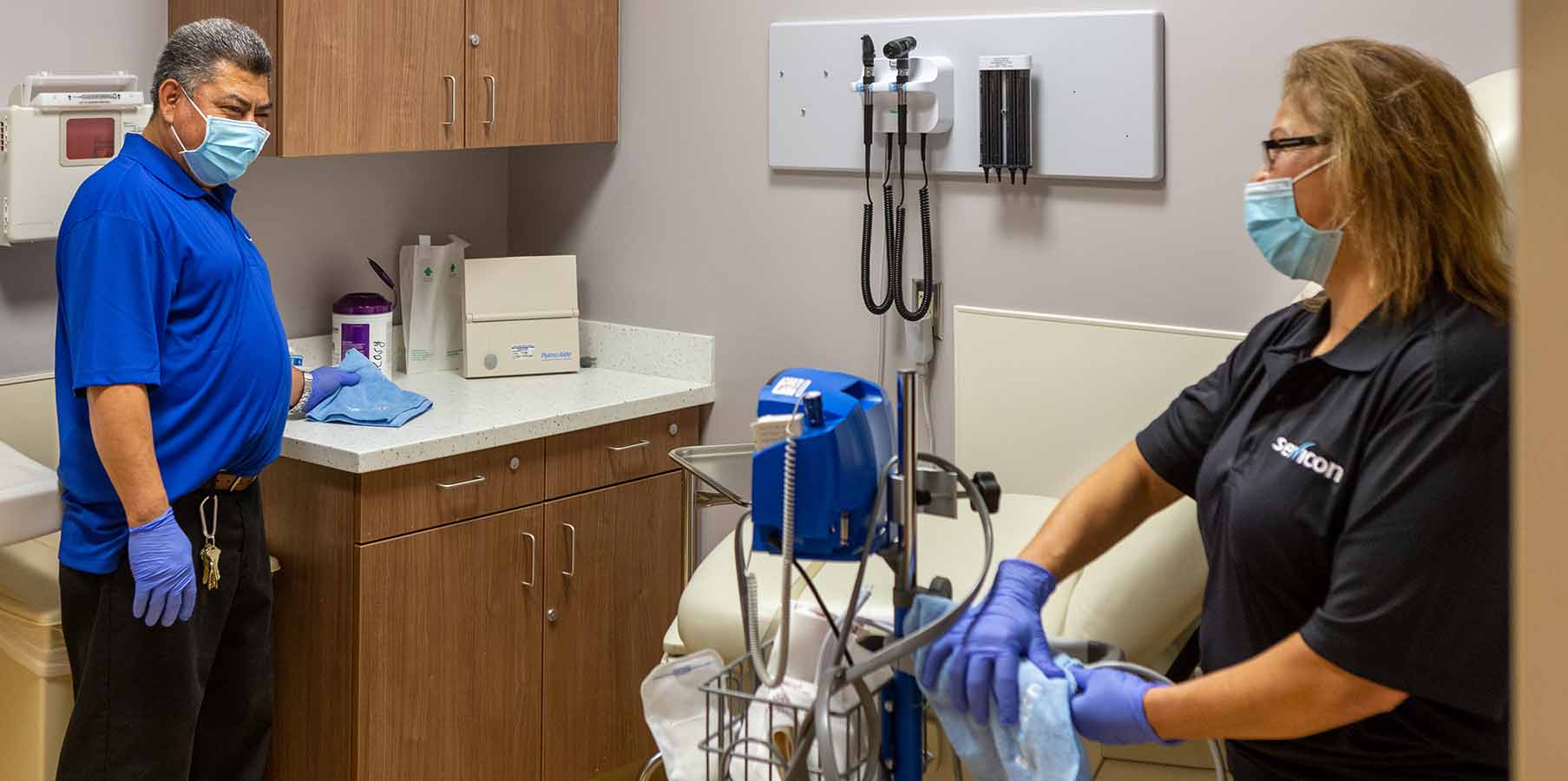 What EVS Provider Responsibilities Include
Infection prevention. The primary purpose of EVS is to prevent the spread of infection. According to the CDC, one out of every 31 hospital patients contracts at least one healthcare-associated infection (HAI). To help reduce the chance of HAIs, EVS providers clean all areas of the hospital and clinics; they vacuum, damp and wet mop, dust, and empty the trash. They disinfect as needed, especially surfaces, such as bedrails, light fixtures, call buttons, remotes, and other frequently touched surfaces. While most commercial cleaning services perform these functions, they are essential in healthcare settings to prevent infection and protect patients with compromised immune systems.
Product use. While many commercial cleaning services use a variety of cleaners and disinfectants, few need the product knowledge required by healthcare EVS providers. For example, EVS workers need to know the difference between bacteria and viruses and which disinfectant works against the specific pathogen they are encountering. For example, the EPA List N are the disinfectants the agency has approved as effective against SARS CoV-2, the pathogen that causes COVID-19. Imagine how severe an outbreak could become if an EVS worker used a formula intended to kill bacteria but not the SARS CoV-2 virus!
Emergency responsiveness. Commercial cleaning services don't have to deal with cleaning a healthcare emergency facility, which requires everything from working around patients in severe pain and families in distress to keeping up with high bed turnover rates. In times of disaster, these areas can go from somewhat crowded to overwhelming in minutes, and EVS providers must be ready to leave their current location and help keep the emergency care environment clean and safe.
Restocking and rechecking. While some commercial cleaning services offer day porter services, the majority do not. Day porters periodically check frequently used areas, such as restrooms, to ensure they have enough supplies and are overall clean. Keeping areas stocked and clean are not optional for EVS in healthcare settings, where supplies and the cleanliness of the environment are vital.
Linen management. While hotel cleaning technicians also handle bed linens, few jobs require handling more linens than EVS providers or involve a greater chance of coming in contact with biological contamination, such as blood, urine, vomit, and feces. EVS workers must be trained in the proper disposal of such items. Also, in some cases, EVS must be prepared to make beds with fresh linens when nurses are not available, including when patients are bedbound and the beds must be made around them.
Storage. EVS workers are responsible for correctly storing housekeeping and other EVS equipment and materials, including brushes, vacuums, brooms, rags, floor machines/mops, gloves, and more. They are also responsible for storing chemicals that can be dangerous if not stored correctly. This includes storing cleaners and disinfectants in suitable containers and being aware of humidity and temperature levels. They must make sure chemicals are not stored too high, where they might pose a danger if they fall, or too low, where they would create a tripping hazard. To further complicate things, in hospitals and other healthcare settings, storage consists of clean storage—often including items that must be kept sterilized—and dirty storage where soiled items, including those with biological spills, must be kept prior to cleaning.
Compliance. EVS providers are responsible for ensuring chemicals and other products such as floor machines are used and maintained correctly. This ensures the facility is in compliance with the guidance issued by such organizations as The Joint Commission, OSHA, and EPA.
Maintenance. EVS providers must keep track to make sure their equipment is in good operating condition. This includes ensuring floor machine batteries are charged, vacuum belts are not frayed, wheels are lubricated, and that other daily, weekly, and periodic maintenance is completed. EVS must make sure these duties are scheduled, performed, and monitored. Because of their cleaning responsibilities, EVS workers are often the first to notice and report broken railings and furniture, cracked flooring that can pose a tripping hazard, and other safety issues, thereby helping to prevent injuries and lawsuits.
Inventory. EVS workers must keep track of what their departments use to ensure the facility never runs out of necessary cleaning supplies, without there being an overabundance. This requires working within an approved budget and recording usage. It requires keeping the number of products used to a minimum but ensuring that those used are approved for use in a healthcare setting. Often EVS oversees the inventory of medical supplies in addition to cleaning products.
Infection prevention is paramount when it comes to the responsibilities of hospital or other healthcare EVS providers. However, it is far from being their only responsibility.
EVS Provider Near Me
If you are looking for exemplary hospital cleaning services in Southern California or nearby regions, browse Servicon's website starting with Healthcare or contact us at 310-204-5040.
Are you looking for a hospital EVS or housekeeping job in LA County, Ventura County, Antelope Valley, Orange County, Riverside, San Bernardino, or other areas in Southern California? Read what these employees say about working at Servicon and find out more about careers with Servicon.
We take care of your facility needs, so you can take care of business.
We invite you to to find out more about Servicon's cleaning services for complex facilities and to schedule a free assessment.