Why Hospital Housekeeping Services Are Not Like Other Cleaning Services
"What is the difference between residential housekeeping cleaning services, commercial cleaning services, and hospital housekeeping services (better known as environmental services, or EVS)?" is a question that surfaces frequently. To best answer this question, let's look at them one at a time.
Residential Housekeeping Services
While specifics can vary, the scope of work for most residential housekeeping cleaning services usually includes:
Dusting, sweeping, mopping, and washing floors, toilets, showers, tubs, window sills, and surfaces
Vacuuming carpets, upholstery, and other dusty surfaces
Sanitizing or disinfecting surfaces as appropriate
Emptying trash cans
Washing, drying, and folding sheets and towelS
Making beds
Additional work, such as indoor window washing and blind cleaning, depending on the specific agreement.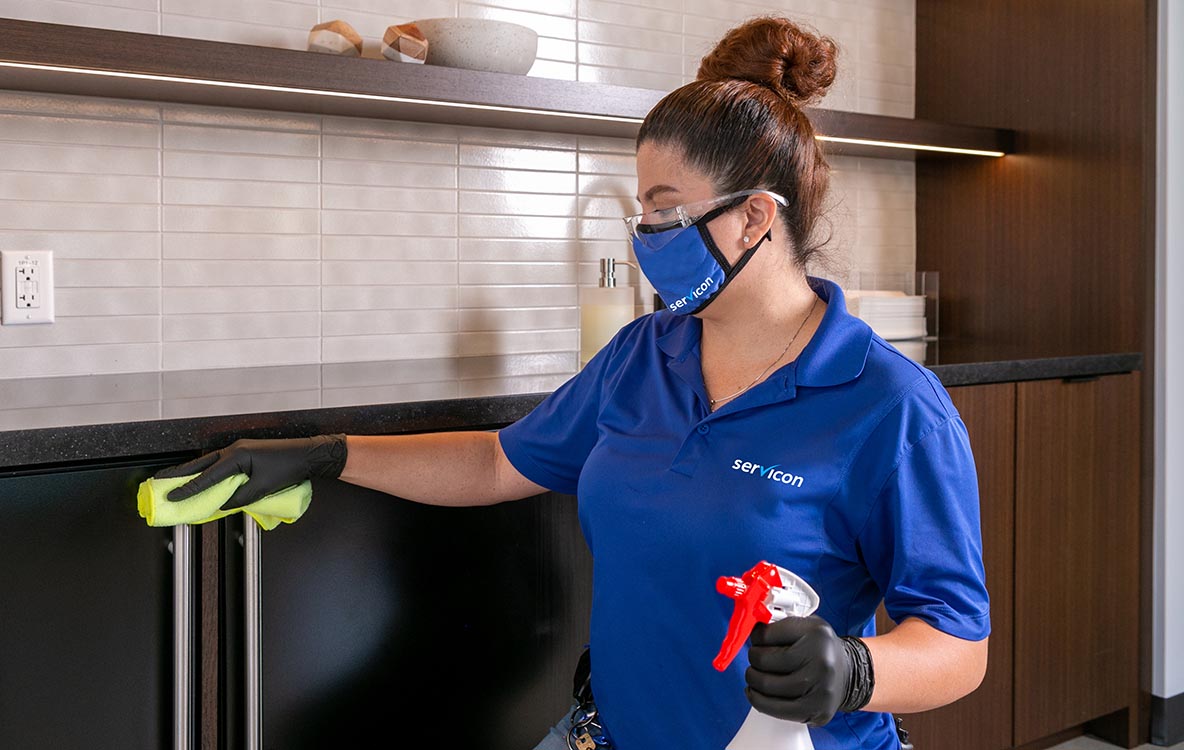 Commercial Cleaning Services
Commercial cleaning services include many of the same duties as residential. However, commercial cleaning often includes additional tasks not performed by residential housekeeping, such as:
Hard floor stripping and refinishing
Carpet steam cleaning
Assistance with recycling and other sustainability efforts
Indoor air quality management
Parking lot and other outdoor maintenance
Window washing (often outside and inside)
Pressure washing
Pest control
Building tenant support
Additional services as stipulated in the agreement or customer-specific duties ( laundry services for hotels, for example).
Interested in working for Servicon?
Interested in learning more about our services?
Hospital Housekeeping Services—or EVS
EVS for hospitals or other healthcare settings includes many of the services that commercial cleaning companies perform. However, there are additional duties that EVS workers perform that require specialized training. A few of these are:
Sharps handling. Disposal of needles and other "sharps" that may be contaminated with blood or other pathogens requires special training to ensure the safety of workers and patients.
HAIs reduction. Healthcare-acquired infections (HAIs) are associated with more than 99,000 deaths in the United States annually. EVS workers are on the frontline in helping prevent these diseases, which are transmitted from unclean items and surfaces.
Compliance management. EVS service providers must be familiar with OSHA safety regulations and those coming from healthcare-specific regulating bodies, such as The Joint Commission and the CDC.
Biological fluid disposal. While other cleaners may occasionally encounter body fluids, such as blood, urine, or feces, EVS workers face them daily and need to know how to handle them.
Disease knowledge. EVS workers understand that not all pathogens are the same and, therefore, their spread cannot be prevented using just one product or methodology. This requires a clear understanding of how diseases ranging from COVID-19 and MRSA to E. coli and Ebola are spread and the correct products and cleaning procedures to ensure a healthy environment.
Hospital Housekeeping Services Near Me
California-based Servicon is a leading EVS provider. Visit our healthcare page to learn more about our EVS services.
We help produce higher HCAHPS scores, lower HAIs, and faster throughput, which translates into more budget dollars to spend on your business of saving lives.
We invite you to to find out more about Servicon's cleaning services for complex facilities and to schedule a free assessment.