5 Potential Hazards for Hospital Housekeeping Cleaning Services' Workers

All workers who perform housekeeping cleaning services encounter a variety of potential dangers. Yet few housekeeping services staff are faced with more possible hazards than those who perform their duties in a hospital setting. This is why it is critical that they always wear appropriate personal protective equipment (PPE) and are well-trained in all aspects of healthcare-specific cleaning and disinfection.
On the Lookout
Below are five potentially dangerous situations that many healthcare housekeeping services workers face every day.
1. Bodily fluids. Many housekeeping cleaning services workers in healthcare settings come in contact with bodily excretions ranging from blood and sputum to urine and feces. This contact can occur anywhere, including surgical areas, patient rooms, emergency departments, or even waiting areas, which is why wearing appropriate PPE is vital for these workers.
Another area where housekeeping workers can come in contact with bodily fluids is hopper sinks, which are in hospitals, clinics, nursing homes, and similar facilities. The sinks are designed to enable the safe and hygienic disposal of non-regulated clinical waste, such as the contents of vomit bowls, drainage bags, bedpans, and urine bottles.
2. Pathogens. While bacteria, viruses, and other pathogens can be present in any setting, they are far more prevalent in hospitals. Hospital housekeeping services workers must learn how to clean and disinfect areas and surfaces based on the specific pathogen(s) present. For example, since no one EPA-approved disinfectant kills all pathogens, healthcare cleaning workers must know the right formula to use for each targeted pathogen. They also must be informed about the potential hazards of being exposed to both the pathogens and the chemicals used to kill them.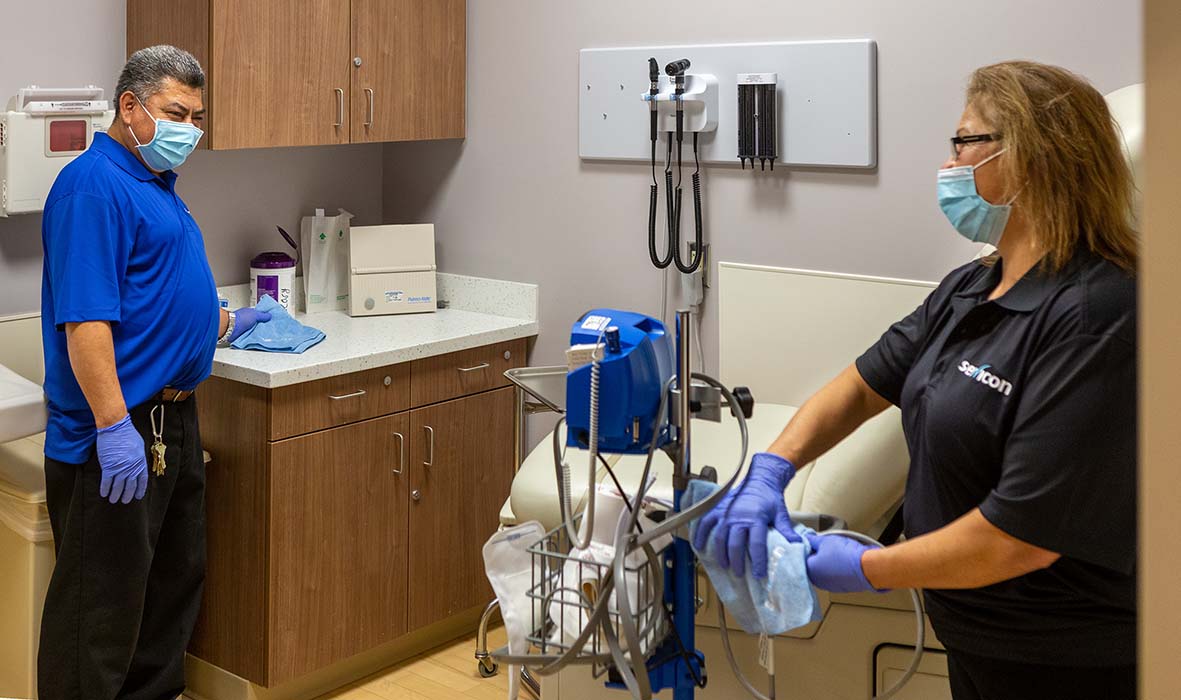 3. Sharps. The term sharps includes any medical device with a sharp edge that can cut or puncture the skin, such as scalpels, needles, or syringes. According to the U.S. Department of Labor, sharp-related accidents pose a significant hazard for housekeeping cleaning services workers and other hospital personnel. Healthcare housekeeping services workers must be trained in the proper containment and disposal of these items to prevent injury. Workers whose skin is punctured by a contaminated sharp are at risk of contracting infections from bloodborne viruses, including Hepatitis B, Hepatitis C, and human immunodeficiency virus, or HIV.
All hospitals should have sharps containers that are leak-and puncture-proof for proper disposal. Unfortunately, sharps are not always disposed of properly, which is why healthcare workers should never push down on waste in trash cans with their hands. They should also remain vigilant in looking for misplaced sharps when stripping beds.
4. Latex allergy. A surprising number of healthcare housekeeping services employees have or develop an allergy to latex, especially latex gloves. Reactions can range from mild to severe skin irritation, which, if not identified quickly, can make the wearing of even non-latex gloves uncomfortable.
5. Slip, trips, and falls. According to a study by the CDC, slips, trips, and falls account for 25% of hospital employee injuries. Some of these injuries are caused by wet floors; hospitals are open 24/7, floors are cleaned during working hours. Another reason the potential for slips, trips, and falls is high for hospital cleaning personnel is equipment. Hospital beds are surrounded by tubes and wires. Meanwhile, medical equipment and furniture are frequently moved and can be inadvertently left in spaces where they create tripping hazards.
Hospital Housekeeping Cleaning Services Near Me
California-based Servicon provides exemplary hospital housekeeping services while assuring the safety of our workers. For more information click to read about our EVS services.
* Today, hospital and other healthcare housekeeping cleaning services are called environmental services (EVS).
Interested in working for Servicon?
Interested in learning more about our services?
We help produce higher HCAHPS scores, lower HAIs, and faster throughput, which translates into more budget dollars to spend on your business of saving lives.
We invite you to to find out more about Servicon's cleaning services for complex facilities and to schedule a free assessment.