LA's Leading Commercial Cleaning Services Company Co-Hosts Community Service Day
CULVER CITY, CA – Aug, 2022 – ServiconCares, the philanthropic division of Servicon, the award-winning commercial cleaning services company and healthcare environmental services (EVS) and facility maintenance provider, is once again partnering with L.A. Works—Los Angeles' premier volunteer action center. The two entities are hosting the second annual Servicon Community Service Day. The event will take place Saturday, August 6, 2022.
The event gathers Servicon employees, families, and friends to bring to life the ServiconCares vision: to inspire systemic change and foster community development through funding, volunteering, participation, and skill building. This vision aligns with Servicon's overall purpose: to create healthy environments for people to thrive.
The day will feature kit-making activities to benefit the community, including hospital kits to brighten the lives of those in long-term care. These kits contain items such as hygiene supplies, activities, and socks. Other kits include much-needed move-in supplies to help support those leaving transitional housing, such as kitchen items and cleaning supplies. The volunteers will also create seed balls packed with native flower seeds to help beautify schools and their surrounding areas while teaching kids about gardening and California ecology.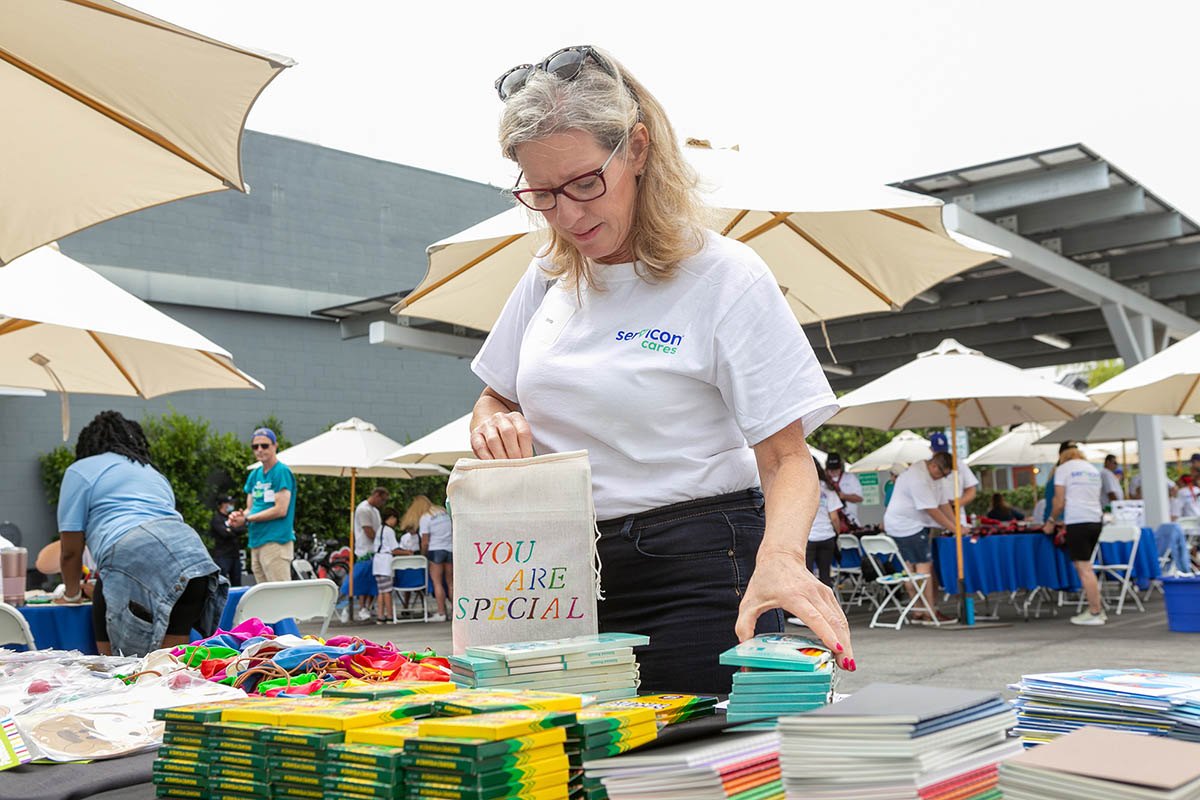 Local beneficiaries of the event include Children's Hospital Los Angeles, Upward Bound House-Senior Villa, and Cowan Elementary School.
"Servicon has a proud history of community service, and now is a great time to join us in our efforts," said Servicon President and CEO Laurie Sewell. "This tradition began with the Mahdesian family, Servicon's founders, and we are renewing our commitment to helping our communities grow after the long and challenging pandemic. We're eager to come together to help local people in need and proud to partner with L.A. Works. We have invited all our Servicon team members to join us to safely come together to make a difference in the lives of fellow Angelenos."
About Servicon
At Servicon, we are dedicated to providing exemplary hospital environmental services, commercial cleaning services, and facility maintenance services for complex facilities throughout Southern California and the surrounding areas. We live by our purpose to elevate the industry and provide healthy environments for people to thrive. Women-owned and operated, we work and live by our vision of creating a better working future. We employ amazing community members nationally and are based in Southern California.
About L.A. Works
Founded in 1991, L.A. works is Los Angeles' premier volunteer action center. With a database of over 50,000 active Angelenos who have volunteered within the past five years, L.A. Works recruits, mobilizes, and manages tens of thousands of new and returning volunteers annually to service the Los Angeles community. Together with thousands of civic, nonprofit, and business partners, these committed volunteers have enabled L.A. Works to make a significant, visible, and lasting contribution to Los Angeles.
L.A.Works mission consists of three principal pillars:
INCREASE volunteer participation in community service projects
PROVIDE our nonprofit partners with access to volunteer labor and other RESOURCES
EDUCATE and encourage people to engage in the broader social issues affecting the greater Los Angeles Community.
Servicon's Commercial Cleaning Services
With extensive experience throughout California, Servicon understands the importance of providing quality commercial cleaning services and facility maintenance needs of our clients.