Healthcare Environmental Services Are a Special Breed
For years, the department responsible for cleaning and infection prevention in a hospital or healthcare setting was referred to by various names—the janitorial services department, hospital cleaning services, and healthcare housekeeping services, to name but a few. However, this vital department has recently come to be universally known as healthcare environmental services (EVS).
Healthcare cleaning came to be known by this new name because EVS departments wanted to differentiate themselves from commercial, education, food service, and other types of cleaners. EVS workers perform various duties that other sectors of the cleaning industry do not. While the change had been brewing for a while, an article penned by the American Society for Healthcare Engineering (ASHE) seemed to cement the new name and the need for its use.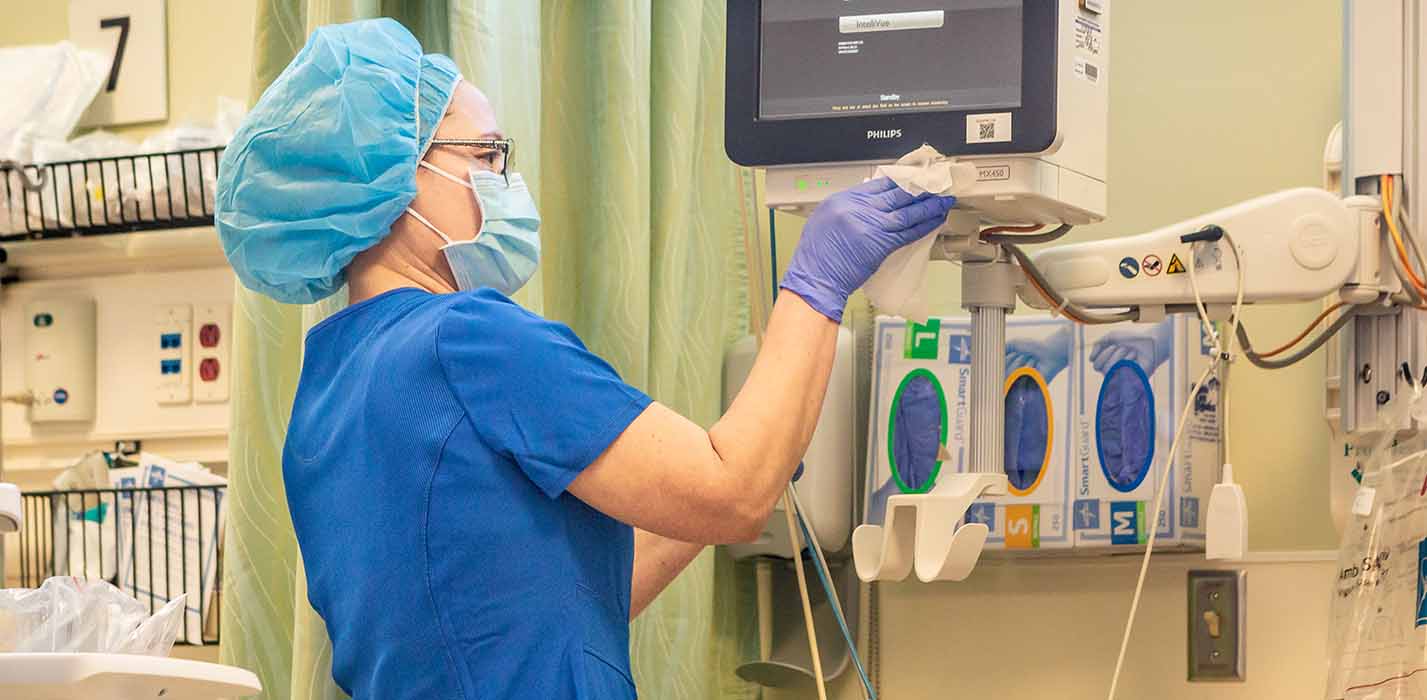 Special Training Required
Below are a few of the services EVS provides that most other cleaning sectors do not.
HAIs prevention. Healthcare EVS workers are on the frontline of helping reduce the spread of healthcare-acquired infections (HAIs). Each year, HAIs account for an estimated 1.7 million infections and 99,000 related deaths in the United States. The incidence of HAIs can impact a hospital's HCAHPS scores; hospitals with poor HCAHPS scores are likely to receive reduced CMS reimbursements. While all professional cleaners must know how to clean and disinfect to prevent the spread of infection, EVS' essential role in reducing the incidence of HAIs requires EVS for hospital workers to have special training.
Empathy. Unlike other industries where cleaning is often performed after hours, EVS healthcare workers are often in direct contact with patients and engage in conversations with them. EVS staff are likely to spend more time in patients' rooms than doctors or nurses. Often, patients may feel more comfortable discussing their diagnosis or concerns about their hospital stay with EVS workers than other hospital staff. Top EVS providers provide empathy training for their workers, which has been found to improve patient satisfaction surveys, raise HCAHPS scores, and even shorten patients' hospital stays.
Terminal cleaning. While infection prevention is a vital component of all cleaning and disinfecting, EVS healthcare workers are the only cleaners who perform terminal cleaning, and they do so regularly. Terminal cleaning includes removing all detachable and removable pieces from the room, including furniture, bed rails, and bed trays, so that they can be disinfected. Then, EVS workers must disinfect light fixtures, air ducts, and all surfaces starting from the ceiling down to the floor. This must be done in surgical spaces, patients' rooms, and other areas when patients are discharged and new patients are admitted.
Interested in working for Servicon?
Interested in learning more about our services?
Biological contamination. EVS workers daily handle materials with biological contamination from bodily fluids, such as blood, diarrhea, and urine. Contact with these substances can be dangerous to workers, staff, and patients. Proper handling and disposal of potentially tainted items require special training, as does cleaning and disinfecting of contaminated surfaces.
Sharps. Sharps include needles and other skin-piercing instruments that often have biological contamination from substances, such as blood. Handling sharps requires using specific containers and following rigid disposal procedures to protect workers and other hospital staff from accidental contact.
Linens. EVS for hospitals and healthcare workers must know how to remove and dispose of potentially contaminated linens properly. They also must remake beds in a timely manner to assure quality infection prevention and boost the hospital's throughput.
Transmission-based precautions. Because they interact with patients in an environment where germs and infections are easily transferable, healthcare EVS workers must follow specific transmission-based precautions that many other types of cleaners do not have to observe. According to the CDC, these preventive measures vary depending on the type of potential transmission:
Direct contact
Droplet
Airborne
These precautions range from the proper use of personal protective equipment (PPE) and source controls (such as having patients wear masks) to learning appropriate patient transport, room cleaning, and disinfection procedures. EVS workers must know the proper protocols for each situation.
Healthcare Environmental Services Near Me
Is your healthcare environmental services provider's staff trained in the above areas? If not, discover the Servicon advantage. Contact us today.
Find out more about job opportunities in healthcare housekeeping services with Servicon in the California area at servicon.com/careers.
We help produce higher HCAHPS scores, lower HAIs, and faster throughput, which translates into more budget dollars to spend on your business of saving lives.
We invite you to to find out more about Servicon's cleaning services for complex facilities and to schedule a free assessment.