Are Any of the 'COVID Cleaning Services Near Me' Right for You?
As businesses in and around California begin to reopen after the pandemic shutdown, many people remain nervous. They wonder if the "COVID cleaning services near me" are capable of keeping them safe in their workplaces. After all, just because a company is conveniently located doesn't mean it follows COVID cleaning and disinfecting services best practices. Even those who have gotten the COVID-19 vaccine worry they may become carriers or be exposed to one of the new strains already found in California and other areas of the world. And, of course, the pre-COVID concerns of catching everything from the flu or the common cold to MRSA and Ebola still exist.
Your COVID cleaning and disinfecting services provider should be employing the same infection-prevention protocols used to fight any other transmittable germs, with a few differences. These distinctions are vital to ensure a COVID-free environment. However, before we look at how COVID cleaning and disinfecting services differ from regular cleaning and disinfecting protocols, let's look at the similarities.
COVID 19 Cleaning Services Must Clean First
Suppose a company comes in "raring to disinfect" but doesn't mention cleaning. If this happens, it's time to look for a COVID cleaning services company that understands that cleaning before disinfecting is vital for infection prevention. Routine cleaning removes:
Up to 90% of dirt, grime, and pathogens
Surface debris that can shield SARS-CoV-2— the virus that causes COVID-19— and other pathogens from the disinfectant
Biofilm buildup, which forms if disinfectant is applied repeatedly to a surface without it being cleaned, creating an environment for pathogens to thrive.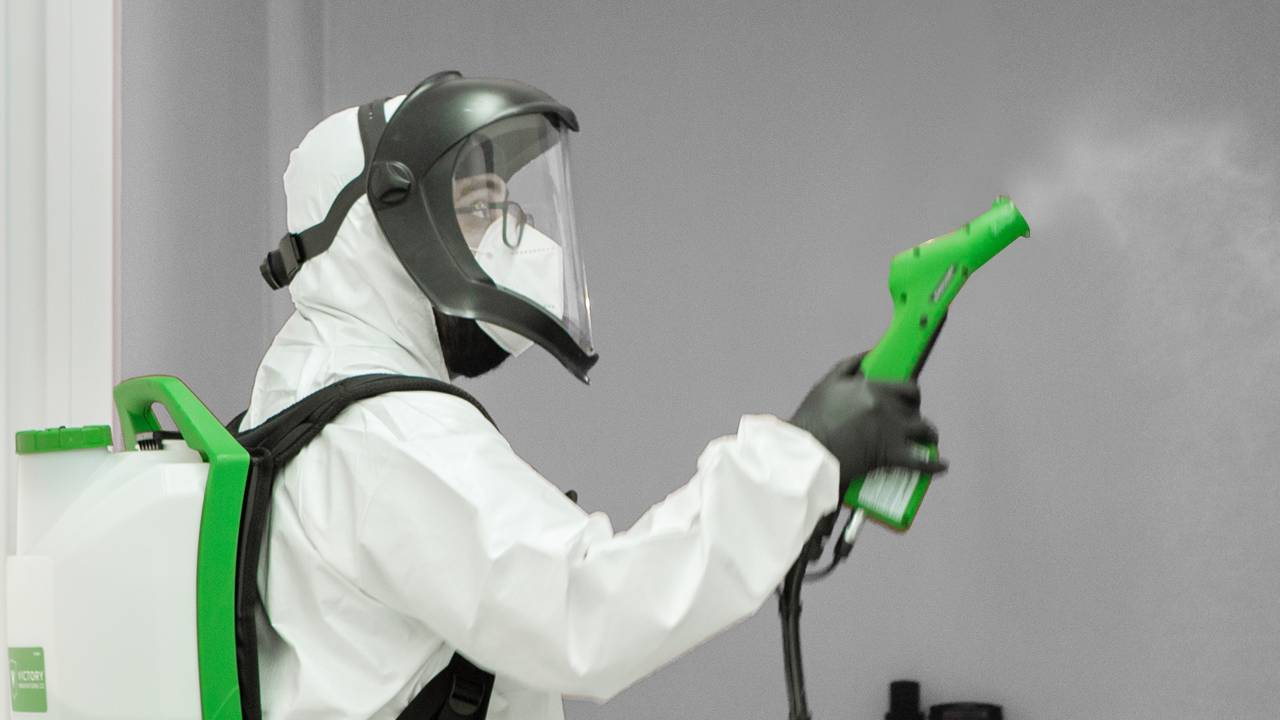 Routine Cleaning
The Los Angeles County of Public Health describes routine cleaning as "using everyday in janitorial cleaning services, supplies and disinfectants for regular surfaces such as floors, tables, desks, counters, sinks, toilets, and other hard-surfaced furniture and equipment."
According to the department, routine cleaning procedures include:
Dusting hard surfaces
Damp wiping hard surfaces so they are free of debris
Wet mopping floors
Vacuuming carpet and mats.
Routine cleaning should always be done from top to bottom to prevent re-contamination of cleaned surfaces. It is also essential to keep in mind that for seldom-used areas with no possible exposure to COVID-19 within the last seven days, the CDC recommends routine cleaning only and not the disinfecting services described below.
Disinfecting Services: What Stays the Same
For disinfectants to disinfect—i.e., to kill 99.999% of pathogens—specific procedures must be followed no matter what pathogen is targeted:
Surfaces must be cleaned before disinfectant is applied to allow the disinfectant to reach the remaining pathogens.
Disinfectants require "dwell" time. Dwell time is the amount of time the formula must remain on the surface to allow the disinfectant to work. Dwell times can vary from 30 seconds to 10 minutes. Allowing the full dwell time specified on the formula's label is critical. Otherwise, the surface will not be disinfected.
High-touch surfaces, such as doorknobs and light switches, must be disinfected more often than other surfaces. The CDC recommends disinfecting high-touch surfaces a minimum of once every 24 hours. However, surfaces that are touched frequently by multiple people should be disinfected before each new user.
Ultimate Protect & Disinfect
COVID-19 Disinfecting Services: What Is Different
Below are COVID disinfecting services specific to preventing the spread of SARS-CoV-2.
1. Where to disinfect. Which surfaces require COVID-19 disinfecting services depends primarily on occupancy and whether there has been possible or confirmed COVID contamination within the last seven days. According to the CDC, there is no reason to disinfect areas that have been unoccupied or had no potential exposure to COVID within the past seven days. The same is true for outdoor spaces, such as parks and playgrounds. Disinfecting introduces chemicals into the environment. Doing so unnecessarily can do more harm than good, and when it comes to COVID, the temptation to overuse these formulas can be powerful.
2. Type of disinfectant. No one disinfectant works against all pathogens. All disinfectants used in the United States must be EPA-approved against the specific pathogen(s) being targeted. Killing SARS-CoV-2 requires using a disinfectant on the EPA List N of formulas approved effective against the virus.
Air Matters
The No.1 way SARS-CoV-2 spreads is through airborne droplets from an infected person that another person breathes in or swallows. According to the CDC, SARS-CoV-2 viral particles are spread between people more easily indoors than outdoors because wind, even a light breeze, helps disperse the particles.
Good indoor ventilation practices can reduce the concentration of the virus in the air. Your COVID-19 cleaning services provider should be making suggestions based on CDC guidance that can make your indoor space safer, such as:
Have your ventilation system professionally checked to be sure it is working properly
Increase fresh air by opening doors and windows when the weather and pollution levels allow
Use window fans to accelerate the influx of outdoor air
Reduce occupancy in spaces where outside ventilation is not possible
Install high MERV-rated filters
Turn thermostat-controlled fans to "on" instead of "auto"
We help produce higher HCAHPS scores, lower HAIs, and faster throughput, which translates into more budget dollars to spend on your business of saving lives.
We invite you to to find out more about Servicon's cleaning services for complex facilities and to schedule a free assessment.