Why Empathy Matters When Choosing an EVS Cleaning Company

The work that hospital cleaning services providers perform was previously called hospital housekeeping duties. Today, such a company would be called a hospital environmental services (EVS) cleaning company. Yet whichever term is used for these services, one thing is sure: EVS has an enormous impact on HCAHPS (Hospital Consumer Assessment of Healthcare Providers and Systems) scores, and it is not just in the area of cleanliness.
A Brief History
HCAHPS (pronounced H-Caps) is the first standardized, nationwide survey of patients' perspectives on the care they receive in a hospital. The survey asks random adult patients 29 questions about their recent hospital stay between 48 hours and six weeks after discharge. The survey contains questions about critical aspects of patients' hospital experiences. Among the questions asked are patients' thoughts regarding the:
Quality of communication with nurses and doctors
Responsiveness of hospital staff
Cleanliness and quietness of the hospital environment
Communication about medicines
Overall rating of hospital
Chance they would recommend the hospital to others.
These and a few other government-mandated questions are tallied to determine the HCAHPS score.
How many of the areas mentioned above do you think can be influenced by the right EVS cleaning company?
1 or 2—Sorry. Try again.
3 or 4—You are closer but still incorrect.
6—You get an honorable mention.
7—Congratulations! You're a winner!
Discharge information? Communication about medicine? What do these have to do with a hospital's EVS cleaning company, and how could EVS hospital workers influence patient surveys on these topics? The answer is empathy.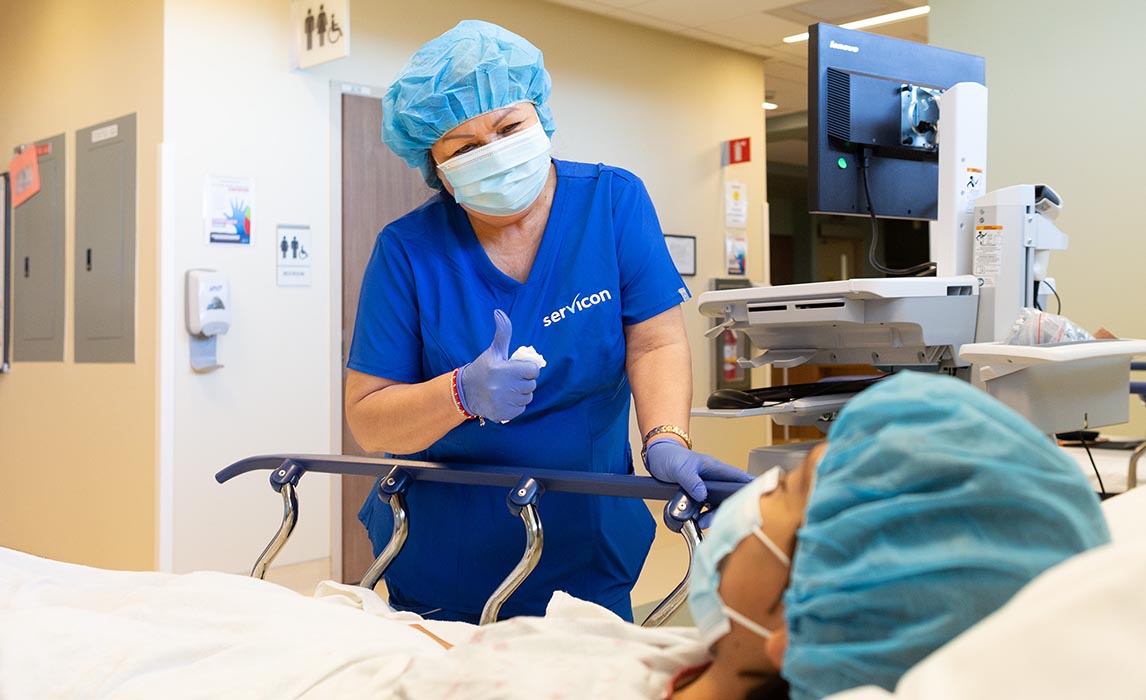 The Power of Empathy
Psychology Today defines empathy as "having the ability to feel and understand what other people are going through. In essence, it's being able to put yourself in someone else's shoes." This same source claims empathy is an essential skill for being a good healer. Meanwhile, the American Medical Association writes: "The gift of healing requires knowledge, empathy, integrity."
Research by Dr. Helen Riess of the Harvard Business School—published by Berkley.edu, cited by medical groups, and discussed in her book The Empathy Effect—shows that empathy and compassion are associated with better adherence to medications, decreased malpractice cases, and increased patient satisfaction.
A report in the National Institutes of Health Library of Medicine agrees: "Cognitive empathy can improve patient satisfaction. In a randomized study, student–clinicians who were given a perspective-taking intervention received significantly better patient satisfaction scores from standardized patients."
In addition to accelerating healing, empathy helps increase HCHAPS scores based on perception. Many patients' views of their overall hospital experiences are perceived as better—or worse—depending on the empathy they received during their stay. They are more likely to give high scores to each area of the satisfaction survey if they feel they have been treated with empathy.
The EVS Touch
Hospitals can be scary for a variety of reasons. According to The Empathy Project, a study conducted by Colleen Sweeney, RN, discovered 96% of patients suffer from "Clinicophobia," a term Sweeney coined meaning the fear of healthcare. Yet often, doctors and nurses are perceived as too busy, and patients are reluctant to share their fears and concerns with their medical teams. This is where EVS workers can play a huge role.
Interested in working for Servicon?
Interested in learning more about our services?
According to Sweeney's research, the right EVS cleaning company provides superior cleaning and disinfecting to prevent infections—hospital patients' No. 1 fear. Seeing EVS providers performing these infection-prevention procedures helps alleviate these patient concerns. Yet this is far from EVS providers' only contribution to the healing process.
On average, EVS workers spend more time in patients' rooms than other hospital staff. Often patients feel more comfortable talking with EVS workers than with clinical staff. The best hospital EVS providers hire caring staff who possess the necessary "soft skills" and provide these workers with additional empathy training. The result is EVS healthcare workers who genuinely care. They enter the room upbeat, asking patients how they are feeling and explaining what they are doing. As they perform their vital duties, they talk with those patients who feel like talking. And perhaps most important, they listen, says Servicon healthcare operations manager Wendy Torres.
Listening "is a big, big thing," Torres says. "Many patients just want to be heard. Some have no one to talk to; no one comes to visit them. Some are from different areas or countries…. Sometimes all it takes is the ability to listen."
Because it assists in the healing process and enhances patient satisfaction, the role of empathy in any healthcare setting should not be underestimated. Neither should the role of EVS workers when it comes to providing this empathy.
EVS Cleaning Company Near Me
California-based Servicon employs EVS workers who truly care. Visit our healthcare page to learn about Servicon's approach to patient care and satisfaction.
We help produce higher HCAHPS scores, lower HAIs, and faster throughput, which translates into more budget dollars to spend on your business of saving lives.
We invite you to to find out more about Servicon's cleaning services for complex facilities and to schedule a free assessment.