Few hospital executive decisions are more critical than choosing the right hospital environmental services (EVS) provider. The health and safety of your staff, patients, and visitors depend on it. To reduce healthcare-associated infections (HAIs), EVS providers must follow the strictest cleaning and disinfecting procedures. Yet, in addition to following proper infection-prevention processes and protocols, there are other attributes the best EVS for healthcare providers possess. Below are a few of the "extras" that make EVS providers a cut above the rest, along with specific questions to ask before making your choice.
1. Flexibility. Partnering with a hospital EVS provider that is large and reliable enough to accommodate last-minute changes in scheduling is essential.
Cut above. The best EVS firms schedule their EVS cleaning technicians based on researching your hospital's volume and discharge patterns so that you always have the staff you need when you need it most. But for the best providers, flexibility goes beyond scheduling. Contracting with a privately held EVS firm that can make decisions quickly without going through the often lengthy process of board approvals can be highly beneficial.
Ask how staffing is determined and if the provider is privately held.
2. Experience. Partnering with an EVS provider accustomed to working in healthcare environments is essential to making the best choice.
Cut above. Commercial cleaning services with experience in healthcare and other highly complex industries and facilities can be a bonus. For example, consider a firm with years of experience in high-security environments such as aerospace. These EVS providers understand security is a top priority, especially in today's world, and have the means to conduct the strictest background and other safety checks, which can add a level of comfort for hospital staff, patients, and visitors. Servicon also provides aerospace facility maintenance throughout California.
Ask about the company's experience in other complex industries/facilities.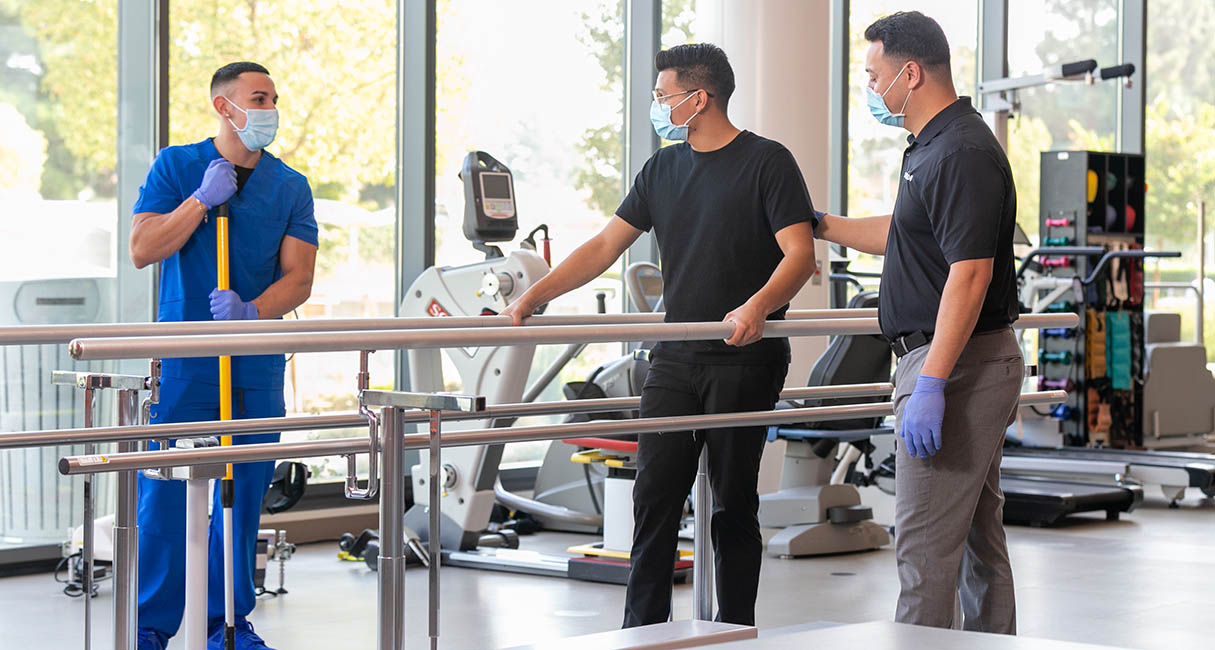 3. Empathy. Studies have shown that empathy can positively impact the healing process. To this end, EVS technicians should be empathetic in all patient interactions.
Cut above. A hospital EVS provider that provides formal onboarding and ongoing empathy training for its workers understands the benefits. Besides accelerating the healing process, empathy increases patient satisfaction, HCAHPS scores, Medicare and Medicaid funding, and bed turnover rates. Since employees will stay where they feel cared for and appreciated, the company's employee retention rate can also provide insight into whether the company's commitment to empathy goes beyond lip service.
Ask to sit in on one of the company's empathy training sessions and about its employee retention rate.
4. Innovation. As the Bob Dylan song says, "The Times They Are A-Changin'." and never faster than in today's world. You need an EVS provider willing to adopt new products, processes, and technologies.
Cut above. Rather than jump on the latest trends, top healthcare EVS providers proactively research new technologies backed by science that can reduce labor while increasing efficiencies. The very best will have an innovation council or team of industry experts that research, field test, and validate new technologies in EVS for hospitals.
Ask candidates about the four most recent technologies they adopted and if they have an innovation research team on staff.
5. Data-driven. All EVS providers should have a suitable method for collecting and reporting results.
Cut above. The best EVS providers will have a team that relies on proven technologies to track everything from scheduling to area cleaning status—and so much more—in real time; they will share the information with all approved hospital stakeholders. They will also produce reports and conduct Client Business Reviews to review the results, always with an eye toward improvement.
Ask what technologies and methodology are used to collect and report data.
Hospital EVS Provider Near Me
Need help finding a hospital EVS provider that is more than a cut above? Check out some of our healthcare-related blogs to read more about our capabilities or call us at 310-204-5040.
Are you looking for a career with a hospital EVS provider in LA County, Orange County, Ventura County, Antelope Valley, San Bernardino, and other areas of Southern California? Read what these employees say about working at Servicon and learn more about careers with Servicon.
Servicon's Hospital Environment Services
With extensive experience throughout California, Servicon understands the importance of providing quality commercial cleaning services and facility maintenance needs of our clients.