EVS Healthcare Relying on COVID-19 Tactics
As the COVID-19 pandemic moves slightly out of center stage, hospitals and environmental services (EVS) providers are facing another mounting challenge: a surge in healthcare-associated infections (HAIs).
HAIs: A Cause for Concern
In 2014, the CDC estimated that one of every 25 hospital patients contracted at least one HAI. In 2015, that number fell to one in every 31 patients. Also, in 2015, the HAI Hospital Prevalence survey found patients were 16% less likely to be diagnosed with an HAI compared to four years earlier. Hospitals were headed in the right direction in the ongoing battle against HAIs. Then came COVID-19.
Statistics show increases in various types of HAIs as well as HAIs overall in 2019-20, especially in the final quarter (October-December) of 2020; 2019-20 had the highest rates of HAIs since 2014.
This surge in HAIs is especially scary when one considers another CDC statistic: In 2015, there were an estimated 687,000 cases of HAIs in U.S. acute-care hospitals. Of these, an estimated 72,000 resulted in patients dying during their hospitalizations. This does not include deaths from HAIs that occurred after the patient was discharged from the hospital. These figures also don't include HAIs acquired in non-acute or other healthcare facilities.
Adding to the concern over the growing number of HAIs are the new strains of bacteria and viruses that continue to emerge, much like the Delta and Omicron variants which followed the original strain of COVID-19. Another fact that can't be ignored is that more than 2.8 million antibiotic-resistant infections now occur in the United States each year.
The financial hit hospitals are taking due to the increase in HAIs is also disconcerting. The CDC estimates that HAIs cost U.S. hospitals a minimum of $28 billion in direct medical costs and an additional $12 billion in related expenses. Meanwhile, hospitals with a high incidence of HAIs lose billions of dollars due to reduced reimbursements from Medicare and Medicaid.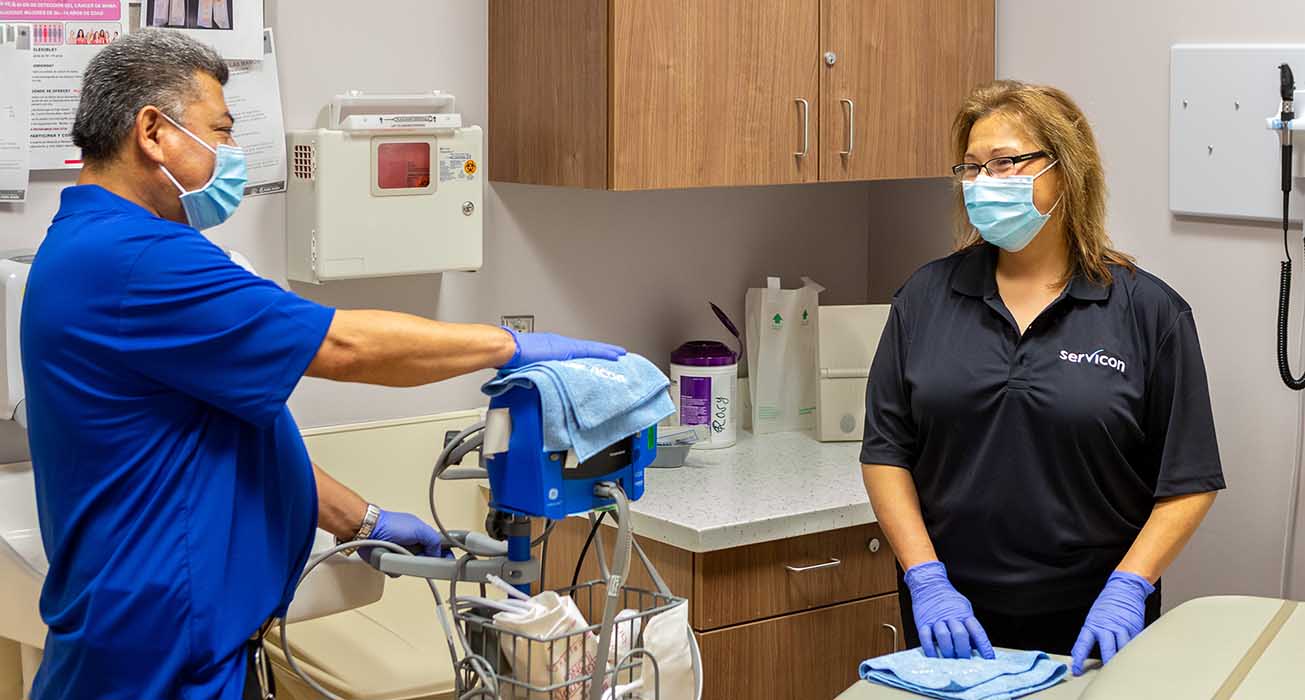 Building on Pandemic Protocols
Most EVS healthcare departments have begun to breathe easier as the numbers of COVID-19 cases continue to decline. Yet the surge in HAIs has many EVS providers reevaluating their processes and protocols to combat the increase. Many are relying on tactics they used to fight the pandemic, such as those below.
Clean first. While cleaning, then disinfecting, has long been the protocol most EVS healthcare teams follow, the COVID-19 outbreak reinforced the importance of this sequence. Cleaning first to remove loose debris was vital during the pandemic to ensure the disinfectant reached its prey. Cleaning first, then disinfecting, is equally essential for preventing HAIs. In fact, cleaning, then disinfecting, is the only way to prevent the spread of highly contagious pathogens, such as MRSA, E. coli, and C. diff. Cleaning first also helps remove disinfectant build-up and biofilms that prevent disinfectants from doing their job. And while some formulas are cleaners and disinfectants in one (although these are rarely used by EVS healthcare teams), cleaning to remove loose debris is still necessary.
Dwell time. Unless the disinfectant is allowed to remain wet for the allotted time, the disinfectant can't disinfect. While most EVS workers know this, it was reinforced during the pandemic when some people who had never looked at the label of a disinfectant before started memorizing how long it took every form of disinfectant—from sprays to liquids to wipes—to work. Adequate dwell time is an essential lesson gleaned from the COVID-19 pandemic, a lesson hospitals hope won't soon be forgotten as they continue to combat HAIs.
Attention to high-touch surfaces. These types of surfaces never gained more notoriety for their tendency to be pathogen-laden than during the COVID-19 pandemic. Most EVS departments provide workers with a checklist that includes these high-touch points, such as doorknobs, light switches, and remote controls. However, the pandemic made it apparent that many healthcare facilities needed to step it up a notch and disinfect these surfaces more frequently. Studies show increasing the frequency of cleaning and disinfecting of high-touch surfaces can significantly curb the spread of HAIs.
California-Based EVS Providers Near Los Angeles
Are you looking for an EVS provider in Los Angeles or Southern California with infection-prevention expertise? Browse the healthcare section of our website or contact us for more information.
Are you looking for a hospital EVS job with a company that cares about your safety in LA County, Ventura County, Antelope Valley, Orange County, Riverside, San Bernardino, or other areas in Southern California? Read what these employees say about working at Servicon and find out more about careers with Servicon.com.