Prevention & Control Are 2 Different Things for EVS Providers
People often ask, "What is the role of hospital environmental services (EVS)?" While there are several answers to this question, the most significant responsibility of EVS providers (also sometimes referred to as hospital cleaning services) is infection prevention—and control.
According to the World Health Organization (WHO), infection prevention and control is "a practical, evidence-based approach, which prevents patients and health workers from being harmed by avoidable infections." There is, however, a difference between prevention and control that should be clarified, especially when it comes to infectious diseases.
Infection prevention consists of activities that stop infections before they occur. Infection control means limiting or stopping the spread of infection, such as after an outbreak. Both are vital functions of EVS departments that call for different processes and procedures.
How Infections Occur
For infections to occur, three things are necessary:
A source where infectious agents (germs) exist. In healthcare settings, these include patients, hospital staff, and surfaces—from bedrails and tray tables to floors and curtains.
A susceptible person with a way for germs to enter the body.
Transmission to transfer germs to a susceptible person.
It is also important to note that people can carry infection and pass it along to others without showing symptoms themselves.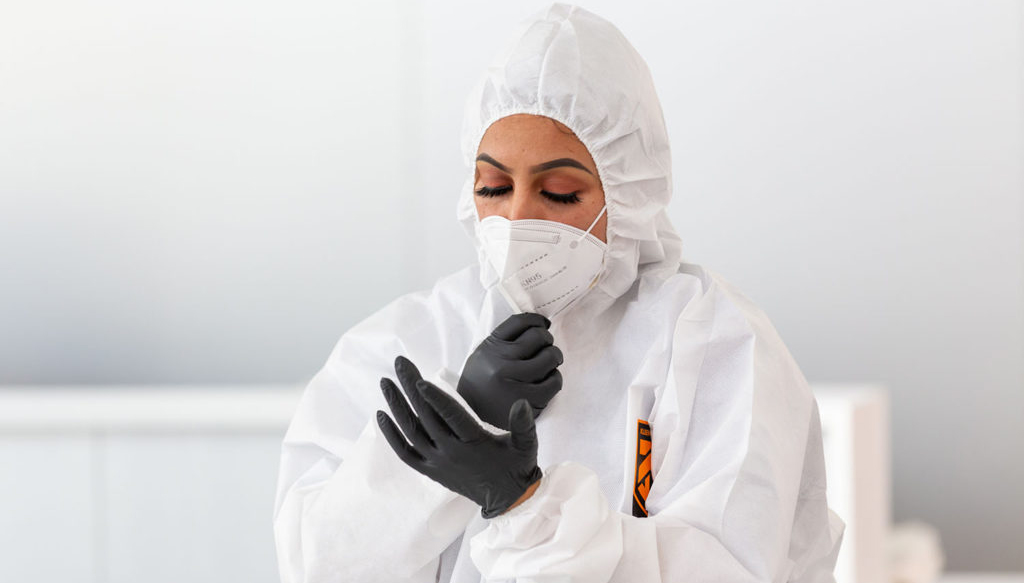 Infection Prevention Versus Infection Control
In most healthcare settings, there are two types of what the CDC calls "precautions":
Standard precautions and transmission-based precautions. In 2016, the agency lumped both under the moniker "infection control." Today, however, especially in light of the COVID-19 pandemic, most experts refer to standard precautions as infection prevention and transmission-based precautions as infection control. For EVS providers, the actual processes and protocols the two require are different.
Infection prevention in hospitals relies on standard operating procedures (SOPs), or standard precautions, and are used when there is no known infection. EVS technicians must rely on their training to evaluate the potential risk(s), use appropriate PPE, and use products that may be potentially harmful to humans and the environment—such as disinfectants—judiciously.
Infection control or transmission-based precautions, comes into the picture when there is a known infection, such as in an infected patient's room or during an outbreak of an infectious disease, such as COVID-19, C. diff, or MRSA. These processes and protocols are in deployed addition to SOPs. They include activities such as frequent disinfection of high-touch points and high-traffic areas and terminal cleaning of infected patients' rooms.
As infection threat levels rise and recede—often with little notice—EVS technicians must be knowledgeable and flexible to alter their cleaning and disinfecting activities accordingly.
While infection prevention and control are not the only responsibilities of EVS providers, they are the most important for keeping hospitals and their occupants as safe and healthy as possible.
Interested in working for Servicon?
Interested in learning more about our services?
We help produce higher HCAHPS scores, lower HAIs, and faster throughput, which translates into more budget dollars to spend on your business of saving lives.
We invite you to to find out more about Servicon's EVS cleaning services for complex facilities and to schedule a free assessment.