Hospital EVS Providers Do More Than Clean
Many people understand that hospital environmental services (EVS) providers and medical facility cleaning services handle the cleaning and disinfecting of these facilities to prevent the spread of infection. However, many don't realize the vital role they have in other areas of patient recovery and facilities support. Below are some duties EVS workers perform outside standard hospital cleaning services.
Patient interaction. Studies have shown that EVS workers often spend more time in patients' rooms than doctors or nurses. Patients and their families also may feel more comfortable talking with EVS workers than other hospital staff. So while EVS workers must ensure proper infection-prevention procedures are always followed, they must also be capable of interacting with—and being empathetic toward—patients. This ability can have a surprising impact on Patient Satisfaction Surveys and HCAHPS scores.
Staff cooperation. Besides interacting with patients, EVS technicians must form good working relationships with other hospital staff. This can include everything from start-of-shift meetings with nurses to discover which patients are on that day's discharge list to ensuring staff can get in touch with supervisors in cases of emergencies.
Identification of safety hazards. Because EVS workers are tasked with cleaning and disinfecting every area and surface in a hospital, they are usually the first to identify issues that could be a safety threat. This includes hazards that need to be fixed, such as broken bed rails and furniture to cracked windows and flooring that can cause slips, trips, and falls.
Reporting of safety concerns. Once they have discovered a potential safety hazard, EVS technicians usually have a standard procedure for reporting these to the hospital or medical facility's maintenance department. This is essential to prevent minor safety issues from becoming major safety hazards.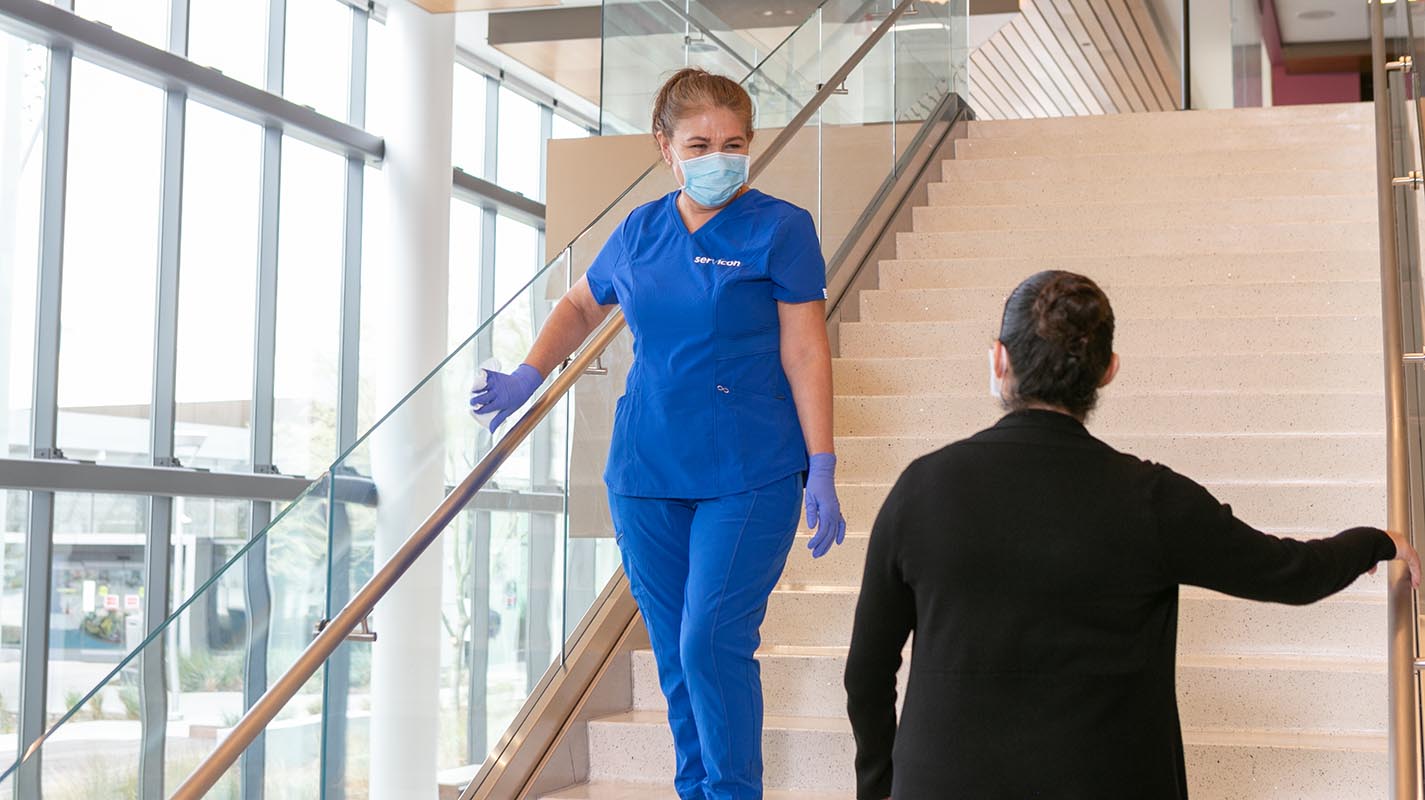 Light maintenance. While extensive repairs and facility maintenance are left to the hospital's maintenance department or third-party tradespeople, many EVS providers offer light maintenance services. These usually fall into two categories. One is light facility maintenance, which can include services such as:
Replacing HVAC filters
Light electrical and plumbing
Minor carpentry and repair
Facility security system work.
The second category is occupant-focused tenant services, which often include offerings such as:
Crib attendant
Moving
Security escorting
Recycling
Call Center
Interplant delivery
Hospital EVS Provider Near Me
If you are looking for an EVS provider that offers superior service in all the areas above, read more about Servicon's healthcare EVS experience or call us at 310-204-5040.
Are you looking for a career with a company that cares about the environment and operates in LA County, Ventura County, Antelope Valley, Orange County, San Bernardino, and other areas of Southern California? Read what these employees say about working at Servicon and find out more about careers with Servicon.
Interested in working for Servicon?
Interested in learning more about our services?
We help produce higher HCAHPS scores, lower HAIs, and faster throughput, which translates into more budget dollars to spend on your business of saving lives.
We invite you to to find out more about Servicon's EVS cleaning services for complex facilities and to schedule a free assessment.