Hospital Environmental Services: Cleaning and Disinfecting of Various Surfaces

Few departments spend more time in contact with surfaces in healthcare settings than hospital environmental services (EVS) providers. Yet historically, EVS for hospitals has had little to no say on what types of surface materials are used in a healthcare setting. This is a shame, considering EVS providers are responsible for keeping these surfaces clean and disinfected. However, the COVID-19 pandemic has increased awareness that healthcare-acquired infections (HAIs) and other infectious diseases can be spread via surfaces. As a result, some savvy architects, designers, and institutions are beginning to realize what many in the healthcare industry have been suggesting for years: involving EVS in the selection process can provide valuable insight into the best surfaces when it comes to cleaning and disinfecting.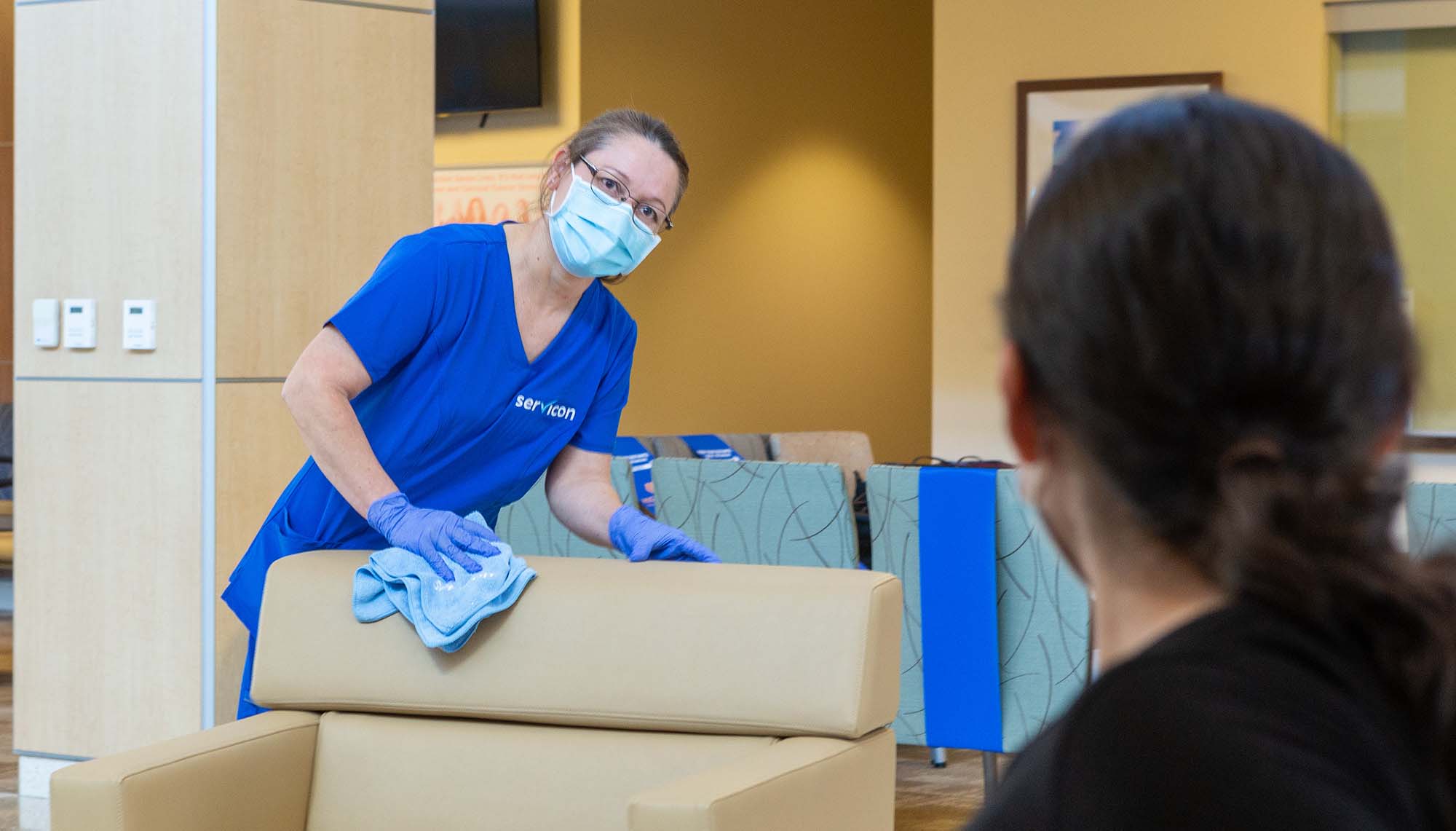 With this in mind, below are some pros and cons of the most common surface materials used in healthcare settings.
Stainless steel. This hard metal withstands heavy use and temperature variations without cracking, which makes it popular throughout hospitals for use on everything from operating room trays and kitchen surfaces to door handles and sinks. It is also non-porous, which prevents liquids and dirt from penetrating the surface. However, it scratches easily, which can provide a hiding place for pathogens and give it a somewhat blurry, less-than-clean appearance. It is more affordable than many surfaces.
Laminate. One of the most affordable types of surfaces, laminate is available in a large variety of colors and patterns, which makes it prevalent in many healthcare settings. Unfortunately, laminate breaks down with heavy use and in high-moisture conditions, so its affordability is outweighed by more frequent replacement cost. Laminate surfaces can also harbor bacteria, especially once they start to break down.
Solid surface. This is a synthetic surface created out of resin (acrylic or polyester) and stone dust. Since the majority of it is plastic, it can be shaped using heat for a seamless construction allowing fewer bacteria to hide. It is also stain-resistant and renewable. Bacteria will, however, thrive on the surface between cleanings, and it tends to be on the pricier side compared with other surface materials.
Engineered stone/quartz. This engineered surface is made of a combination of stone, usually quartz or marble, and a polymer resin. The difference between this and solid surface is that engineered stone has a higher stone vs. resin composition. In healthcare settings, it is most likely found only in areas where decorative luxury might be considered, such as a reception area, as the cost prohibits its general use. It, too, harbors bacteria if not cleaned properly.
Tile. Typically made of ceramic or porcelain, tile is found in many hospital operating rooms, bathrooms, kitchens, and wash rooms. Because each tile is affixed to the wall or surface separately, there are plenty of crevices for bacteria to grow while the porous grout used between the tiles offers similar hiding places for germs. It is prevalent mainly based on its affordability.
Vinyl. Traditionally known as linoleum, today's vinyl is most often constructed of polyvinyl chloride, or PVC. It is most often used for flooring in sheets or smaller squares for more decorative patterns. It is relatively inexpensive and durable, but its need for regular waxing and buffing eats up some of those savings.
Carpet. Most often installed in squares to allow easier removal, commercial-grade carpet is great for noise reduction. For durability and safety, all commercial carpeting must include backing with a water barrier to prevent moisture from collecting under the carpet and encouraging the growth of mold, mildew, or bacteria. Still, carpet is one of the most difficult surfaces for a hospital cleaning company to keep hygienic; it is seldom used outside of reception areas despite its usually reasonable cost.
Copper. While this technology dates back to when ancient civilizations recognized that water stays fresh in copper vessels, the use of copper surfaces in hospital settings is relatively new. Studies have shown copper's ability to kill bacteria on contact. Some experts maintain that copper destroys disinfectant- and antibiotic-resistant microbes at a cellular level on contact. In fact, many researchers report that the germ-killing effects of copper are continuous, working as a backup for hospital EVS. Copper surfaces are not cheap, costing anywhere from $7,000-$15,000 and up per room by some estimates. Yet given its promise, more EVS providers may be recommending the use of copper surfaces in the future.
Hospital Environmental Services Near You
If you are looking for a California-based hospital environmental services provider with the knowledge of how best to clean and disinfect surfaces in your facility, contact us today. Please read our Healthcare EVS Services page to read more about how Servicon can help you.
We help produce higher HCAHPS scores, lower HAIs, and faster throughput, which translates into more budget dollars to spend on your business of saving lives.
We invite you to to find out more about Servicon's cleaning services for complex facilities and to schedule a free assessment.