COVID Disinfecting Services: Choosing the Right Provider
Schools and businesses—from retail to restaurants—are finally reopening after nearly a year of being shut down by the pandemic. You want to be sure your facility is ready and that you are providing a clean, safe environment for your returning workers and customers. Yet as a facility owner or manager, how do you know if your COVID disinfecting services provider is up to the task?
The answers to the questions below can help ensure your COVID cleaning service provider is using best practices.
What surfaces should be cleaned and disinfected during the COVID-19 pandemic?
All surfaces of a facility should be cleaned. Cleaning removes up to 90% of dirt and germs. Cleaning also removed debris that can shield pathogens when the surface is sprayed with disinfectant, allowing the pathogens to survive and thrive. Also, without cleaning in between applications, disinfectants can build up, creating a sticky biofilm that attracts pathogens.
Surfaces confirmed or suspected of being exposed to SARS-CoV-2, the virus that causes COVID-19, within the last seven days should be disinfected. High-touch surfaces, such as door handles and light switches, should also be disinfected at least once every 24 hours, according to the CDC; those touched frequently by multiple people, such as check-out screens, are best disinfected after each use. The CDC and World Health Organization do not recommend disinfecting seldom-used surfaces and areas where there was no possible COVID-19 contamination or outside surfaces, such as streets and sidewalks.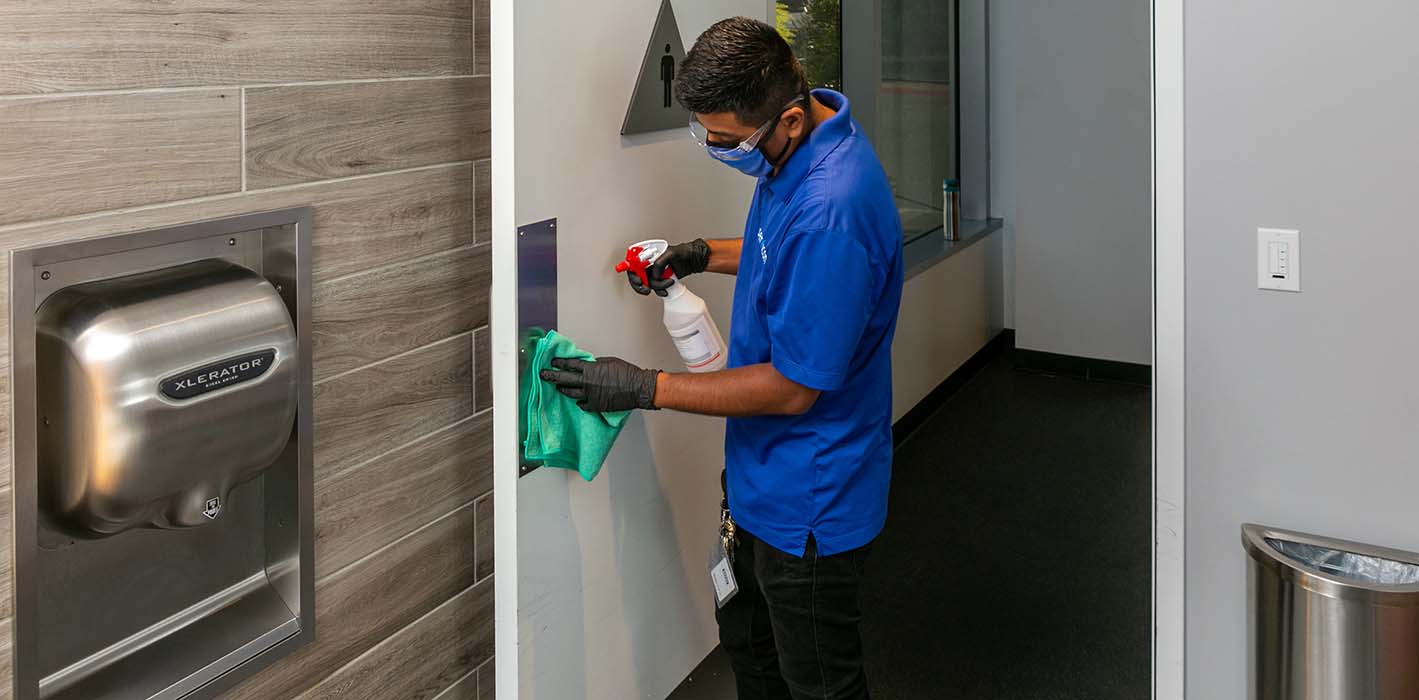 What are some cleaning products shown to be effective against COVID-19?
No cleaner will kill the SARS-CoV-2 or any other virus. Only disinfectants on the EPA List N are approved to kill the virus, so these are the only ones COVID disinfecting service providers should use to protect against COVID-19.
Are there cleaning and disinfecting practices effective against COVID-19.
Disinfecting using a disinfectant on the EPA List N is the only way to kill SARS-CoV-2. However, without cleaning first, the pathogens may be protected from the disinfectant and not be eliminated, so cleaning, then disinfecting is the only way to kill the virus.
Ultimate Protect & Disinfect
How long does COVID-19 live on surfaces?
While there has been significant debate over how long the virus can live on surfaces, experts, including the CDC and National Institute of Health, agree it varies from hours to days depending on the surface.
Do disinfectants kill new strains of COVID-19?
All disinfectants on the EPA List N are expected to be effective against all strains of the SARS-CoV-2 virus. According to the CDC, "genetic mutations to COVID-19 do not impact the effectiveness of disinfectants. Destroying a virus is dependent on its physical properties, and recent genetic changes have not changed the basic physical properties of the virus that causes COVID-19.​"
Are California employers legally responsible to protect workers from COVID-19?
According to Cal OSHA, "California employers are required to establish and implement an Injury and Illness Prevention Program (IIPP) to protect employees from all worksite hazards, including infectious diseases." This includes protecting them from COVID-19. It also requires employers to provide training regarding COVID that is "readily understandable" to workers.
Nationally, OSHA does not have a COVID-19 specific rule. However, protection for workers from the virus falls under the General Duty Clause of the OSHA Act, which requires employers to "provide a safe and healthful workplace that is free from recognized hazards that can cause serious physical harm or death."
COVID Disinfecting Services Near Me
Servicon provides COVID-19 cleaning services and disinfection services for complex facilities throughout California. Contact us today for more information.
COVID-19
Keep your business open and safe

Servicon provides the optimal defenses against COVID-19 so that your occupants feel safe. Servicon has the service you need for any eventuality.