Floored by Healthcare-Associated Infections Contracting Common Hospital Infections From Floors
The CDC estimates that 5 percent of all hospital admissions result in hospital-acquired infections—more frequently referred to as healthcare-associated infections (HAIs). This means HAIs account for approximately 722,000 infections, causing 75,000 deaths annually and costing between $28 and $33 billion a year!
Healthcare-Associated Infections Definition
HAIs are infections a patient didn't experience symptoms of before entering a hospital or other healthcare facility that developed while the patient was in the facility or within 90 days of being discharged. The most common types of hospital infections include C. diff, E. coli, MRSA, and the flu.
While often not considered a transmitter of HAIs, floors can carry a host of viruses and pathogens that cause HAIs. A 2017 study published in the American Journal of Infection Control cited hospital floors as an overlooked source of contamination, noting that "pathogens on hospital floors can rapidly move to the hands and high-touch surfaces throughout a hospital room."
The fact that hospital floors become contaminated with pathogens should come as little surprise. Hospital floors overall are high-traffic areas. Even airborne pathogens eventually fall on a surface, and the floor is the largest surface area in any hospital. Since HAIs are primarily transmitted via hands or clothing that have come in contact with a contaminated surface, how can floors be a significant transmission source, given that few people come into direct contact with floors?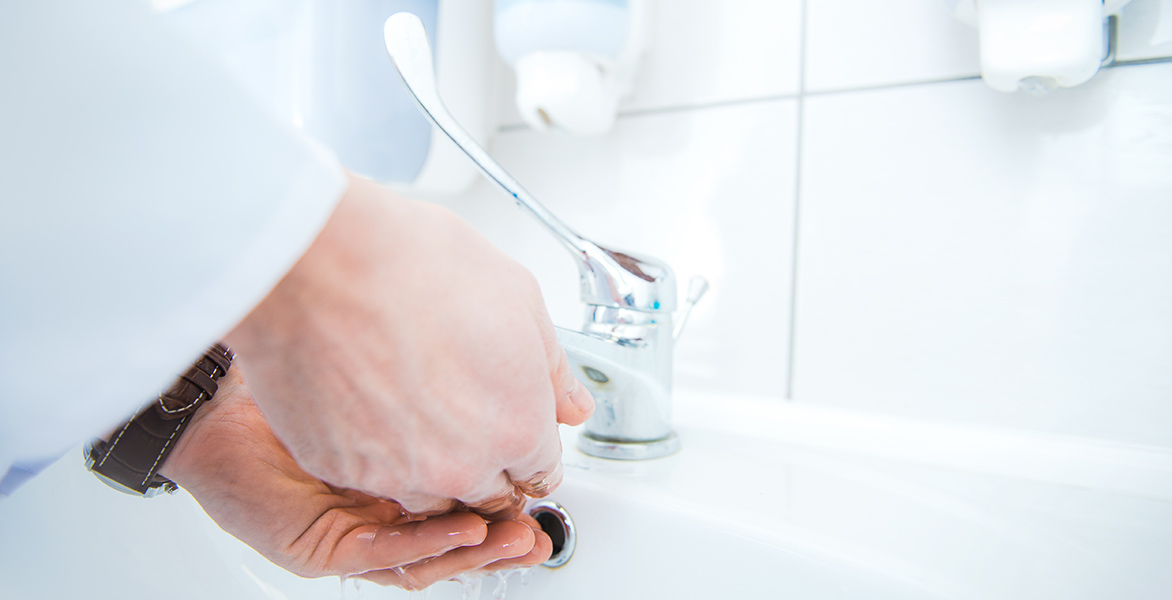 How Floors Cause Healthcare-Associated Infections
Below are a few ways HAIs are transmitted from hospital floors to patients, staff, and visitors.
Personal items. Think of all the purses, laptops, backpacks, and other personal items people bring from various environments and set down on the hospital waiting, examining, and patient room floors. These items are picked up and placed everywhere, from patient beds and bedside stands to food service counters and tables.
Shared equipment. Hospital wheelchairs, gurneys, walkers, and other equipment are in constant contact with all types of flooring and can transmit germs, bacteria, and viruses from one flooring surface to the next. People can develop HAIs after direct contact with these devices or walking on the floor after it has been contaminated and removing their shoes.
Patient socks. This can be a significant source of HAIs developing from floors. Patients frequently get in and out of bed in their socks to use the restroom and for other reasons. Then they get back into bed, tucking floor pathogens in with them. This can transfer HAIs to them as well as doctors, nurses, and hospital environmental services (EVS for hospitals) staff who touch the bedding or other surfaces that have been contaminated.
Cleaning equipment and supplies. Most EVS for hospitals technicians work from a cleaning cart. However, buckets are placed on floors, as are other cleaning supplies. Most floor cleaning equipment is used in multiple rooms and can carry pathogens from one floor to the next, causing EVS for hospitals technicians to inadvertently pollute the areas they work to keep clean.
Dropped items. One study found that out of 100 patient rooms, 41% had at least one high-touch item, such as medical devices and personal items, in direct contact with the floor. Patient linen, pillows, and other items are often dropped on the floor and retrieved—without consideration for what pathogens they may have picked up. The same study cited above found germs were frequently transmitted to hands from objects that had touched the floor.
Preventing Healthcare-Associated Infections
The infection-prevention duties hospital EVS technicians are essential in preventing all HAIs, including those that thrive on floors. EVS technicians should be educated and trained on the various types of HAIs are most likely to be found on flooring. In addition to their regular floorcare infection-preventing processes and protocols, EVS technicians should:
Clean and disinfect all high-touch areas frequently, including any that may have been in contact with the floor
Ensure wheelchairs, walkers, and other shared equipment are cleaned and disinfected between patients
Avoid putting cleaning supplies on the floor
Clean and disinfect the bottom of buckets between use on different floorings
Clean and disinfect the wheels of cleaning equipment that comes in contact with floors
Change gloves after picking up items that have come in contact with the floor.
Help Us Combat Healthcare-Associated Infections
Are you interested in preventing healthcare-associated infections (HAIs) in LA County, Orange County, Ventura County, Antelope Valley, San Bernardino, and other areas of Southern California? Read what these employees like about working for Servicon and learn more about careers with us.
Is your EVS hospital provider skilled in preventing healthcare-associated infections (HAIs)? Find out more about Servicon's Patients First program or call us at 310-204-5040.
Interested in working for Servicon?
Interested in learning more about our services?
We help produce higher HCAHPS scores, lower HAIs, and faster throughput, which translates into more budget dollars to spend on your business of saving lives.
We invite you to to find out more about Servicon's cleaning services for complex facilities and to schedule a free assessment.